Founded in 1996, HostMonster is among the oldest web hosting providers in the industry.
HostMonster is a hosting provider situated in Provo, Utah. Endurance International Group (EIG), which also owns the popular web hosting companies such as Bluehost, HostGator, and iPage, purchased the company in 2010.
HostMonster's hosting options include cPanel, an easy WordPress installation, 24/7 customer support, email accounts, and a free domain.
HostMonster is a low-cost provider of shared hosting and VPS hosting options, as well as dedicated servers. Its goal is to give high-quality solutions to people, small businesses, and those looking for reliable alternatives and supported by excellent customer service.
In this HostMonster review, we'll take an in-depth look at HostMonster's performance, reliability, and if it's really worth subscribing to.
Getting Started With HostMonster
To get started, head to the HostMonster site.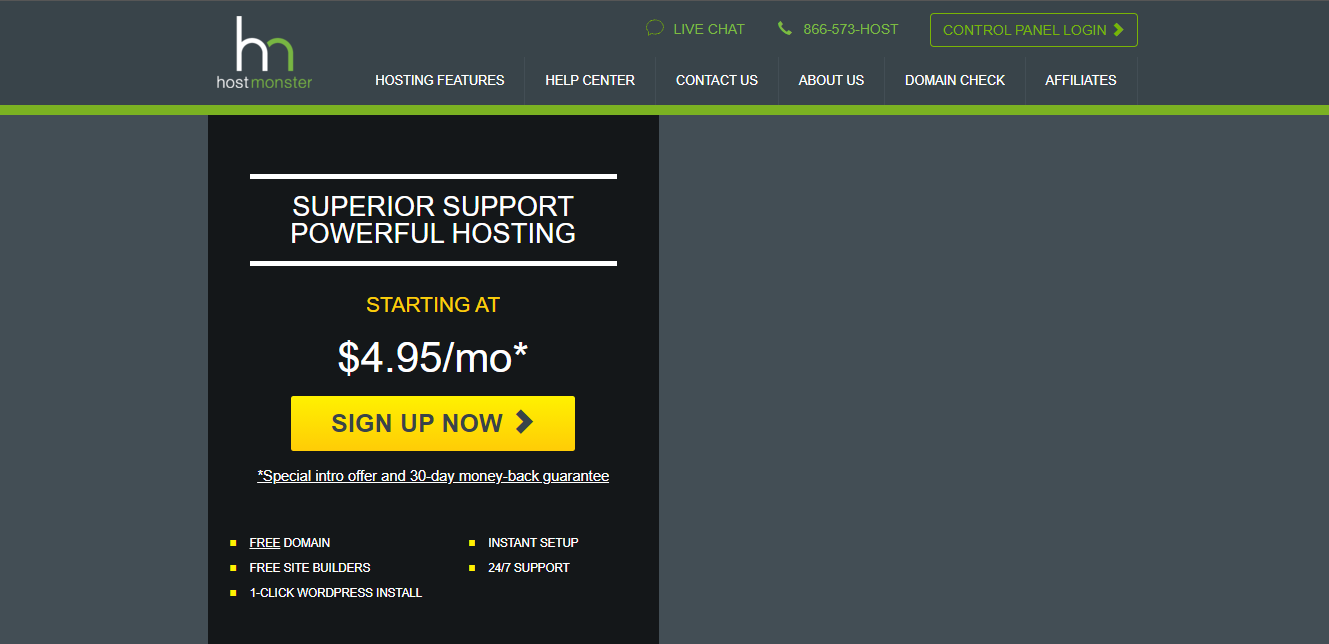 First impression? Minimalist design.
On HostMonster's homepage, you will be greeted with their cheapest hosting plan starting at $4.95 a month. Take note that this is only shared hosting.
However, if you have a specific hosting plan in mind, you can simply scroll down, and you'll find the other hosting services HostMonster offers.
Shared Web Hosting - a cPanel shared hosting plan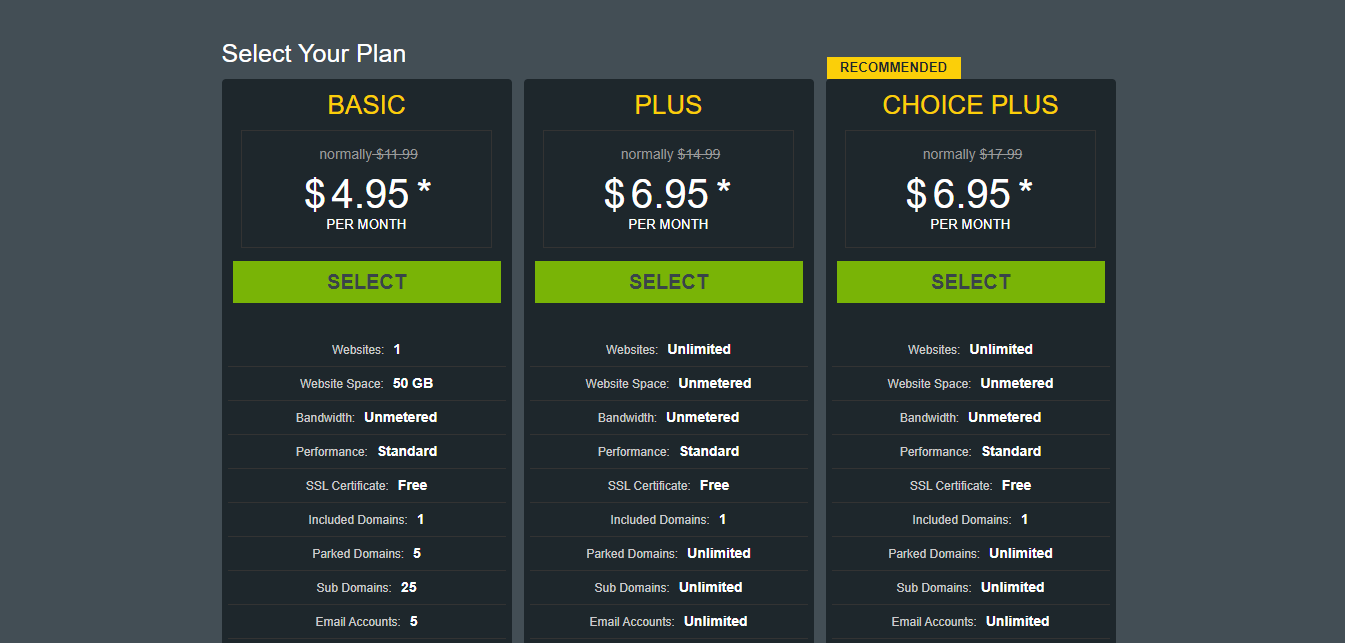 VPS Hosting - a high-performance VPS hosting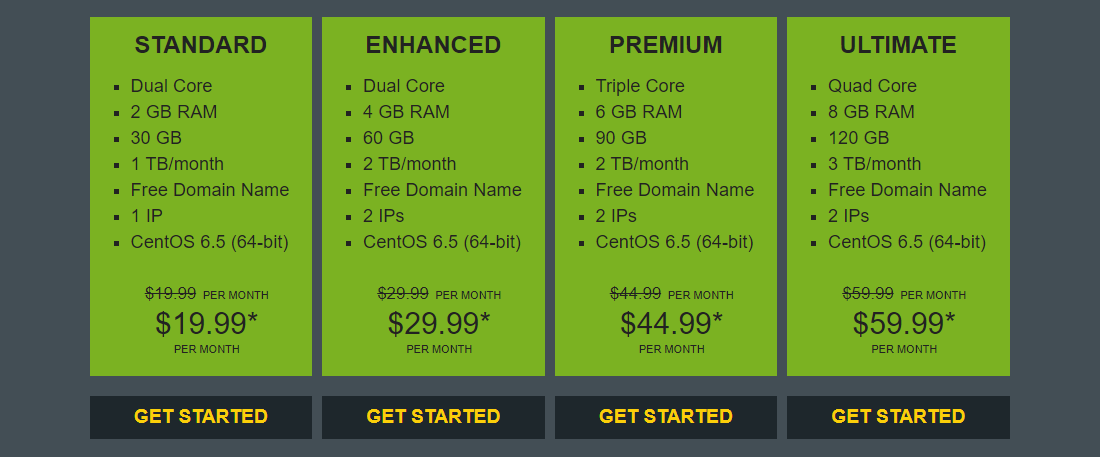 Dedicated Hosting - a fully-managed dedicated server hosting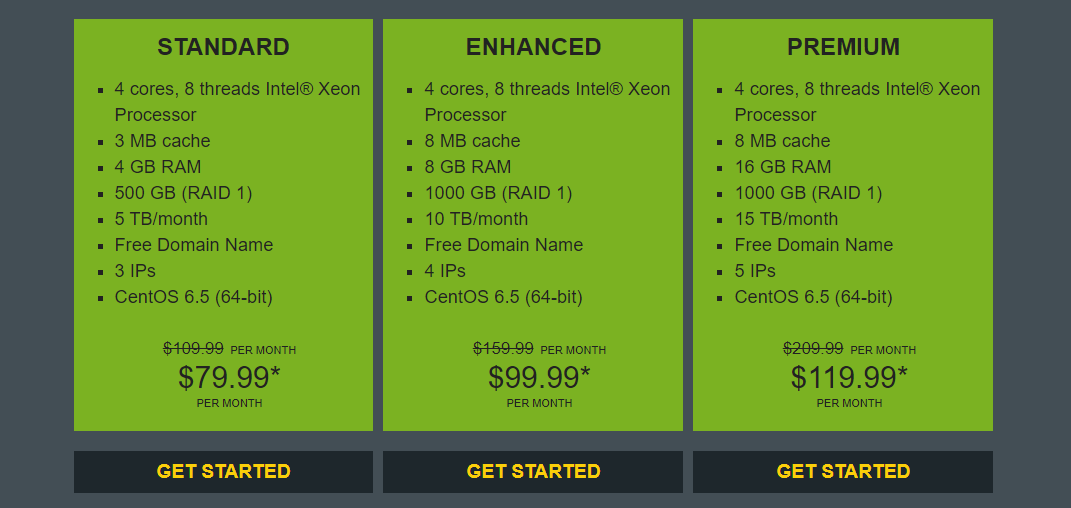 For this HostMonster review, we always go for their cheapest hosting service - the Basic Shared Hosting plan.
With this plan, you get one website, 50GB of website space, unlimited bandwidth, standard performance, a free SSL certificate, a free domain name, five parked domains, 25 subdomains, five email accounts, and 100MB of email storage.
If you've already chosen a plan to subscribe to, simply click Select.
Doing this will redirect you to the Sign Up page.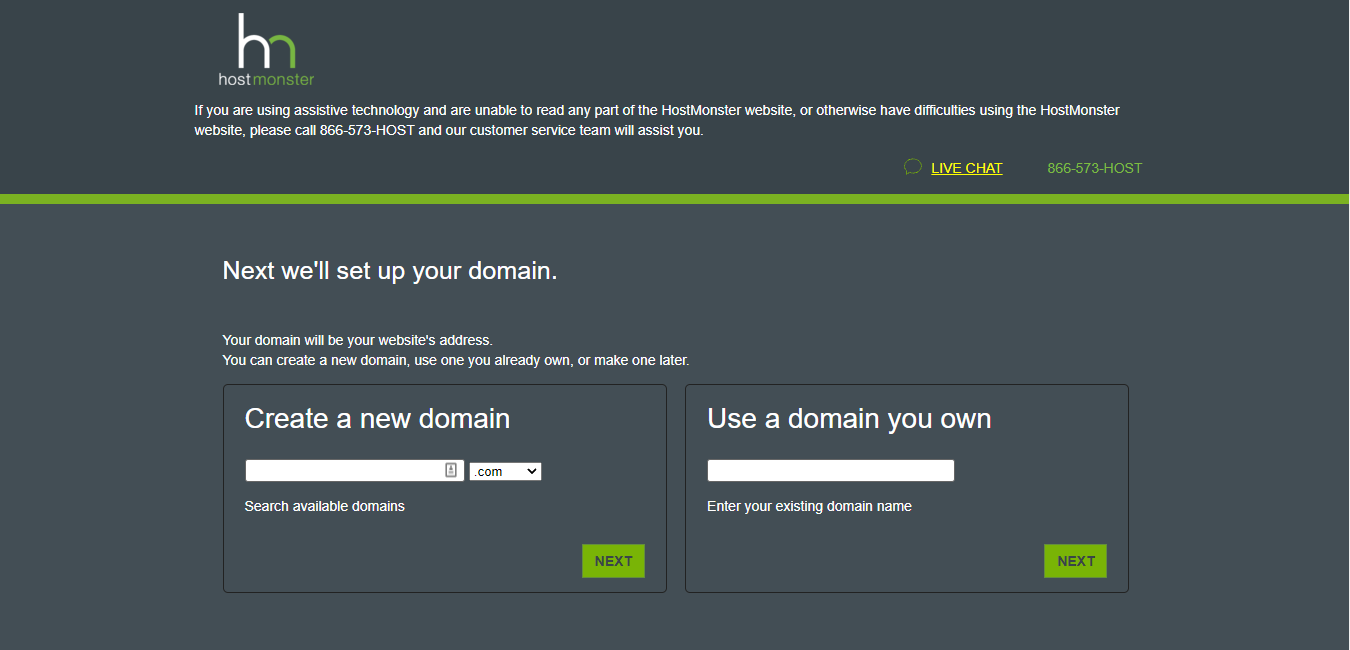 Here, you need to set up your domain, or if you already have an existing one, you can simply type it in here as well. Afterward, click Next.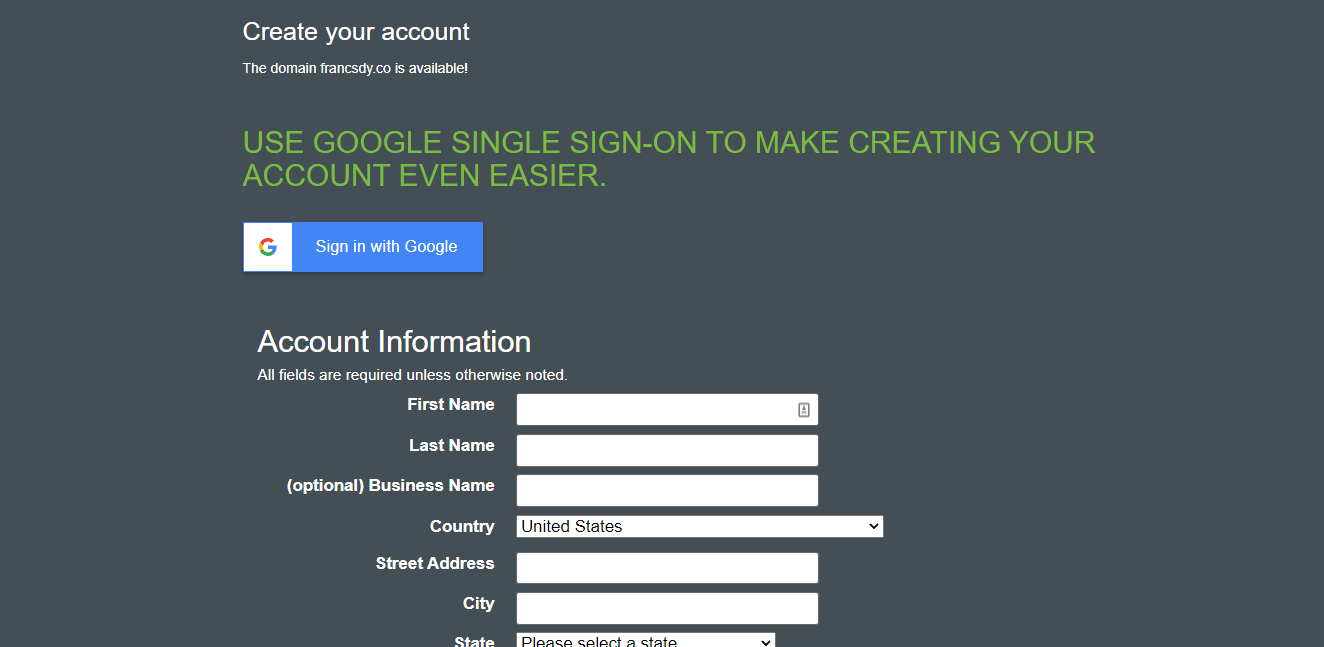 Doing this will take you to the next step, where you create your actual HostMonster account. Here, you need to provide your name, phone number, address, and email address.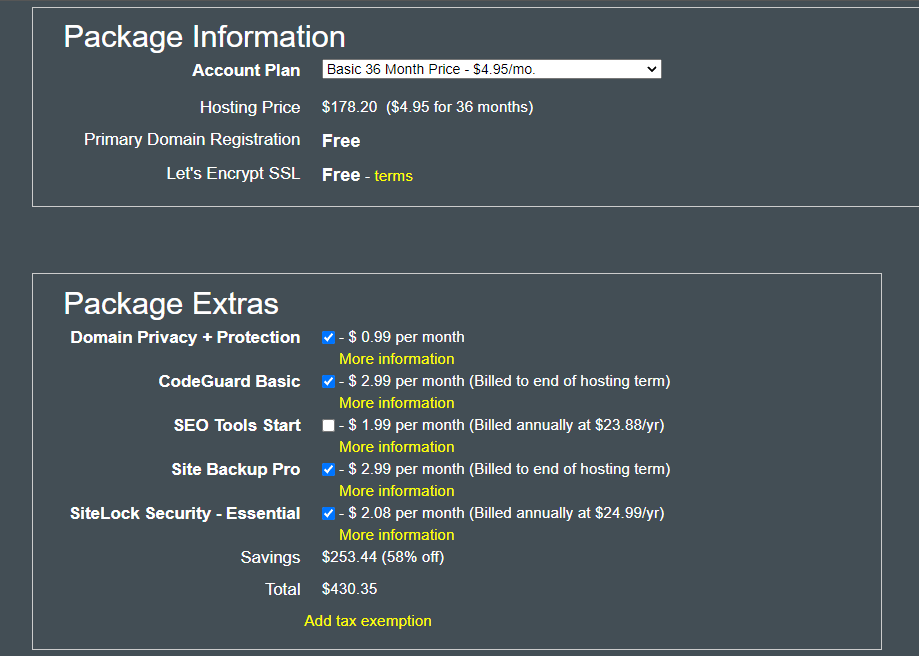 As you scroll down this page, you will see the Package Information tab and the Package Extras tab.
Here, you can choose your billing cycle - Annually, Biannually, and Triannually.
Moreover, the Package Extras is where you can purchase additional security and plugins for your website to operate efficiently, such as Domain Privacy, CodeGuard, SEO tools, SiteBackup Pro, and SiteLock Security.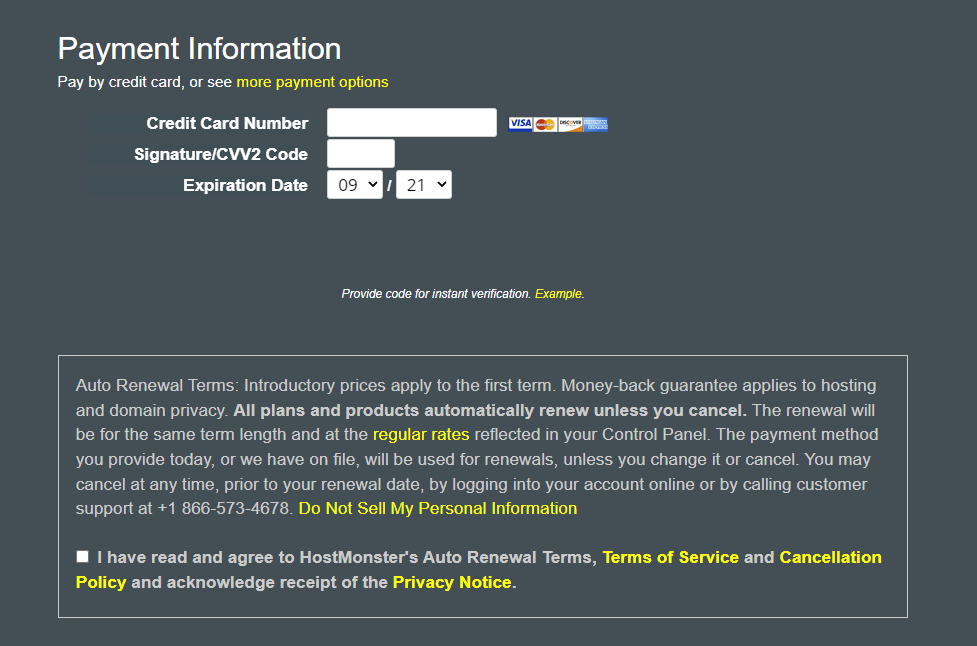 Next would be the Payment Information tab, where, as the name implies, you settle your payment for the specific plan you chose.
HostMonster offers two payment options - via Credit Card or through PayPal.
Afterward, click Submit.
You should receive your account information through e-mail after signing up for a new hosting account with HostMonster. If your order application is valid and complete, your hosting account will be ready to use within a few minutes. It will provide all the necessary information to begin uploading files to the space and configuring the website.
Then you're all set!
Using and Managing Your Website on HostMonster
You can find the Login button on the upper part of the HostMonster homepage, or you can simply click here.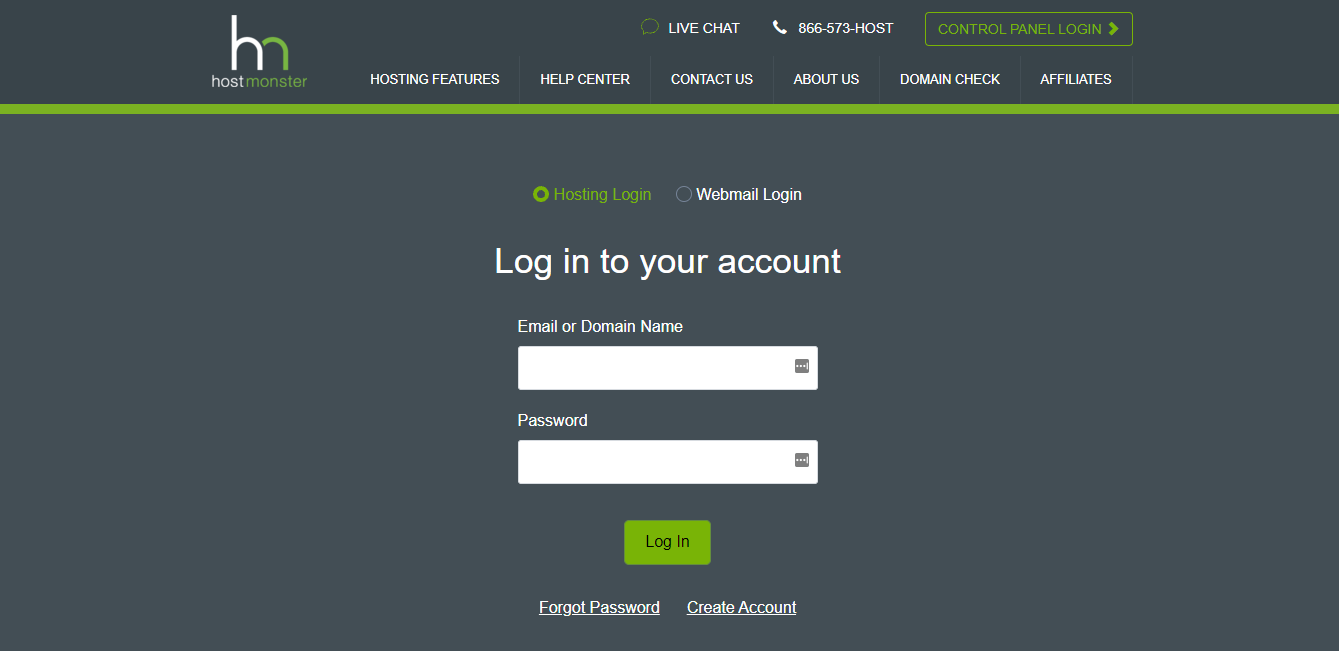 Here, as usual, you need to type in the login credentials that HostMonster has sent you via email.
You have two options when logging in - Hosting Login and Webmail Login.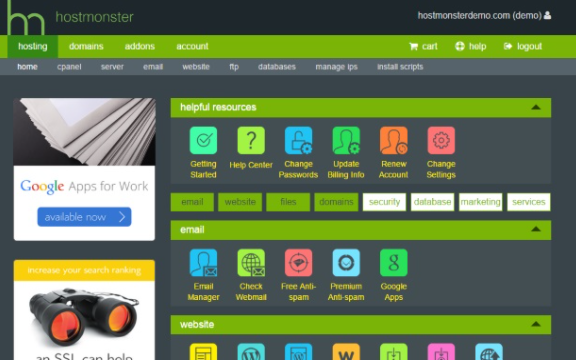 Once you have successfully logged in, you will instantly see your account dashboard.
Here, you will be provided with a range of sections in managing your accounts, such as helpful resources, emails, websites, and much more.
HostMosnter Control Panel
Customers can access a cPanel control panel through HostMonster. cPanel is well-known for its versatility and security, and that it has become an industry standard. Currently, cPanel is regarded as one of the best solutions accessible for consumers who require absolute control over their websites and accounts.
cPanel provides a number of simple wizards that can help you set up new pages or even a shopping cart. It also allows you to manage email, your account, your domain, and other complex capabilities.
To access cPanel on your account, log in to your HostMonster account, then click the Advanced tab from the side navigation menu to the left.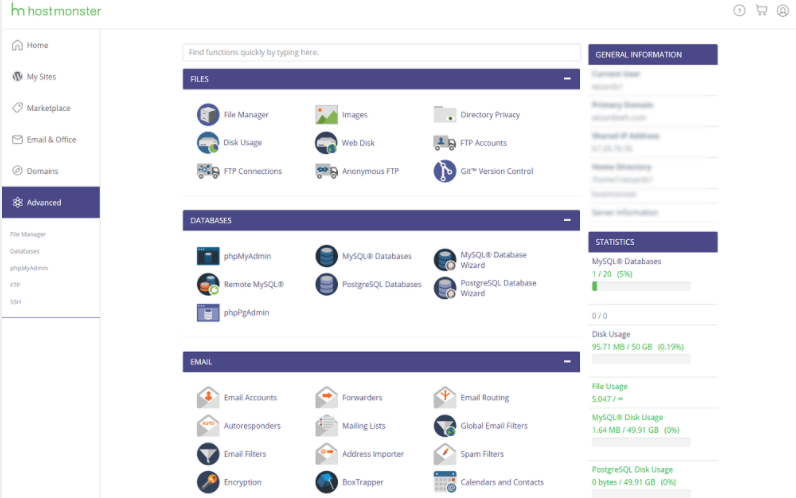 Imagine cPanel to be the "control tower" of your web hosting platform, as that is where you would go to do tasks such as:
Monitor the resource consumption of your website
Manage your email accounts
Use FTP to upload files.
Create backups of your site
Manage the payment for your account
If you're experienced with cPanel, you will be pretty familiar with HostMonster; the company makes no changes to cPanel.
Email
One of the benefits of hosting your domain name with a cPanel-enabled web host is the ability to create bespoke email accounts for that domain.
All of this takes place in the Email area of cPanel.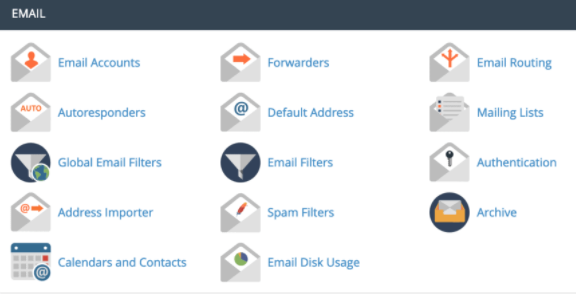 As you can see, there are numerous tools available, including those for creating new emails, configuring forwarders and autoresponders, dealing with spam, and more.
Your HostMonster hosting plan includes access to an email server. You can create email accounts using your website's domain name, a free web-based email client, or your preferred email software. Click on Email Accounts to acquire access.
Email Accounts
After clicking on the Email Accounts tab, you will be sent to your email accounts page. Your recent emails will be listed here.
File Management
Through the files section of cPanel, you may backup your cPanel account, view and alter files stored in your account, evaluate your disk consumption, and create and manage FTP accounts.
File Manager
The cPanel File Manager, instead of an FTP client, allows you to control your website via HTTP, precisely like an internet browser.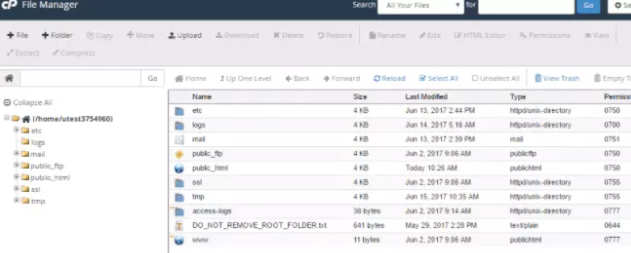 This is a relatively simple task. As the name says, the File Manager is where you may handle your files. You can use this page to transfer, edit, upload, alter, remove, and restore your documents.
Backup
Using the Backup tool, you can store and save your files, databases, forwarders, and filters to a backup file. If you are unfamiliar with cPanel or file backups, you should instead use the Backup Wizard interface.
Disk Usage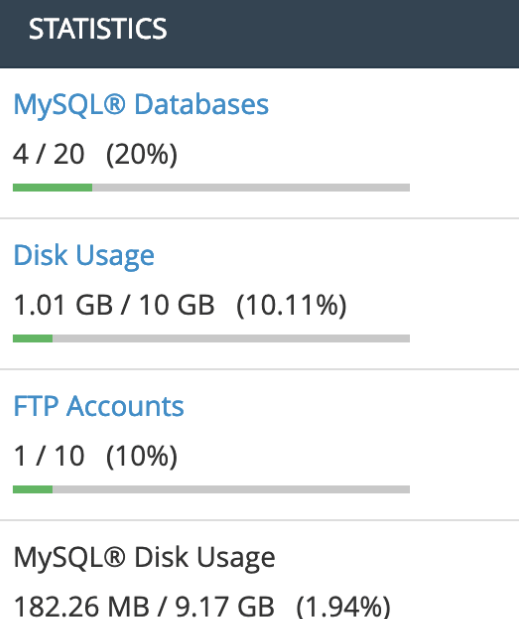 Your account's total disk space usage comprises all data, including website files, MySQL databases, and email messages. When you log into cPanel, you'll see a summary of your disk space usage on the right side.
FTP Accounts
FTP allows you to enable or disable accounts from accessing your hosting account using FTP. To upload files to your website, you can employ FTP. You can specify which directories the new user will have access to and how much space they can consume.
Domains
If you wish to add a new domain name - the one you just purchased to your hosting account, modify your existing domains, or set up subdomains, go to the Domains area of cPanel.

To add a domain name to your cPanel and, therefore, your hosting package, go to the Domains section and click on "Addon Domains."
An addon domain is a fancy word for an ordinary domain name that can be used to establish a fully working website — this means you can host many domain names from the same control panel.
When you add a new domain to your account, cPanel will also generate a related subdomain.
Databases
Many modern websites hardly survive without a database, which operates discreetly behind the scenes and manages the website's content.
In simpler terms, the database stores all of your website's data, including all pages, posts, and user information.

As you may imagine by now, cPanel includes a quite comprehensive tool for creating and managing databases.
Metrics
It is vital for your business and marketing to keep track of various statistics for your website. You can check a variety of data, track mistakes, and monitor bandwidth usage in the Metrics section.
This section enables you to narrow down where your traffic is coming from, how many visitors you have, and which parts of your website are accessed.
Security
Keeping your website secure is one of the most important things you can do. You can use the tools in this category to limit SSH access, block IP addresses, and inhibit the hotlinking of your images. This is also where you can manage the security certifications for your website.
Software
You can boost your website's features by going to the software category. There are two important tools offered here to help you configure PHP on your website. MultiPHP Manager lets you specify which PHP version is running on a given site.
The MultiPHP INI Editor lets you make more detailed changes, such as enabling certain PHP options and modifying variables.

Softaculous simplifies the installation of popular website software such as WordPress and Drupal. Softaculous can be used to try numerous types of software and to get started constructing WordPress sites.
Advanced
This category contains activities that are not frequently done yet are useful for modification. For example, the Cron Jobs tool will allow you to create unique Error Pages and schedule actions.
Preferences

When you first log in to cPanel, go to the Preferences section and update your contact information and password.
Various aspects of cPanel can be customized in the Preferences area. Under Change Language, for instance, you can change the display language; you can also update your Contact Information and possibly even reset your cPanel password in this section.
HostMonster Website Builder
Concrete5
Concrete5 is one of the site builders accessible. This widely used open content management system lets you design your website rapidly with a drag-and-drop builder.
It also includes a standard user permissions structure to govern access to your site, allowing you to restrict who can and cannot make modifications to your webpage if you have a development team. Additionally, Concrete5 is search engine optimized so that it will improve the performance of your site right away.
Weebly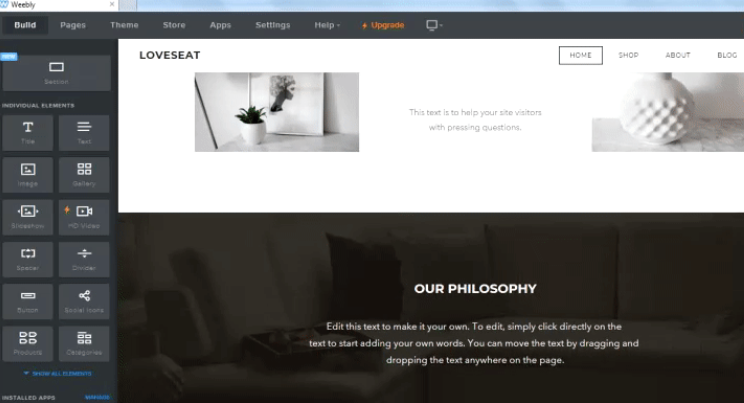 The Weebly site builder is also accessible; however, users would have to pay an extra fee to access it if they want anything beyond the basic version. Weebly, similar to Concrete5, is search engine friendly.
It has a drag-and-drop feature and a range of trendy designs to get you started with your site. However, because the basic version only permits six pages on your site, you'll need to upgrade if you want to use it for larger bases. Unless you switch to the professional subscription, it also sets a price for each activity on your site.
With its free plan, Weebly provides various adaptive and professional business themes.
Apps Installer
Softaculous Apps Installer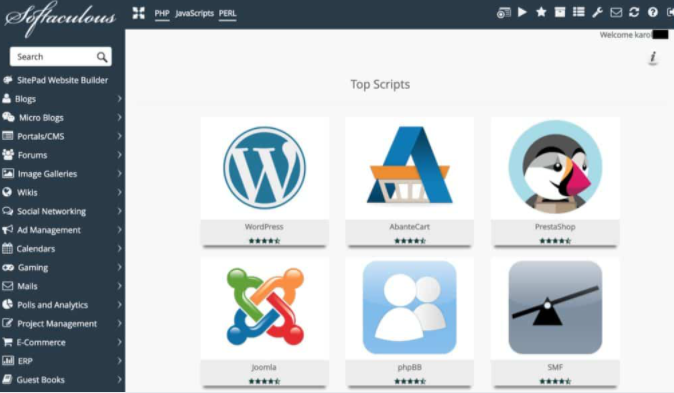 HostMonster includes the Softaculous Apps Installer, which allows you to easily install, update, and uninstall programs, saving you time from individually uploading installation files and setting databases in cPanel. You can install your future website, online store, and a few more features with just a few taps.
Mojo Marketplace
HostMonster offers Mojo Marketplace, which includes email marketing solutions like DaDa Mail, which starts at $34.95 a year and allows you to deliver email-based newsletters to a subscriber list.
Mojo Marketplace also includes Magento, an e-commerce application that allows you to quickly design an appealing store by dragging and dropping page elements.
WordPress Themes
When you install WordPress with the Softaculous App Installer, you have over 8,000 free themes to select from in a variety of styles and classifications. However, if you prefer to start from scratch, you can do that as well.
HostMonster Customer Support
Excellent customer support is something you should seek in a hosting provider. If a company does not have it, stay away from them.
What if your website went down while your most critical customer was browsing it? You will then lose a valued client. Worse, when this occurs, the support personnel is unavailable to assist you.
What a shame.
Given the extremely negative customer feedback on HostMonster's customer service, I was hesitant to take the plunge.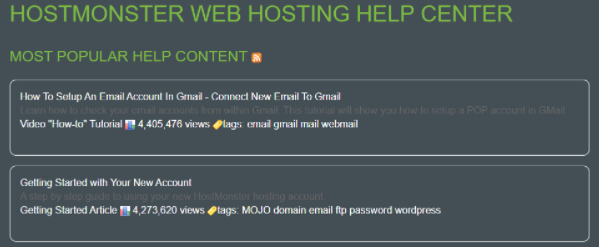 Furthermore, HostMonster has its own help center, which comprises articles and tutorials with solutions to potential difficulties. There are over 500 searchable articles to assist you in obtaining any information you seek.
Honestly, I didn't find the answers to my questions here, several links are provided, but once you click it, you will only be redirected to a blank page. And if you are a visual learner, their tutorials do not have pictures on them, so that's a disadvantage.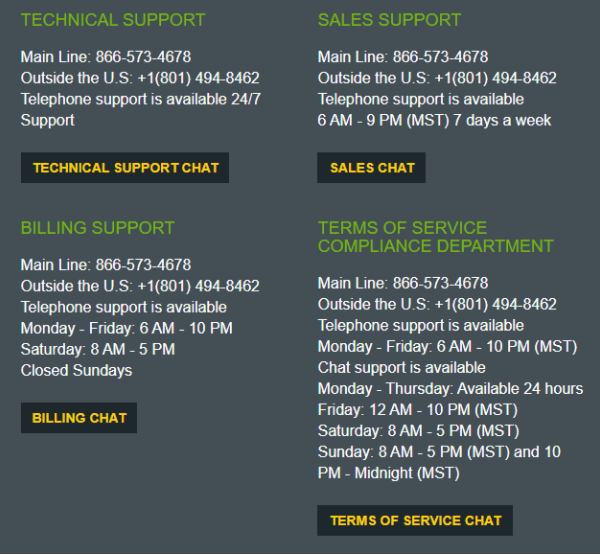 The HostMonster support available to its customers comprises a telephone support line to the tech support that is open 24 hours a day, seven days a week. More phone lines are available for invoicing, sales, terms of service compliance, and verification. Each of these help channels also offers live chat.
Support Tickets
You can also initiate a support ticket and, quite significantly, monitor the ticket history. This helps in tracking the status of any support request you submit.
Keeping track of your support queries enables you to have peace of mind while troubleshooting.
HostMonster Online Community
HostMonster has a Facebook page, a Twitter account, and a Google Plus page, but these channels appear to be dormant. There is also a user forum where you may ask questions and engage with other members of the HostMonster community.
Validation Tokens
When HostMonster communicates with their clients, they use a validation token generation system. This is a unique number that can be obtained when you are logged into your account or when you use a mobile authentication tool like Google Authenticator.
This means that the HostMonster team can request a validation token and immediately confirm that they are speaking with a genuine client rather than someone who has obtained your personal information and is impersonating you.
The validation token is an excellent concept for keeping your account secure. Mobile banking services commonly utilize Validation token technology, although it is uncommon to see it as part of a hosting service.
Buyer's Guide For HostMonster
HostMonster Pricing and Plans
Shared Web Hosting plans start at $4.95/month.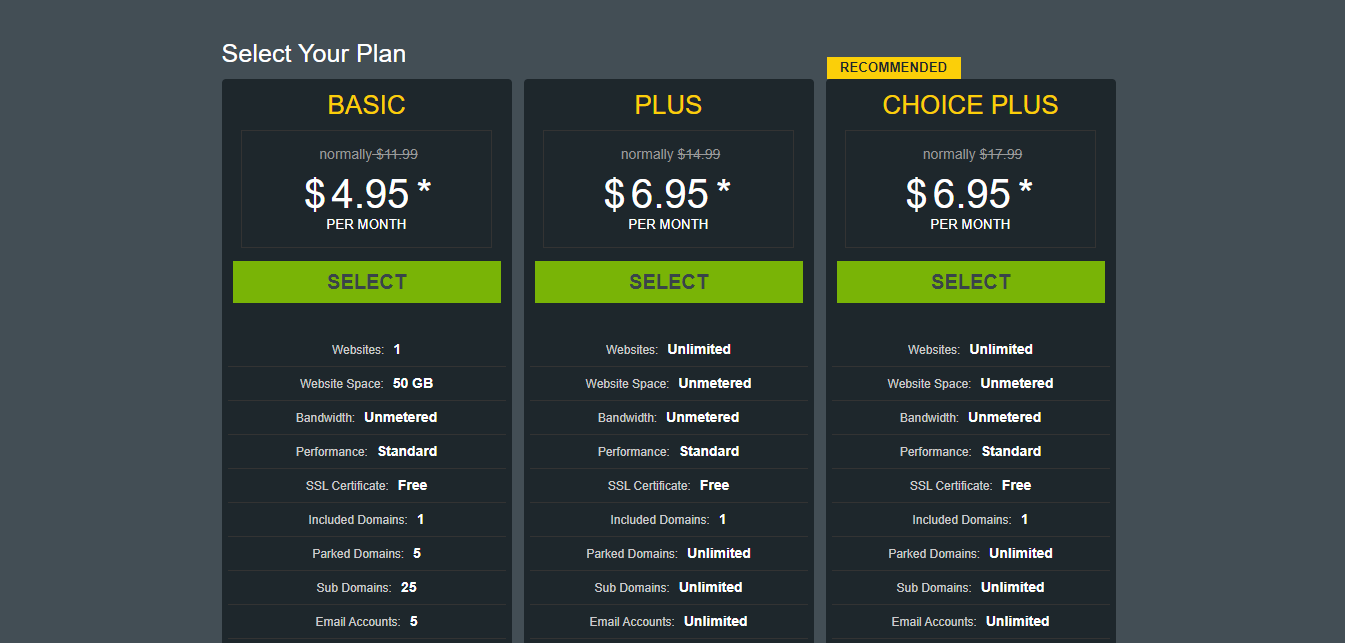 HostMonster's shared web hosting plans are mostly focused on here. Options for VPS (Virtual Private Server) and dedicated server hosting are tucked away in the site's footer.
These are hosting solutions for large websites, including dynamic small-scale business websites or influential blogs.
Should your website outgrows the limits of the shared web hosting plan you originally subscribed for, HostMonster could upgrade its solutions. The free domain offer remains available with these plans, and all packages above the base level include two IP addresses.
The Linux-based Basic shared web hosting package, which starts at $9.49 per month with a one-year agreement, comes with a free domain name that you can retain as long as you use HostMonster, a free domain transfer, 50GB of storage, unlimited monthly data transfers, five email accounts, and the ability to host a single website.
With a one-year contract, the HostMonster Plus package starts at $12.49 per month and includes 150GB of storage, the option to host 50 domains, 100 email accounts, and spam prevention.
With a dedicated IP address, an SSL certificate, and unlimited site hosting and email, the Prime package, which starts at $14.99 per month with a one-year contract, outperforms all of HostMonster's shared hosting plans.
VPS Hosting plans start at $19.99/month.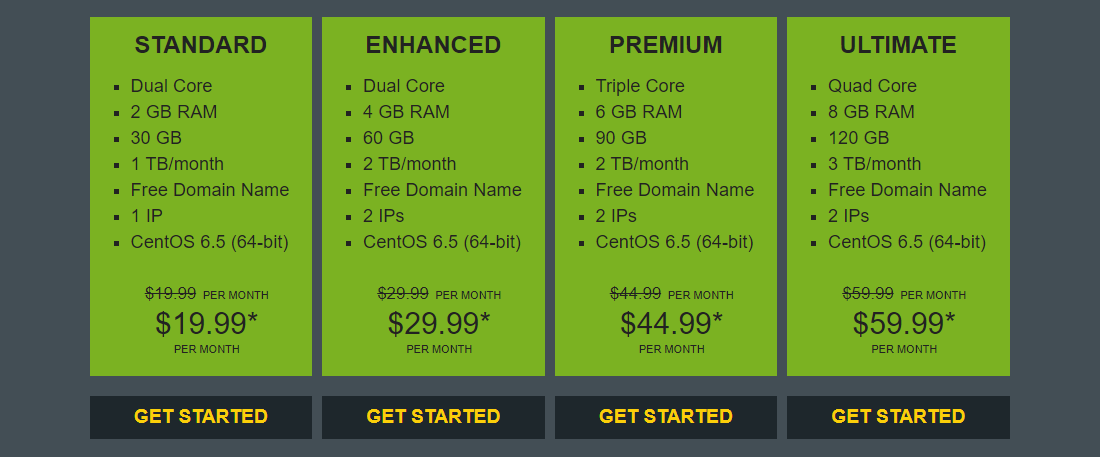 VPS web hosting is available in four distinct packages, with dual-core, triple-core, and quad-core CPUs and scalable RAM, data, and bandwidth.
The VPS hosting makes use of cloud technologies and includes an upgraded cPanel with multiple account administration. The CentOS operating system is used on the VPS hosting, and the server has root access.
The VPS hosting, just like HostMonster shared hosting, is instantaneously configured so that as soon as you finish registering, your VPS server is available to be used.
The Standard plan costs $29.99 per month and offers 2GB of RAM, 30GB of storage, and 1TB of monthly data transfers.
The Enhanced package, which costs $59.99 per month, increases the RAM, storage, and monthly data transfers to 4GB, 60GB, and 2TB, correspondingly.
The $89.99 per month Premium plan follows, with 6GB of RAM, 90GB of storage, and 2TB of monthly data transfers.
The Ultimate option costs $119 per month and includes 8GB of RAM, 120GB of storage, and 3TB of monthly data transfers.
Dedicated Hosting plans start at $79.99/month.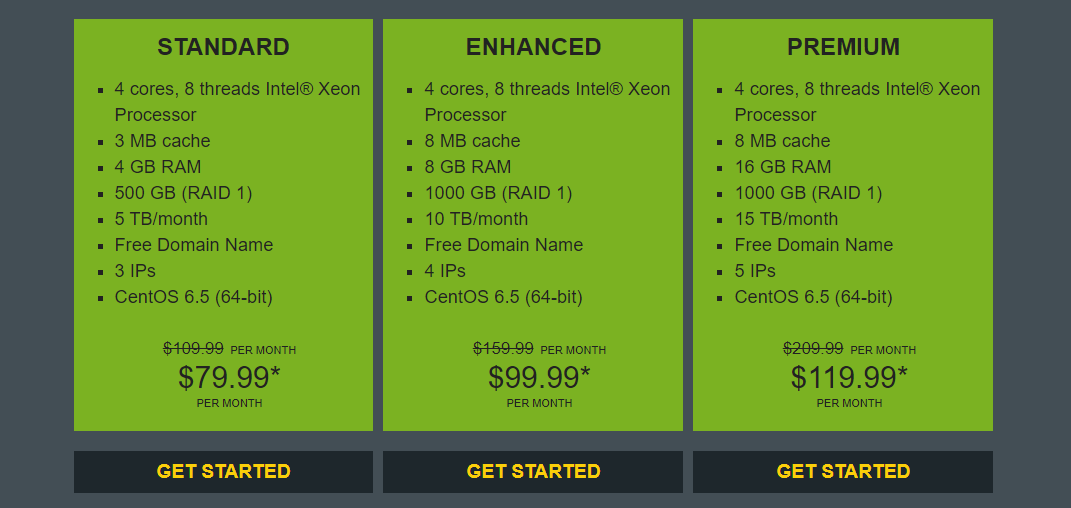 HostMonster's premium hosting option is dedicated server hosting. There are three plans, each of which includes one server with four cores and eight threads.
Intel Xeon processors power the servers, and the dedicated servers grow up the number of cache capacities, data, bandwidth, RAM, and IPs available. You get a free domain for a year, much like with VPS hosting, and the dedicated server runs CentOS.
If you're thinking about getting one of HostMonster's dedicated servers, which start at $109 a month, you have a few options. The servers may be configured with a Linux-based operating system as well as up to 1,000GB of hard drive space, 16GB of RAM, and 15TB of data transfers per month—almost the same specifications as Bluehost's dedicated hosting service.
Server Speed and Uptime
Server speed is critical for ensuring the integrity of your website. Users find it extremely inconvenient when websites take a long time to load.
Unfortunately, HostMonster does not guarantee uptime. They claim to do their utmost to maintain a stable network and server uptime, but they do not have any SLAs. The most annoying aspect of this is that there is no reimbursement when things go wrong because there is no guarantee.
Based on UKWebHostReview's uptime tests, which they conducted over six months, they were thrilled to achieve an overall uptime of 99.96 percent. This is just over the industry average; therefore, HostMonster squeaked by a hair's breadth.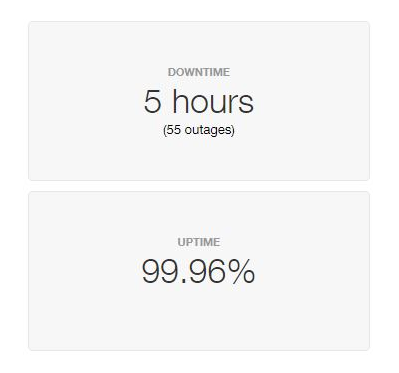 HostMonster, on the other hand, posed some pretty troubling response times on their website. There were moments when the reaction time exceeded 3 seconds, which is really concerning. However, the average response time did settle down to around 700 ms, which isn't ideal but adequate.
Security and Backups
HostMonster's web hosting plans include a variety of security measures, such as antispam and hotlink prevention. However, if you want more advanced security, sign up for HostMonster's Business Plus subscription, including an SSL certificate and two types of antispam protection.
For enhanced protection, HostMonster's email supports DomainKeys Identified Mail (DKIM) and Sender Policy Framework (SPF) authentication technology.
HostMonster offers an outstanding job of providing many security features such as Hotlink Protection, SSH Access, SSL support, regular site backups, and Spam Assassin Protection.
Backups are the last line of defense in the fight against loss of data.
Whatever goes to your server and its files, you must have a backup that you can employ to undo any unwanted changes. Its security and peace of mind, which are something that almost all site owners need.
Each HostMonster hosting package includes Site Backup Basic. The solution backs up your setup on a daily basis and allows you to rapidly recover website files.
The drawback is that the Basic edition cannot restore the database. Therefore, site Backup Pro is required if you require backups or additional features such as partial restorations.
Features of HostMonster
cPanel control panel - HostMonster's control interface is cPanel. This means you'll be able to install WordPress, Joomla, and Drupal with a single click. In addition, you will have free webmail access, anti-spam tools, and statistics.
24/7 customer support
Free domain name
Easy install for applications like WordPress
User-friendly site builder
Unlimited data transfers
One-Click installs
Unmetered Bandwidth
Free SSL Certificate - this is fantastic news because some other hosts charge up to £100 for the privilege! This is a necessity if you sell things online since it assures customers that your site is safe and secure.
30-Day Money-Back Guarantee
Security features
Unlimited disk space
Unlimited domains
Unlimited add-on domains
Hotlink protection
E-commerce features
Pros
Affordable pricing
24/7 customer support
Instant account activation
Free SSL Certificate
Good uptime
Free domain transfers
Weebly site builder
Additional freebies
30-day money-back guarantee
Cons
Lacks monthly billing cycles for web hosting services
No cloud hosting
No reseller hosting
No WordPress hosting
No optimized WordPress Hosting
Hidden charges
High renewal costs
Limited knowledgebase
No uptime guarantee
Does not offer a free site migration
Final Thoughts
Hostmonster is an excellent choice of web host, whether you are a newbie building your first personal website or a medium-sized business trying to expand. With superb extra features like SEO and e-commerce functionality included by default, and also unlimited bandwidth and the highest levels of security, it's simple to recognize their two decades of experience amid the competition.
While their cost is relatively reasonable, they employ some of the most frequent web hosting tactics. This means that their prices are lower if you sign up for a longer period of time, and then rise when you renew.
Their performance was somewhat disappointing, and their response times worried us. We don't recommend HostMonster.
We don't trust HostMonster to provide a dependable and powerful web hosting service, especially given the terrible customer reviews. There are other web hosts that provide more reliable and robust performance.
We hope this HostMonster review has been helpful in finding your web hosting company!