Directnic is a flexible domain name registration, email, and web hosting services provider founded in the early 2000s aiming to become the hosting solution for your online presence needs by providing up-to-date industry tools. This hosting company is another ICANN accredited registrar that is based in Metairie, Louisiana, the USA.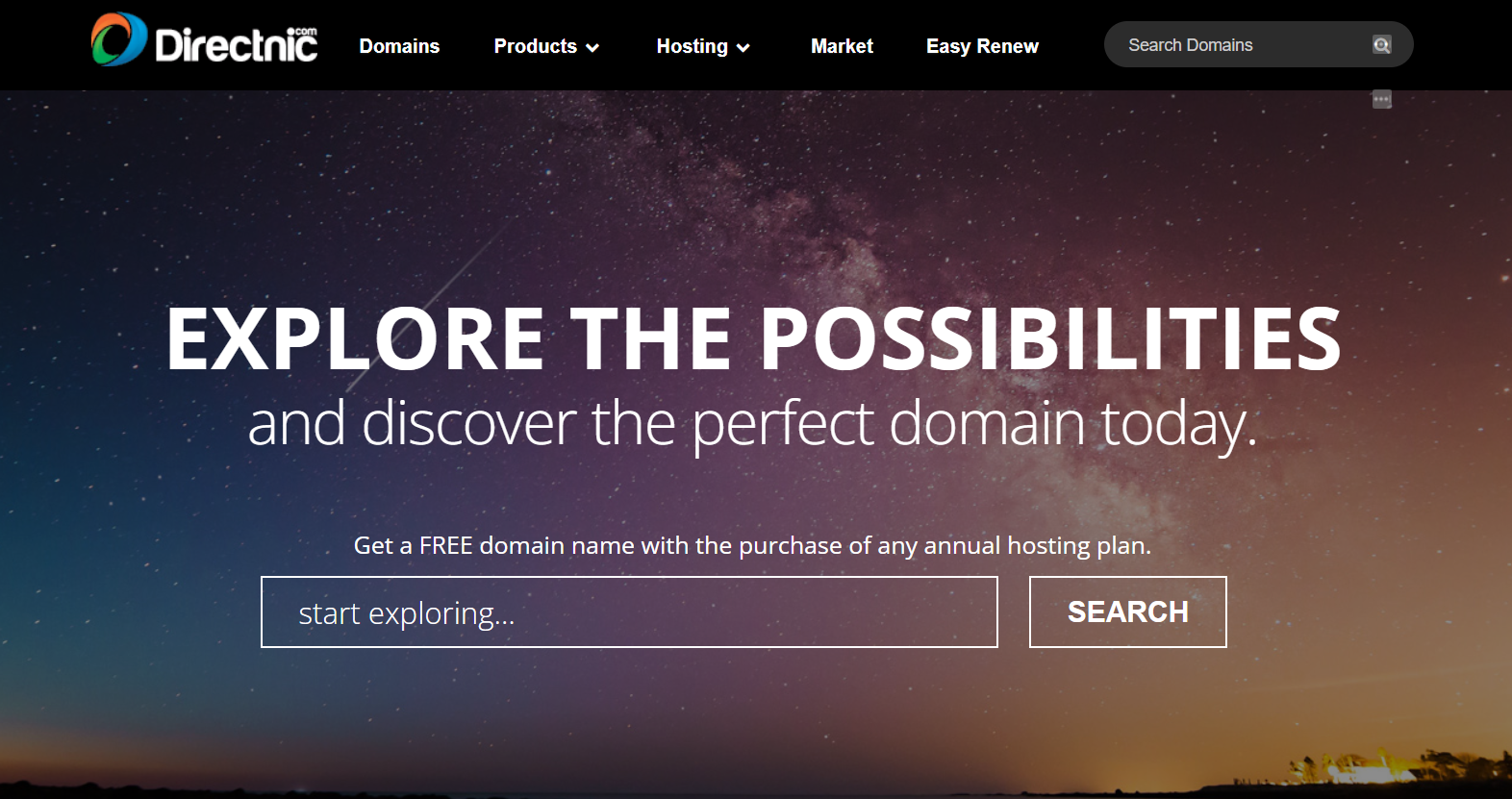 But what really makes Directnic different than other providers? Is it worth the money?
I will tell you all about it in this review. I will also walk you through the whole process, so stay with me.
Directnic has strong shared hosting and expandable virtual private servers and is a provider of reliable, efficient, and affordable web hosting services for as low as $2.48 a month. Their domain registration offers can sometimes go as low as $0.99 a year for new TLDs when it's on sale! That's half the price of your freshly brewed coffee at Starbucks!
With any annual hosting plan, Directnic's VPS hosting gives you a free domain name and features WordPress-optimized and has a drag-and-drop site builder with a guarantee of 99% uptime. Everything comes with email accounts, large storage, bandwidth, easy script installs, cPanel hosting, and 24/7 technical support. Customer service is available all the time!
Now, let's take a closer look at Directnic.
Getting Started With Directnic
To start, go over the Directnic webpage. With a modern and interactive web hosting group, their website is perhaps one of the most user-friendly I've come across so far.
When you scroll down, you will be able to explore more of Directnic's wide range of products and services. Here you will see the products of Directnic—from fast, reliable, and secure cPanel based hosting, email hosting with loaded features, SSL certificates, and cWatch to protect websites from cyberattacks.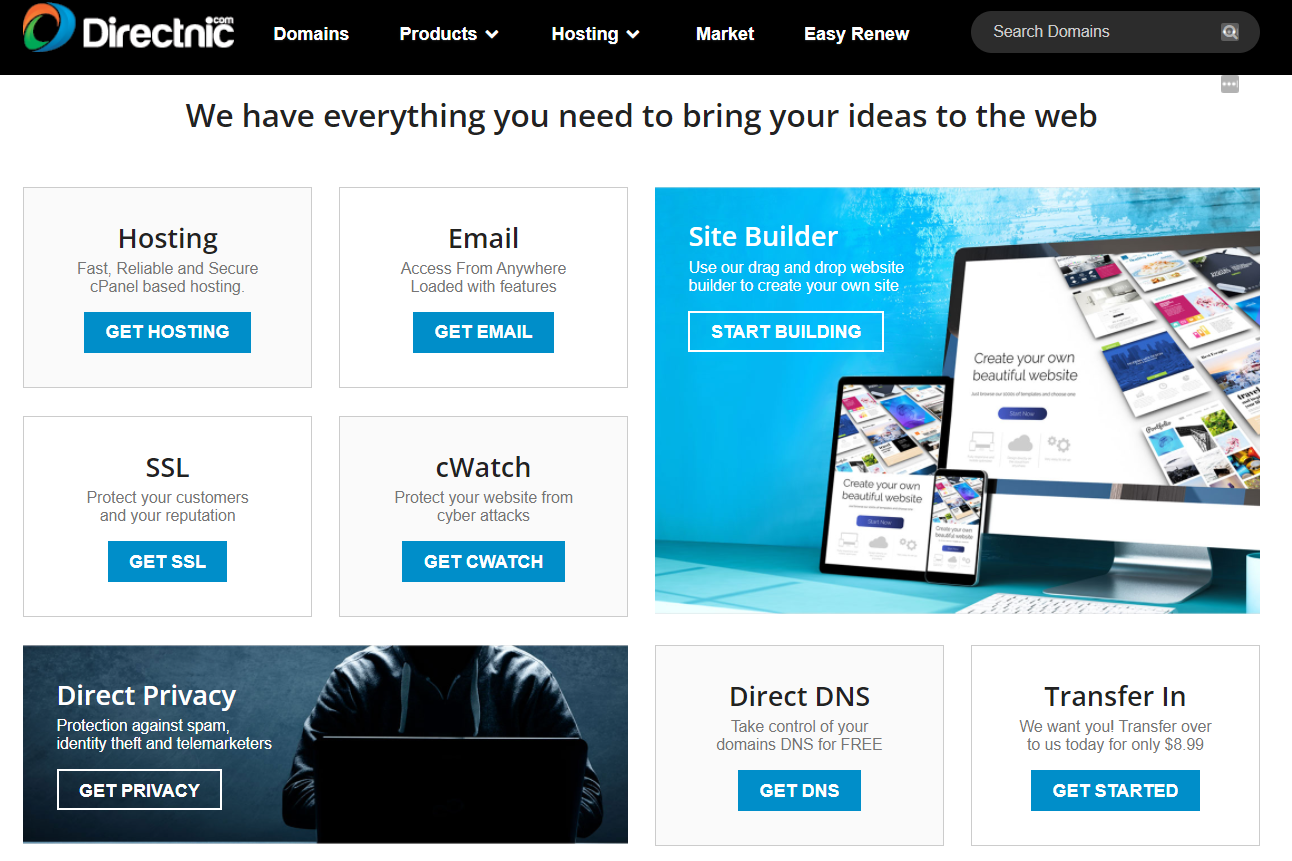 Scrolling down further, you will see the introductory price for the domain registration of the most common TLDs.
For web hosting, customers have three options to choose from - Lite; Pro; and Deluxe, each shared hosting packaged with its own set of features. For the purposes of this review, we will purchase the Lite Plan among the three hosting packages.
To access all the features and learn more about how flexible this shared hosting service is, I first signed up for an account by clicking the "Sign Up" button of their website, and it led me to its registration page.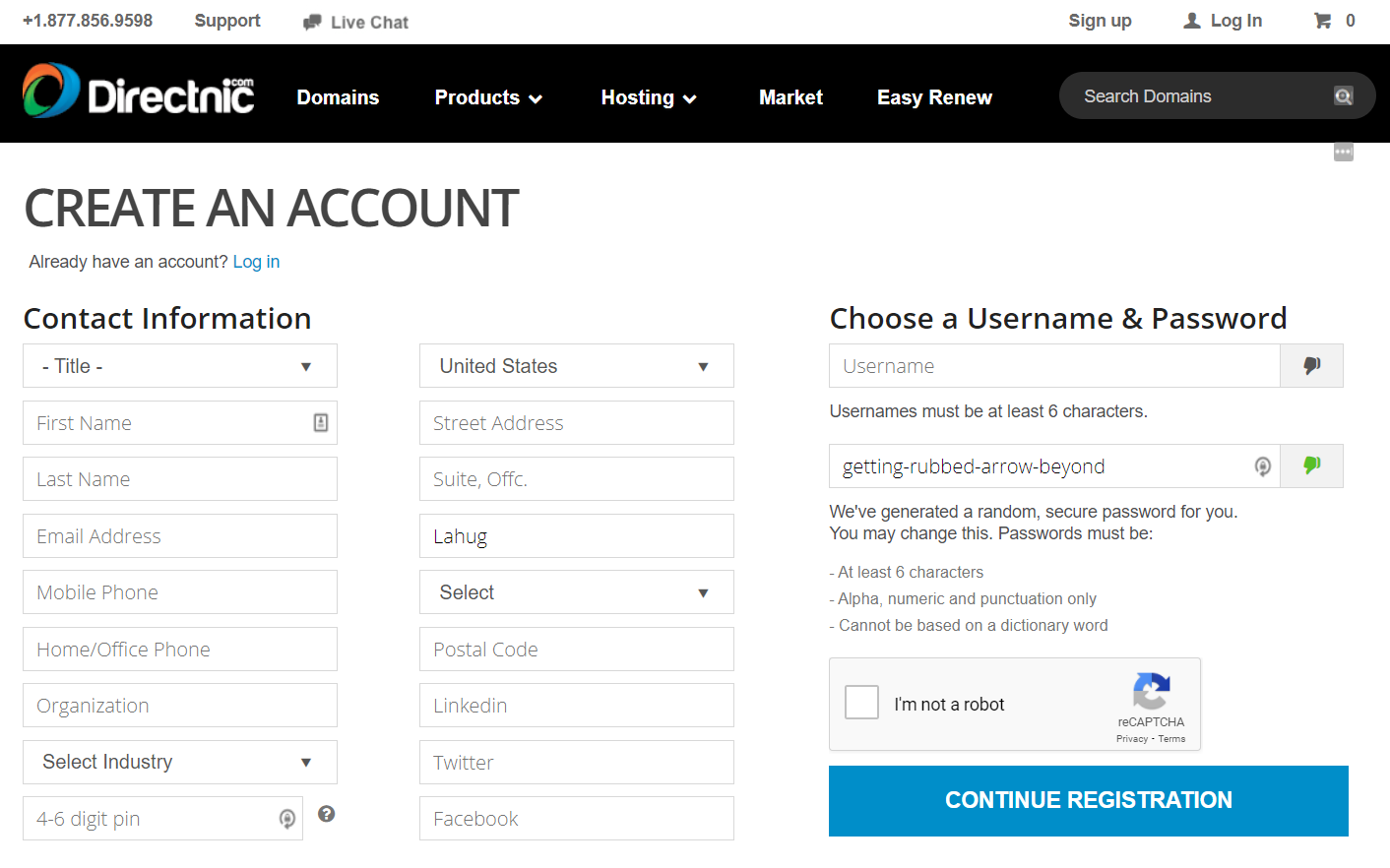 Directnic has a two-step verification for your account registration. First, it will send a code to your phone number and an email to activate your Directnic account.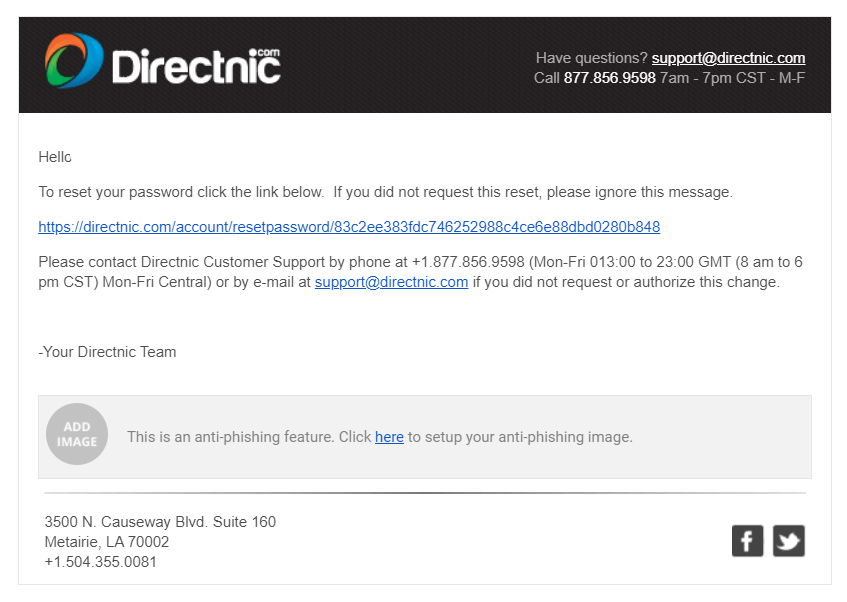 Once the phone and email verification process have been successful, you can only move along if you agree to their terms of service, so make sure that you read them carefully before making a few clicks to successfully register on the site.
A few more clicks, and you will be taken to your dashboard. This is where you also access your shopping cart to pay for the services you want to purchase.
Using and Managing Your Website on Directnic
When you log in using your activated account, you will be taken to your account dashboard, with a summary of all existing services and the expired services you've purchased from Directnic.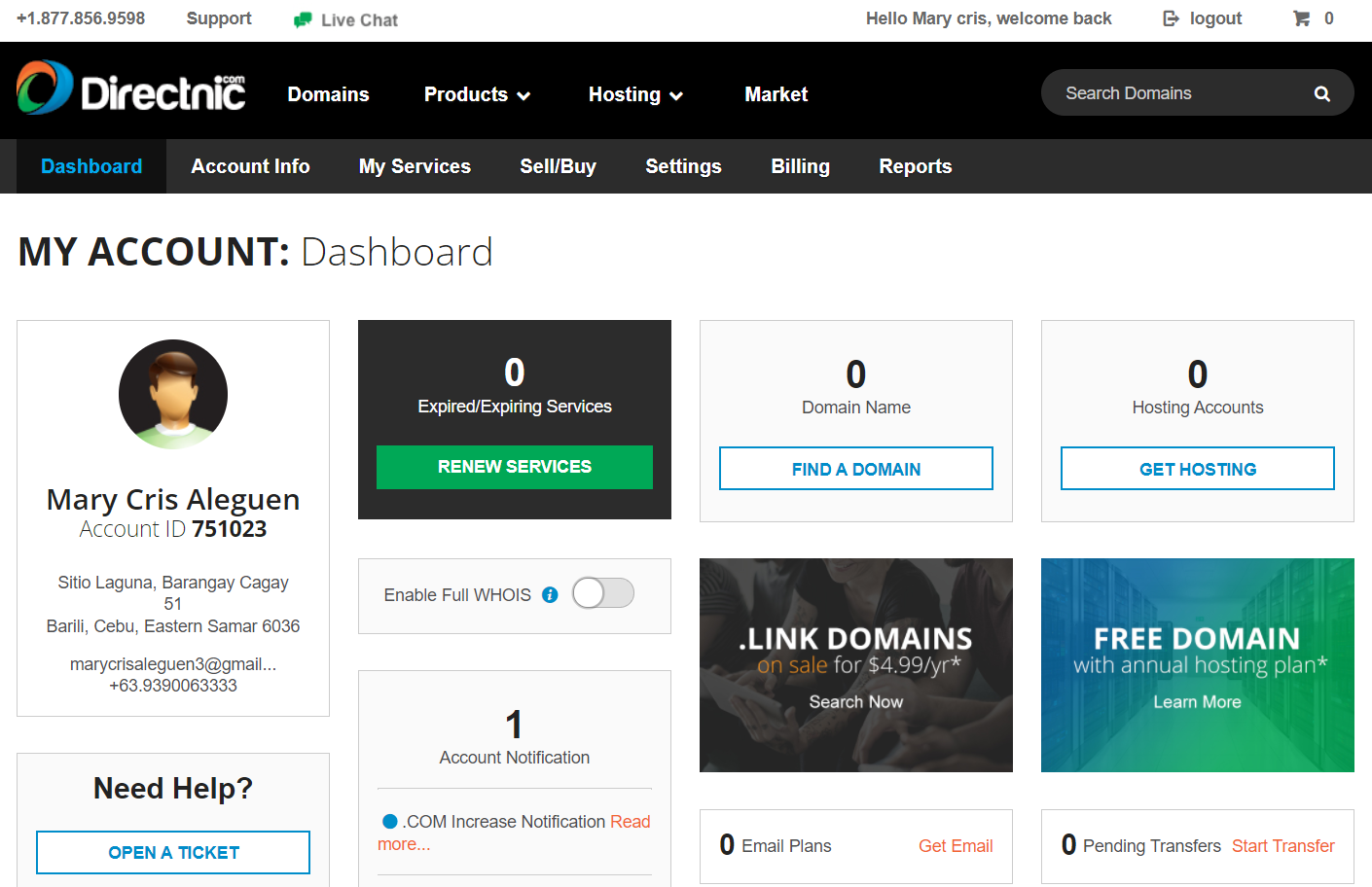 You can add more control for your account and how you operate in Directnic by customizing the settings, saving billing methods, etc.
Directnic CPanel
All domains in Directnic have a shortcut to the Directnic Hosting Console as part of the hosting package. You can simply go to "https://yourdomainname.com/cpanel" get to the Directnic Hosting Console login screen.
Alternatively, you can also log in by going to the 'My Services' tab and select "Hosting", then primary domain hosting to go to the hosting plan details page.
On the right is a blue "Launch Directnic Hosting Console" button. This will log you in Directly to your cPanel or HoConsoleonsole.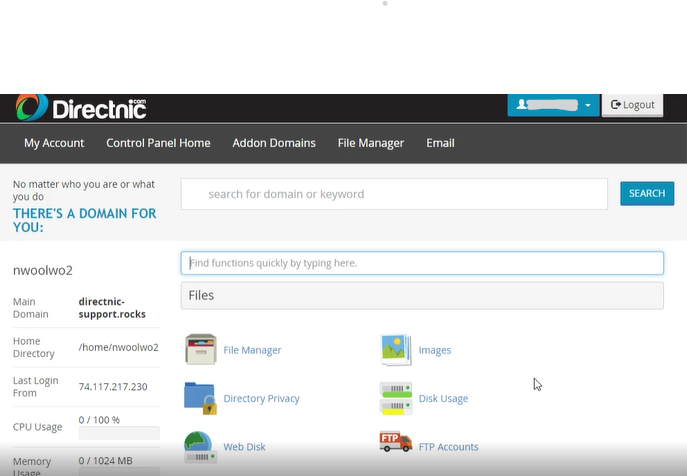 Emails
This section lets you check your email accounts, create automated responses, track email deliveries, edit calendars and contacts, see email disk usage, filter the emails, and other services. In the same way, you can also control your professional Spam Filter here.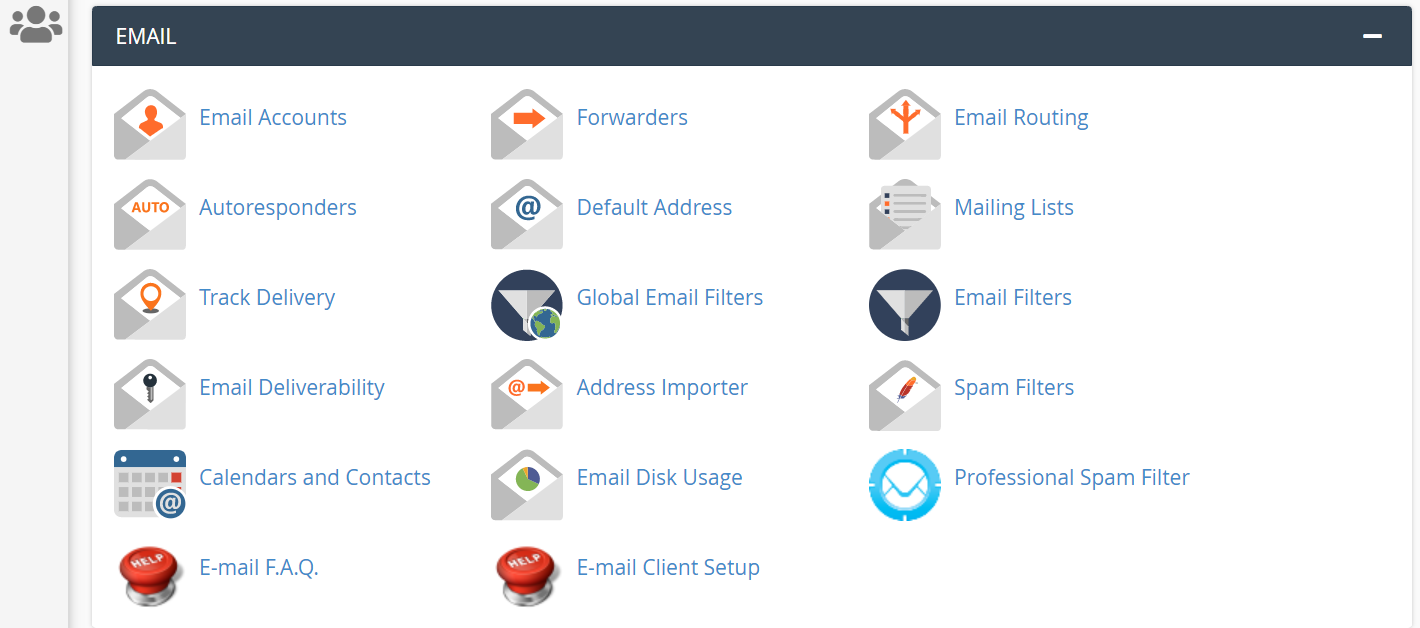 Files
Access all your files in your file manager and directory, monitor how much storage you've used up, and much is left, back up your files, manage Git Version Control, etc.

Databases
You can control your database using phpMyAdmin, and you can also create a database using MySQL. You may use these same tools to connect the database to your website.
Domain
In this section of your control panel, you can manage all your domains, assign aliases, add-ons, subdomains, redirects, etc. You can also find the domain FAQs to help you get a feel for how domain management works.
Metrics
Metrics are vital since it shows the tools that help you understand how your website is doing, thereby presenting the statistics you can look at to modify your approaches in your general web management.  It shows the visitors, the complete stats, the log of all accesses, bandwidth, resource usage, and many more. You can also see here if you have any errors on your site.
Security
This section is significant for your website management since this is where you can configure all security settings for your account. You can configure SSH keys, set up your two-factor authentication method, generate, view, or delete SSL certificates.
Software
This section shows the software that we can use to improve our website. Here, you can use Python, Ruby, Nodejs, etc. You can also use your WordPress Manager, install PHP PEAR packages, and many more.

Advanced
In this section, you can manage web cache and indexes, cron jobs to allow you to automate specific commands, view error pages, and scan for viruses.
Preferences
In this section, you can see features that involve your cPanel account password, contact information, language, and many more. You can also change the style of your cPanel dashboard into dark, light, or retro.
Directnic Website Builder
Weebly is an online website builder tool that has its web hosting. It uses a simple widget-based site builder that operates in the web browser. All the site elements are drag-and-drop, and it automatically generates a mobile version of each website. Storage is unlimited, but the service restricts individual file sizes.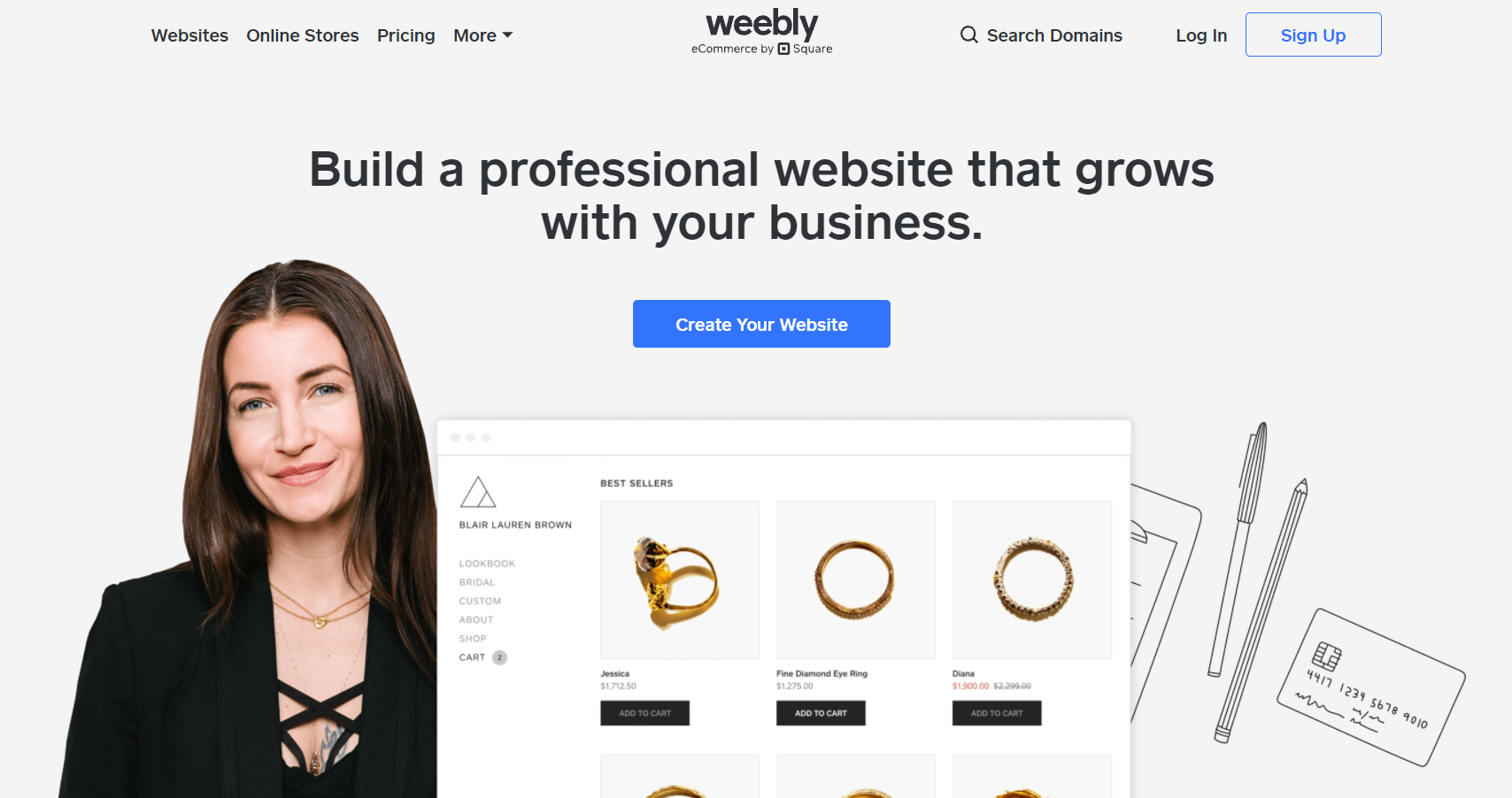 It is created with the designer in mind and is the website building tool available in Directnic. Weebly's drag and drop website builder makes it easy to create a powerful, professional website without any technical skills.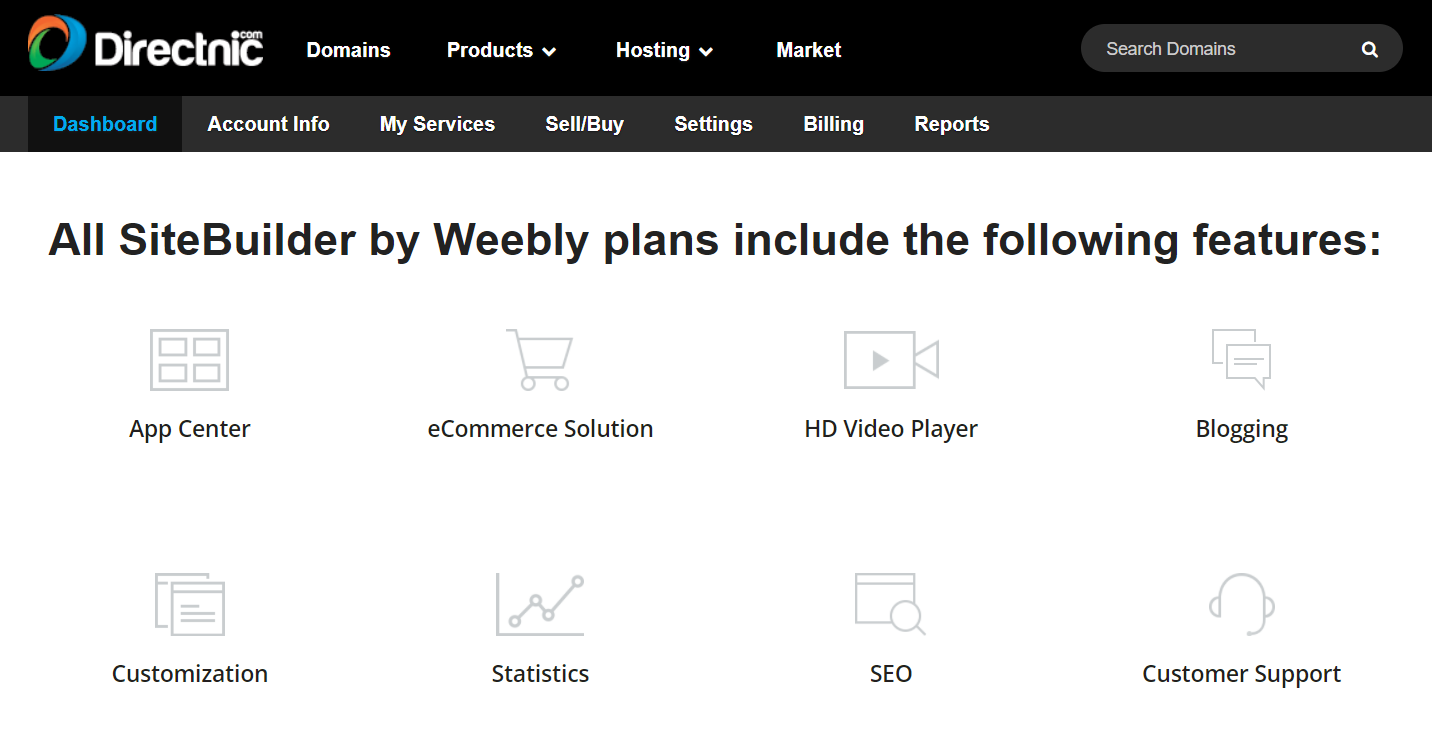 If you have just started and don't have a site, the company offers three packages for its site building plans. They have the Sitebuilder Starter, Sitebuilder Pro, and Sitebuilder Business. Hosting is already included in this. Listed below are the Weebly pricing offered by Directnic.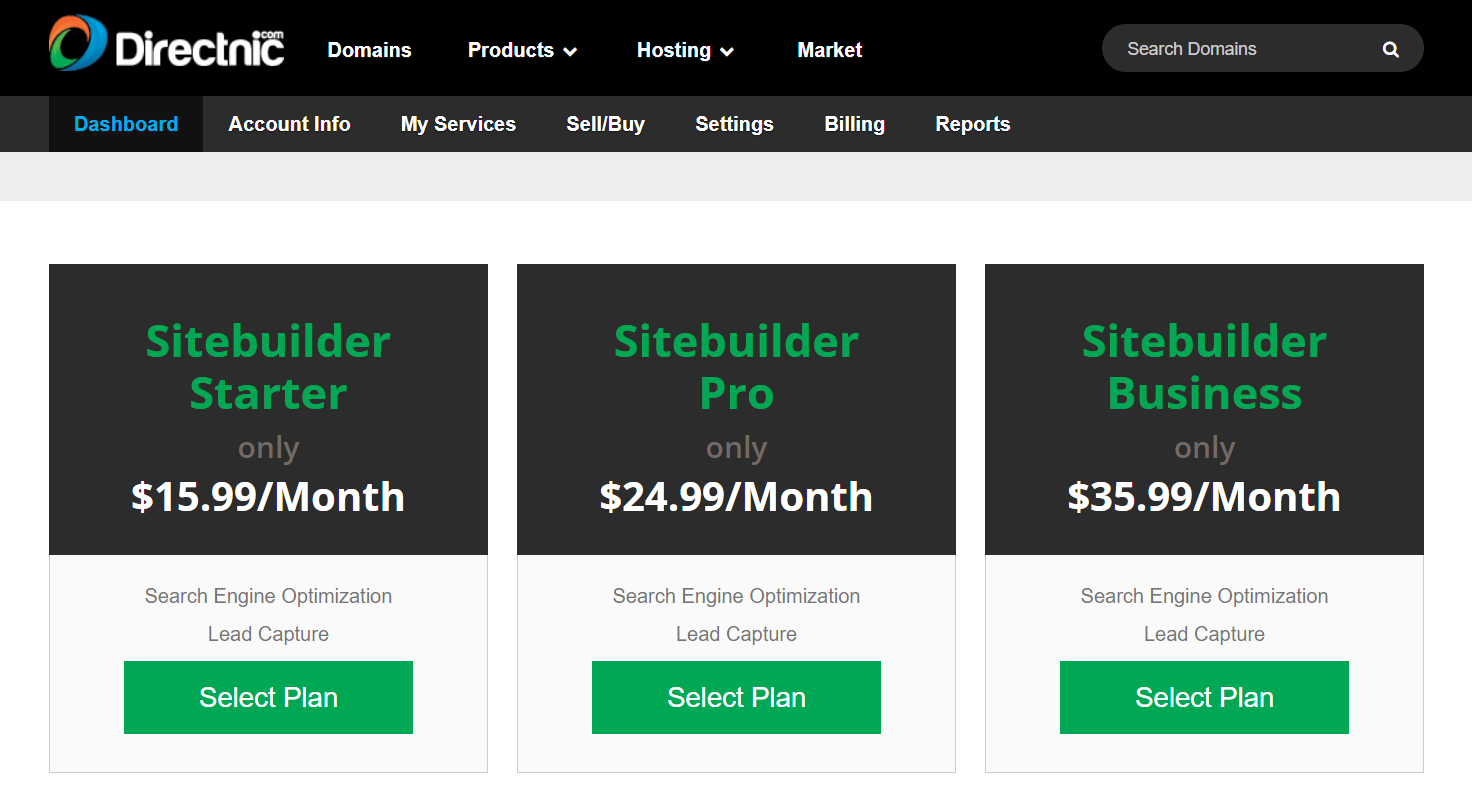 In any of those plans, Directnic allows us to do the following with Weebly SiteBuilder:
Multiple one-click installations to market our websites
List up to 10 products on our site and checkout on Weebly
Easily embed H.D. videos into our websites
RSS, real-time community comments, social sharing, and community tools
Customize templates with full HTML and CSS controls
Track visitors and understand traffic performance
Perform better in search results
Access chat and email support, video tutorials, and more
Apps Installer
Directnic also uses cPanel as a server management panel. Here, you can easily download your desired application from within your control panel using the Softaculous App Installer for free.
It features an exhaustive list of applications, including blogs, Wikis, Social Networking, portals/CMS, Forums, image galleries, ad management, calendars, gaming, emails, project management, e-commerce, etc.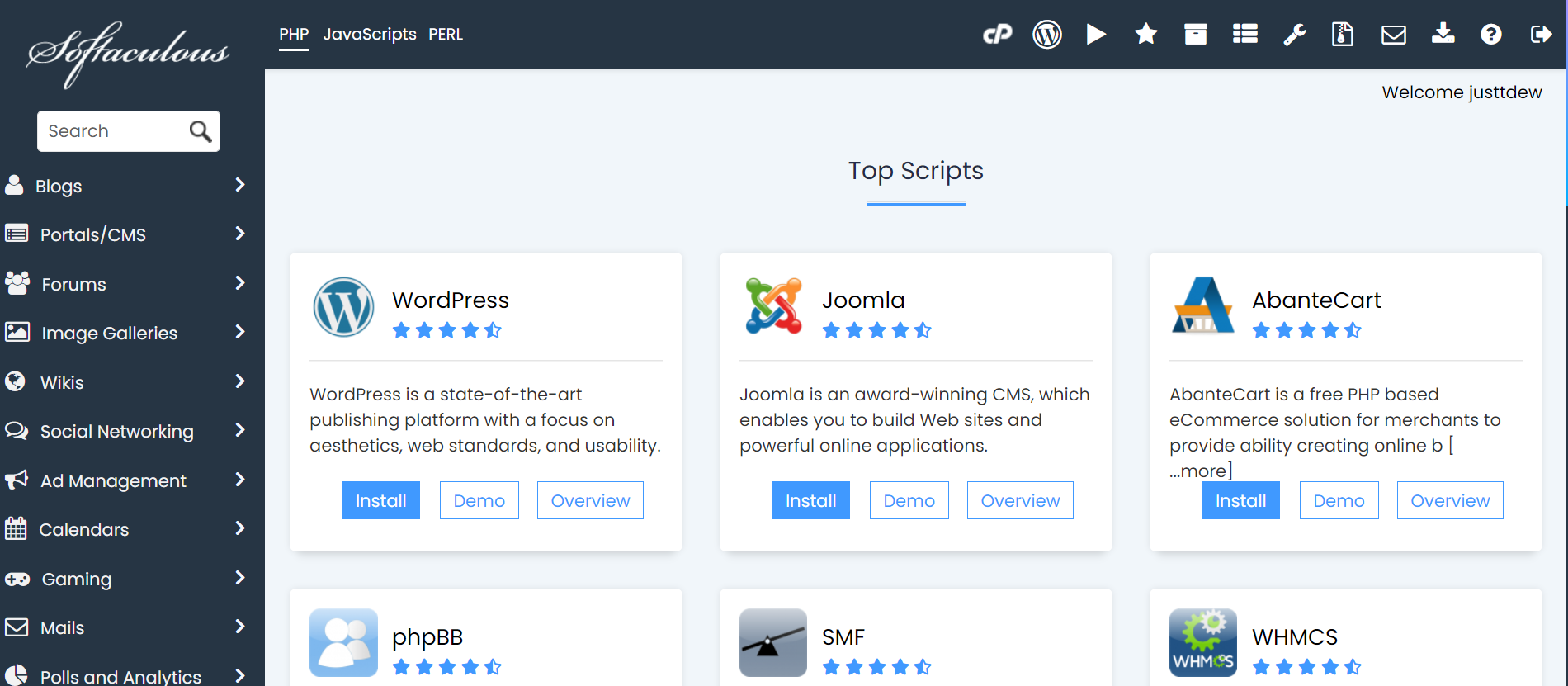 WordPress Themes
When installing, you can choose from a list of different and free plugins as well. The downloaded app comes with thousands of free themes you can choose from.
You can also use StellarWP for the plugins and software for your website and store. It is available to managed WordPress hosting plans.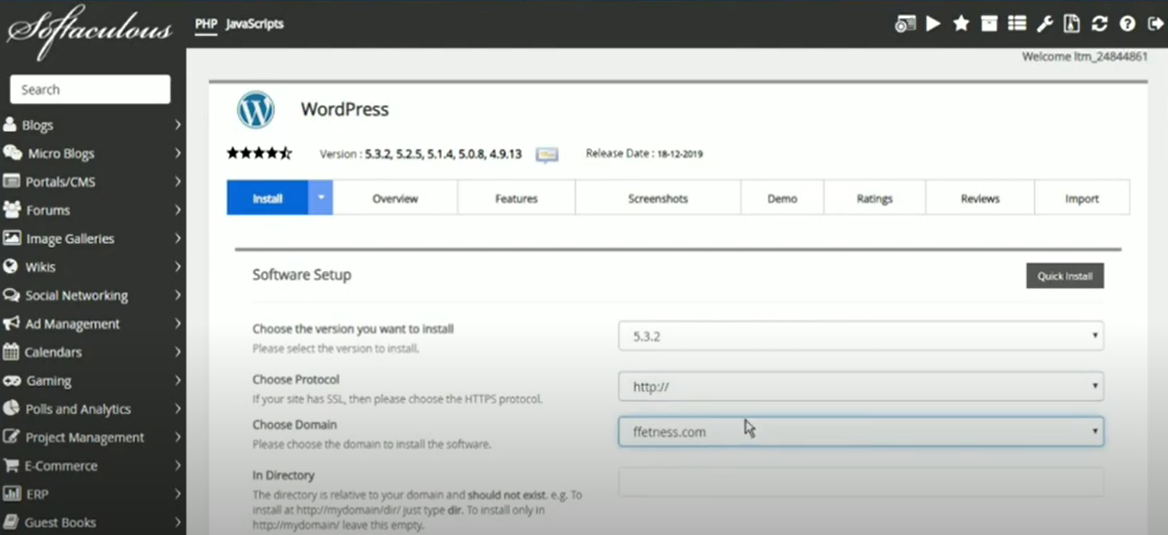 Directnic Customer Support
Paid plans give you access to a support team that can assist you in your website hosting journey to address any problem that arises. Excellent tech support is a must to consider a hosting service a great one.
Directnic support team is capable and well-prepared customer support representatives who intend to help resolve client's issues as fast and efficiently as they can.
You can get instant self-help or use available help through live chat support, which I put to the test, and indeed they are very responsive.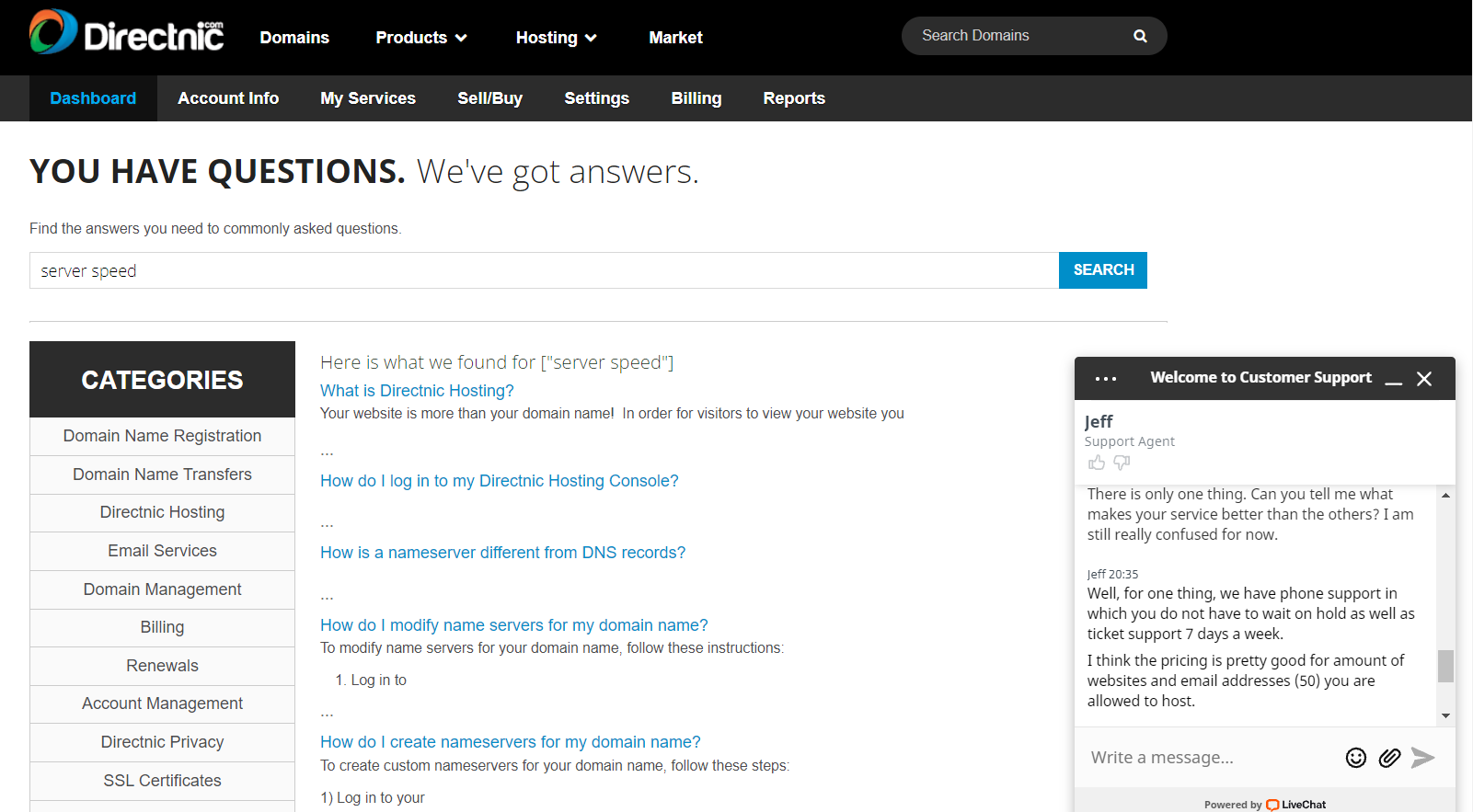 You can also contact them using phone support at +1.877.856.9598, and you can call them during working hours from Monday to Friday (Central U.S.ime). You may also use a helpdesk ticket if the problem can wait some minutes or a few hours. By posting a ticket, all of your support histories can be instantly reviewed through the Tickets tab under Account Info. All support services except telephone are available twenty-four hours a day.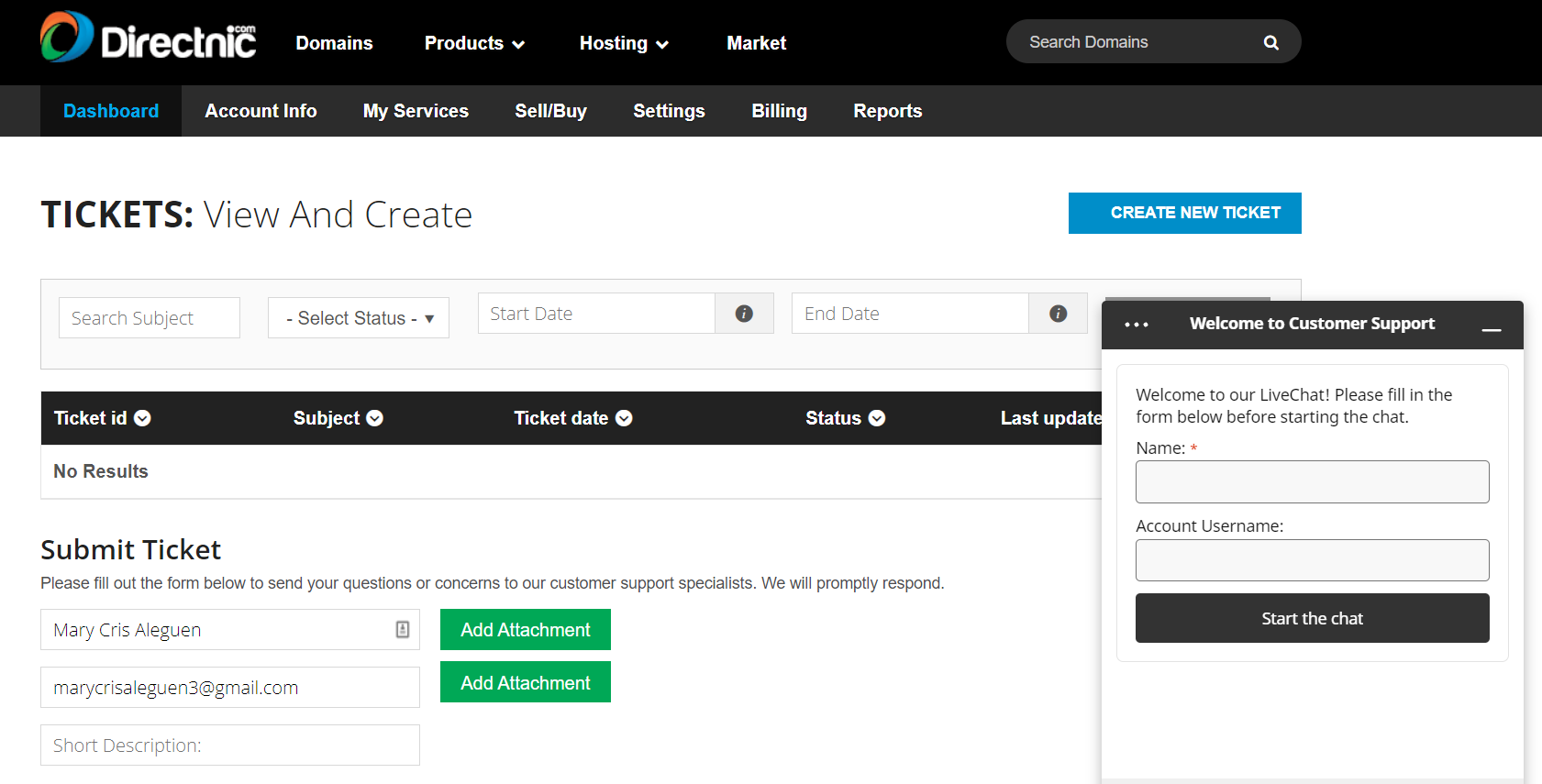 The company also offers a comprehensive list of valuable resources you can check out when having issues or when you want to learn more about your hosting account, domain management and transfer, email management, billing and more, by providing an extensive FAQ page.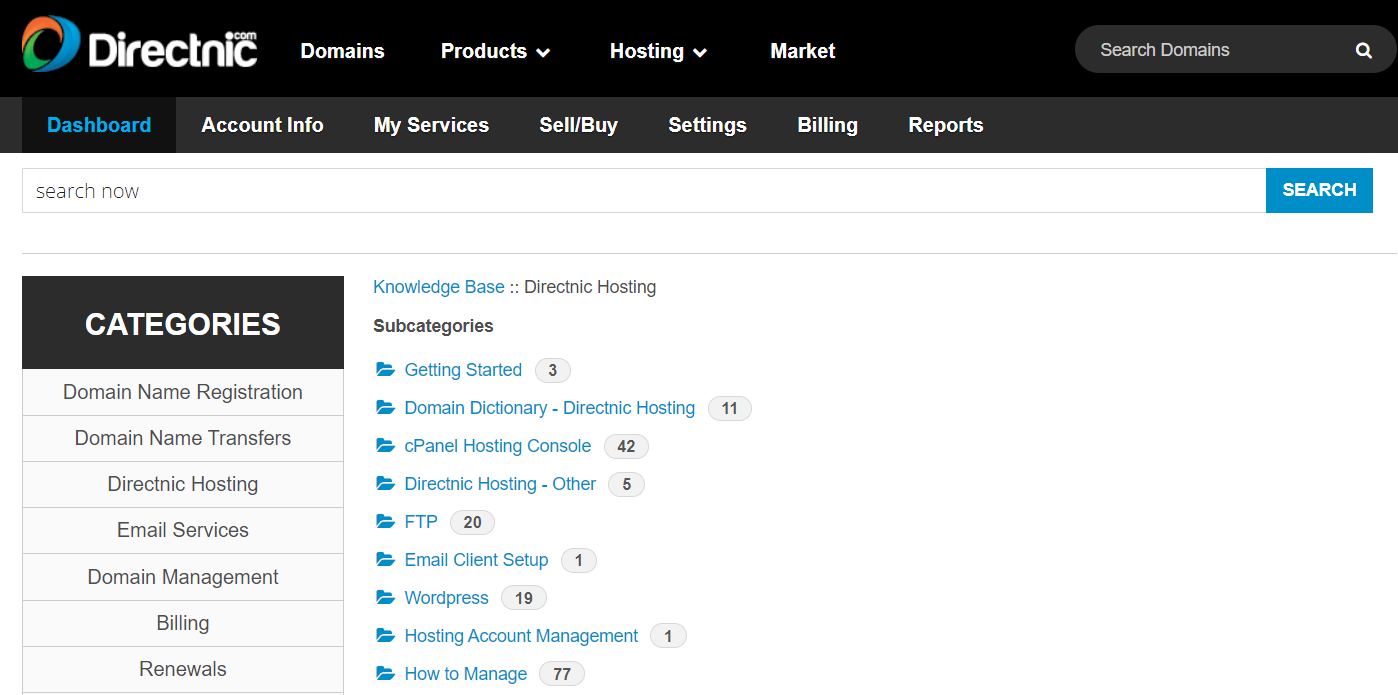 You can select a category of your concern from the help desk to get more technical help if it isn't resolved yet from the means mentioned above. In here, you can also find some walkthrough videos like logging in tConsoleonsole, transferring domain, etc.
If you are trying your navigate your way through the Directnic website and are confused with all these tabs, they also included a sitemap where you can check from the bird-eye view the whole website map, so us, customers checking the website can directly access from there our intended destination page.
Plans and Pricing
Directnic's shared web hosting packages are all reasonably within the range of what you will see in most pricing of other companies. Whether you are trying to build a website for your small or local business. For what you are getting, these prices seem very reasonable. If you shop around, you can likely find much lower pricing, but not likely with all the offered features.
Lite Plan: A low-cost starter package that is perfect for hosting your first website in an easy-to-use cPanel environment. The price starts at $2.48 per month and comes with an easy install to get your website or blog online in less time than it takes to watch a movie.
This is the most basic hosting package that they offer. This package includes 10 GBG.B.k space, 100 GB data transfer, 50 POP3 emails, 10 MYSQL Databases, 3 FTP Accounts, Up To 3 Hosted Domains, Up To 50 Sub Domains.
Pro Plan: A mid-level package that is perfect for your small to medium-size business. It comes with more disk space, pop3 emails and databases, and cPanel hosting tools you need for your growing business.
This mid-level package costs $2.48/Month in exchange for 100GB Disk Space, 1000GB Data Transfer, 100 POP3 Emails, 50 MYSQL Databases, 5 FTP Accounts, Up To 15 Hosted Domains, and Up To 150 Sub Domains.
Deluxe Plan: This is an inclusive hosting package that is perfect for managing multiple domains from one hosting account, also designed to meet the needs of professional websites that receive a high volume of traffic.
Their grandest hosting plan you can get comes not with unlimited resources but 200GB Disk Space, 2000 GB DG.B.Transfer, 250 POP3 Emails, 100 MYSQL Databases, 10 FTP Accounts, Up To 30 Hosted Domains, and Up To 250 Sub Domains. This, you can get for $7.98/Month.
On top of all these, Directnic features a FREE domain name with any of these hosting plans.
All of these annual plans in this company come with a free domain and an affordable renewal price in the succeeding years.
Server Speed
The company sometimes migrates email/hosting plans to better provide optimization for our needs as well as address difficulty in server maintenance.
I didn't have problems loading my website so far, but I have also read sort reviews from other customers that say they were experiencing some delays. The company has updated servers back in June, which are much faster than what they had before. So, it's granted that they perform much better now.
Security and Backups
Directnic also has a backup wizard that you can use to back up the website manually or set it up to backup on specific dates, automatically.
They have an email and spam filter with controls that the customer can set. They also offer cWatch as an additional add-on, and it means extra money too. But that's just how it is with almost everything as it is in web hosting- a comprehensive website security feature comes with a price.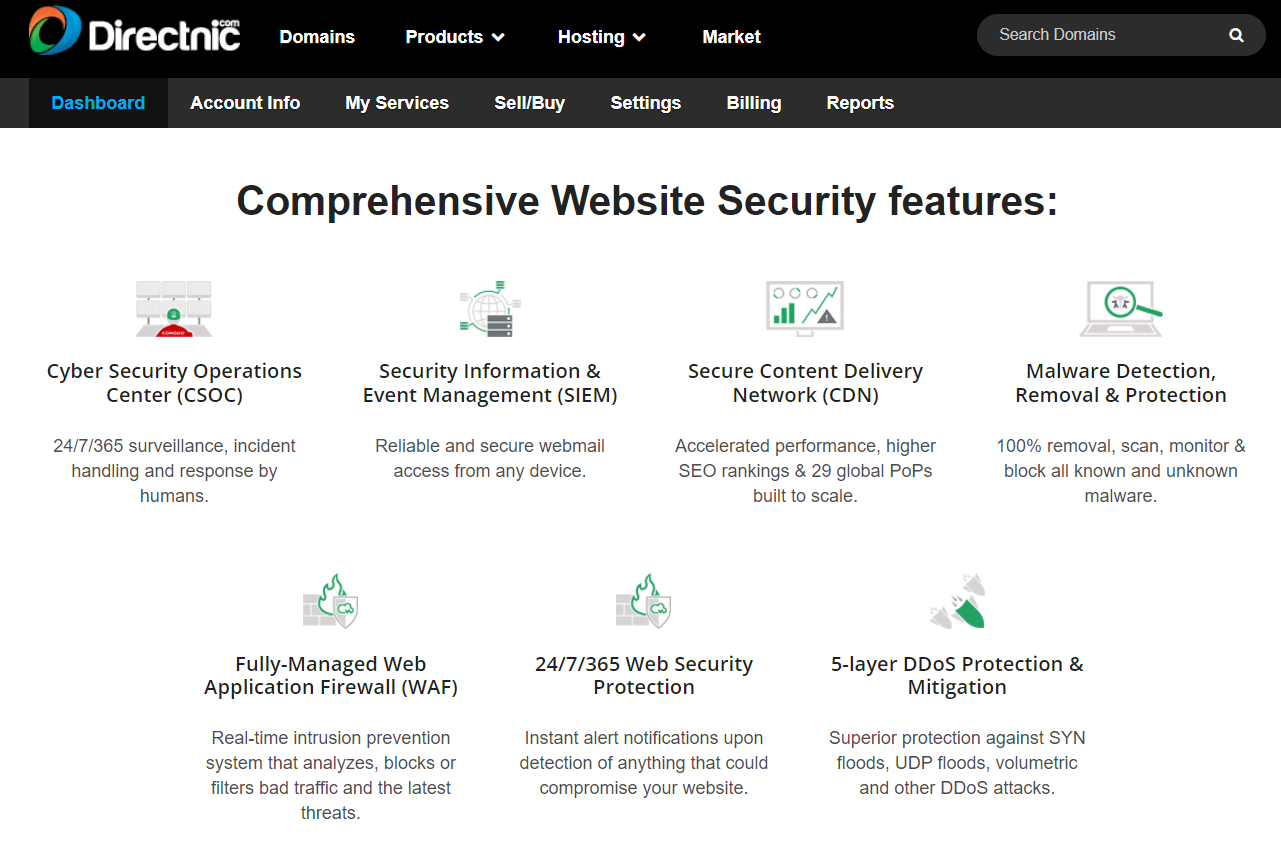 Features of Directnic
All Directnic Hosting plans come with the same excellent services. The most popular features include POP3 & IMAP Email accounts, Webmail Access, and one-click installations of all your favorite scripts, including WordPress, Joomla, Drupal, ZenCart, and more. You're going to have to choose the right annual hosting plan that is suitable to your level of needs.
Pros
This is a very user-friendly hosting company. They understood that their customers and target users usually don't want anything overly complex for their hosting, and they built on that idea. I was impressed with their comprehensive FAQs page that includes some walkthrough videos for a specific problem. They displayed all the information we need here to solve some minor issues and sometimes just our difficulty navigating the site or where to go next. On top of that, their live chat is working! All these mean they have an excellent support team. The interface is also straightforward so you can get everything working without any trouble.
I also think that the pricing is affordable for the number of websites and email addresses (50) you are allowed to host, even for the most basic plans, and they allow a money-back guarantee when the account is canceled within 30 days.
Cons
You might not need it yet, but they don't have a package for unlimited resources. We have to purchase SSL certificates separately, which is annoying to me. The prices for these are pretty expensive and very limited TLD choices for domains.
Final Thoughts
Directnic has affordable prices, and their web host products and services can definitely hold their ground compared to similar offerings from another web hosting provider. However, none of their packages offer unlimited resources. It's not also the cheapest hosting service for a simple blog. There are quite a few other more affordable options out there that can host your website with the same storage. For a small business or organization, the Lite Plan is packed with features that might be useful.
So, to answer our question at the beginning of this review, is it worth it? The answer is dependent on your needs. My recommendation is to start with a cheaper plan. You can always upgrade later on. Directnic can help you with the migration process to a more expensive plan. Your expected website activity and the increase in the number of visitors can take a long time, so, as a more practical approach, you shouldn't pay a lot of money until the need arises.
Therefore, try to evaluate your needs, put it on paper and then gather more information about prices, featured packages, and feedbacks from other hosting service providers before you commit to Directnic.