Bluehost is a well-known hosting provider for website owners who use a self-hosted version of WordPress or some other open-source platform. It presents a range of hosting plans such as shared, managed, VPS, and dedicated hosting for consumers and businesses with varying needs and budgets. Officially based in Burlington, MA, currently hosting over two million websites.
Bluehost, founded in 2003, has constantly created new ways to deliver on its mission: to empower people to fully harness the web. Originated in Orem, Utah, they give complete tools to millions of customers worldwide, enabling anyone from beginner to skilled to really get on the web and thrive with their web hosting packages.
Bluehost support has in-house specialists who are ready 24 hours a day, 7 days a week, to assist all queries, so anybody can securely shoot for the moon. They claim that their support team is dedicated to assisting their customers around the clock so that they can be the greatest web hosting company to their consumers at all times.
If you're curious about our experiences with Bluehost, keep reading!
Getting Started With Bluehost
To start, you must go to the BlueHost website.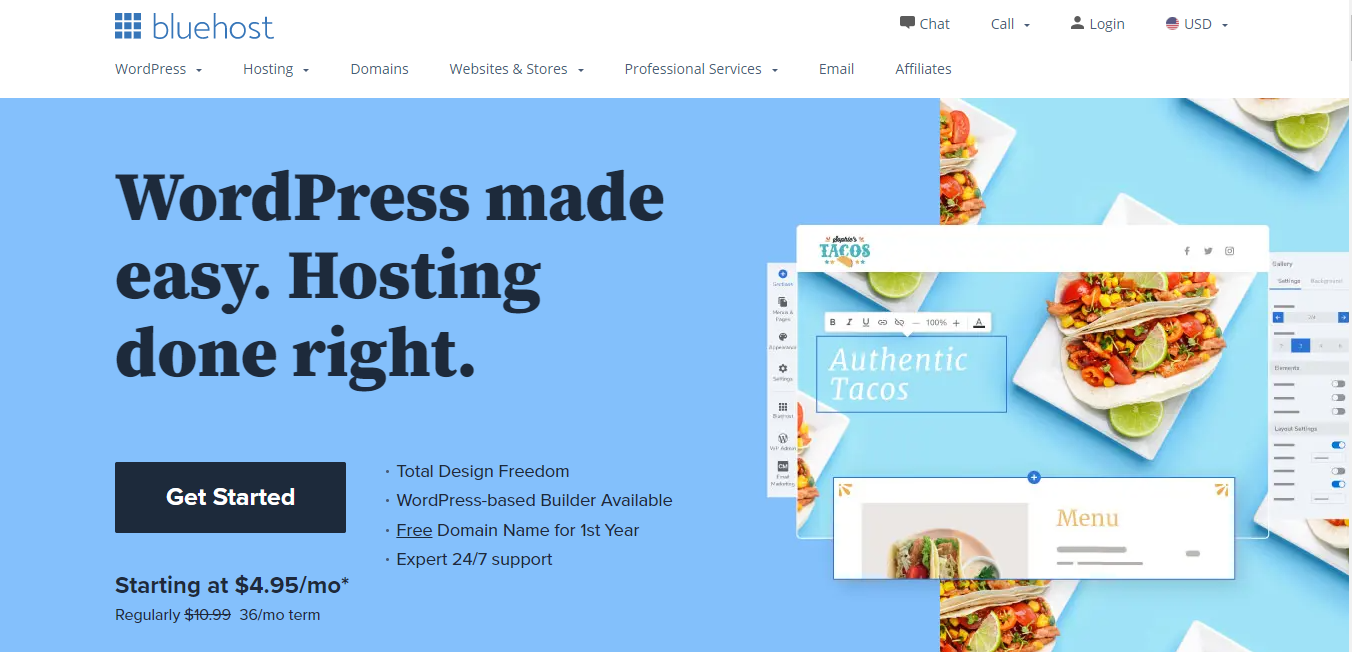 On the homepage, you will be greeted with a blue homepage - hence, the brand name.
Bluehost is among the three hosting companies that WordPress endorses, which is why their WordPress Hosting is featured on the homepage.
On the upper part, you'll see a range of tabs from WordPress, Hosting packages, Domains, Websites & Stores, Professional Services, Email, and Affiliates.
WordPress Hosting - A managed WordPress hosting. Get resources and tools specifically designed to help you get the most out of your WordPress website.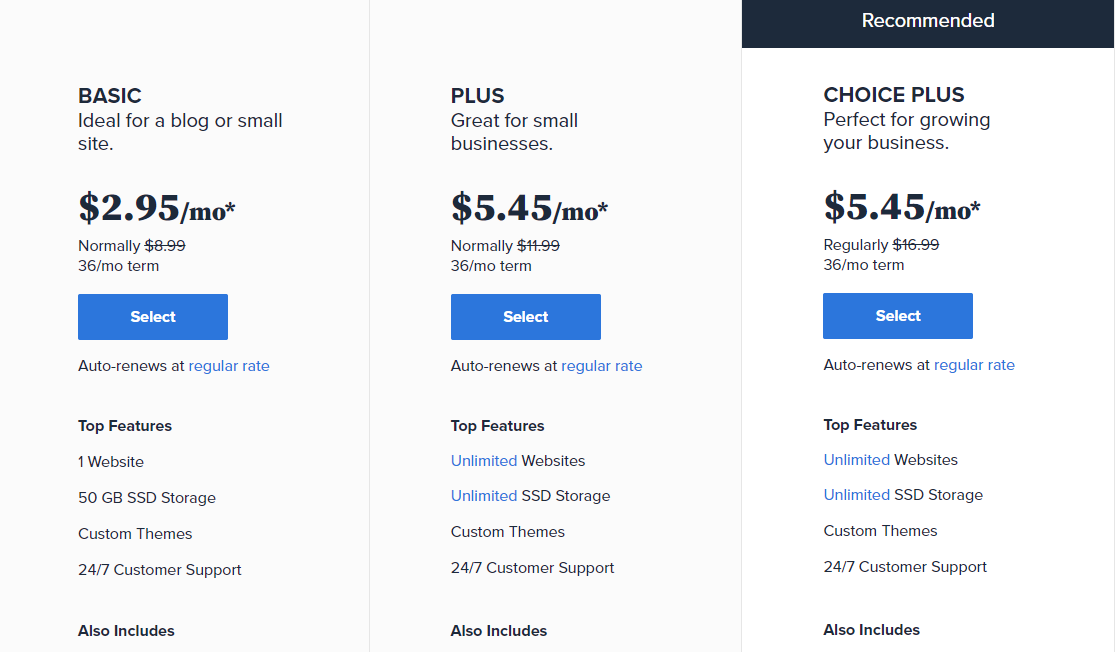 Shared Hosting - A cPanel shared hosting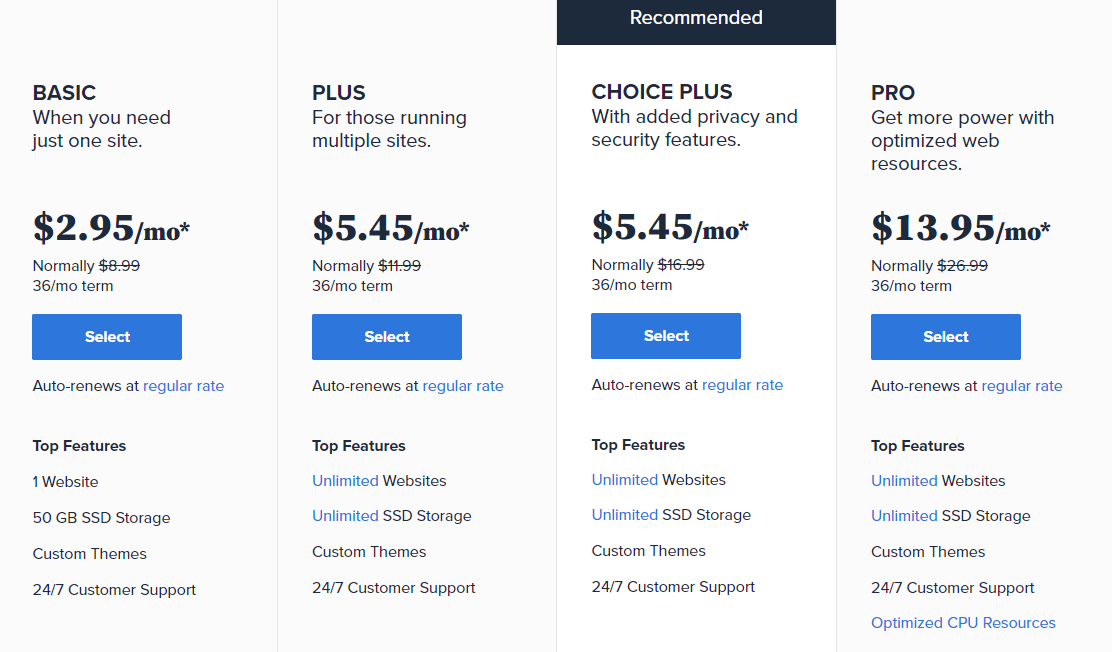 VPS Hosting - A high-performance VPS hosting service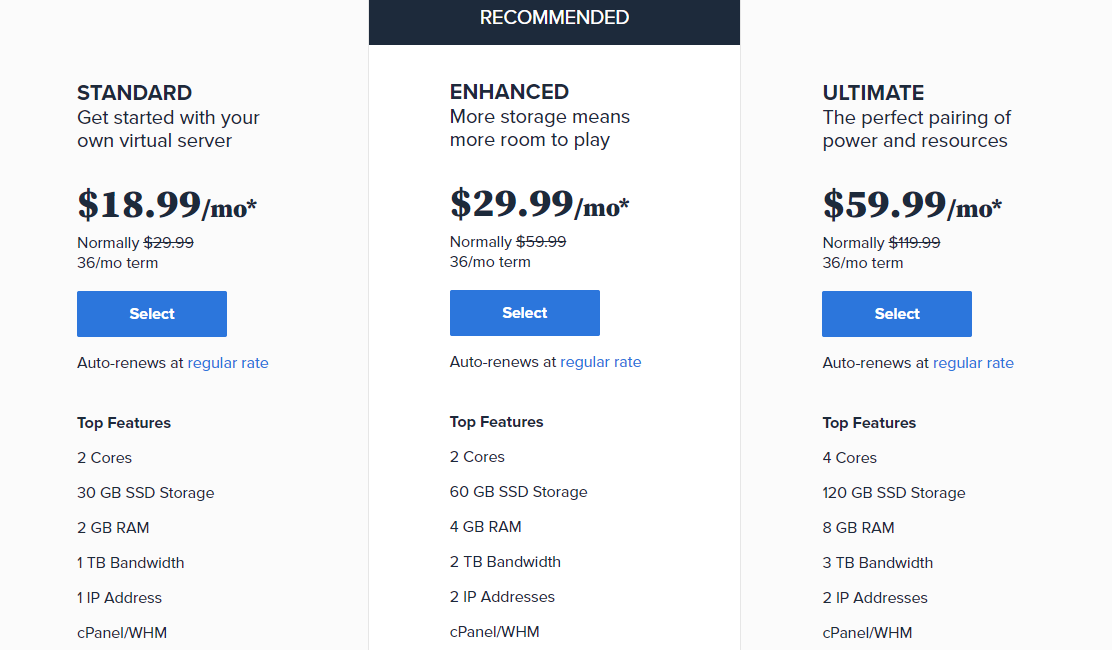 Dedicated Hosting - Hardware and Software configurations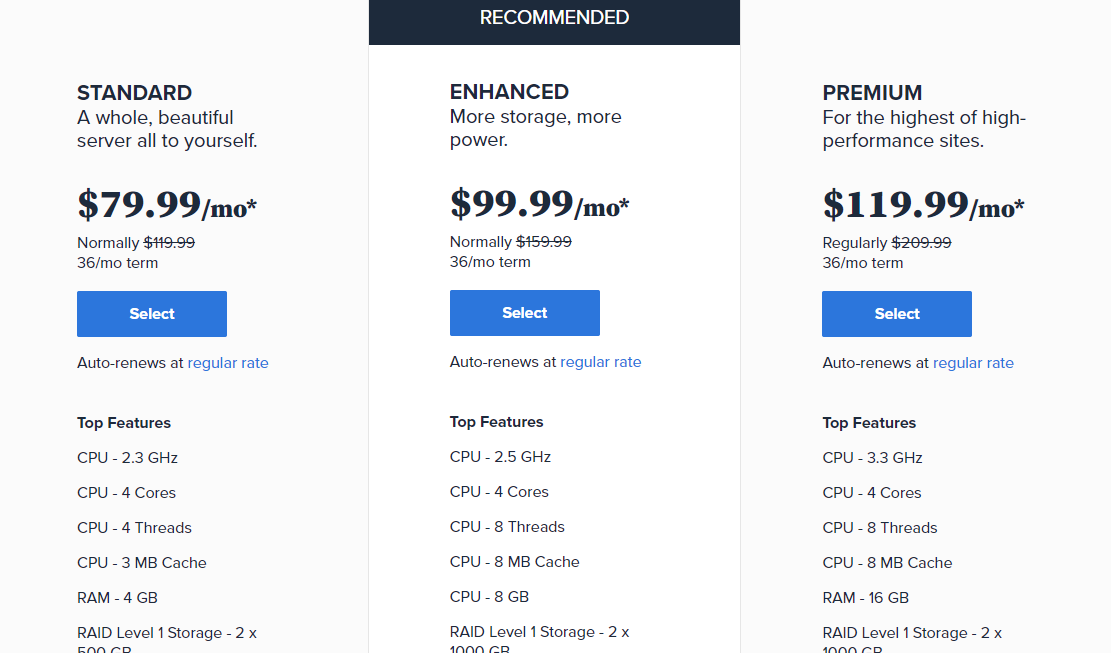 Reseller Hosting - Powered by ResellerClub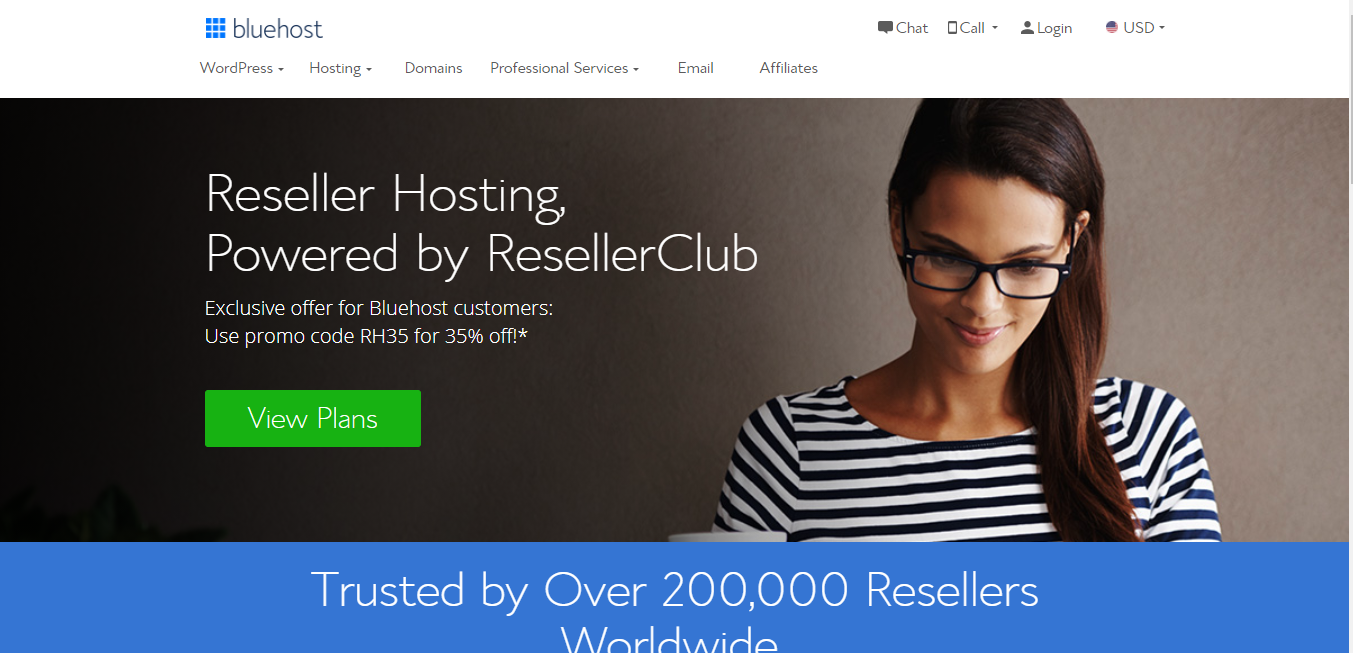 For this Bluehost review, as always, I went for their cheapest plan - Shared Hosting Basic, which offers 50GB of storage, unlimited monthly data transfers, free domain name for a year, free domain name transfer, free SSL certificate, free CDN, and you'll be able to host one website.
Click "Select" to sign up for whichever plan you wish to purchase. You will then be prompted to a page where you set up your domain, or you can also use an existing domain if you want to.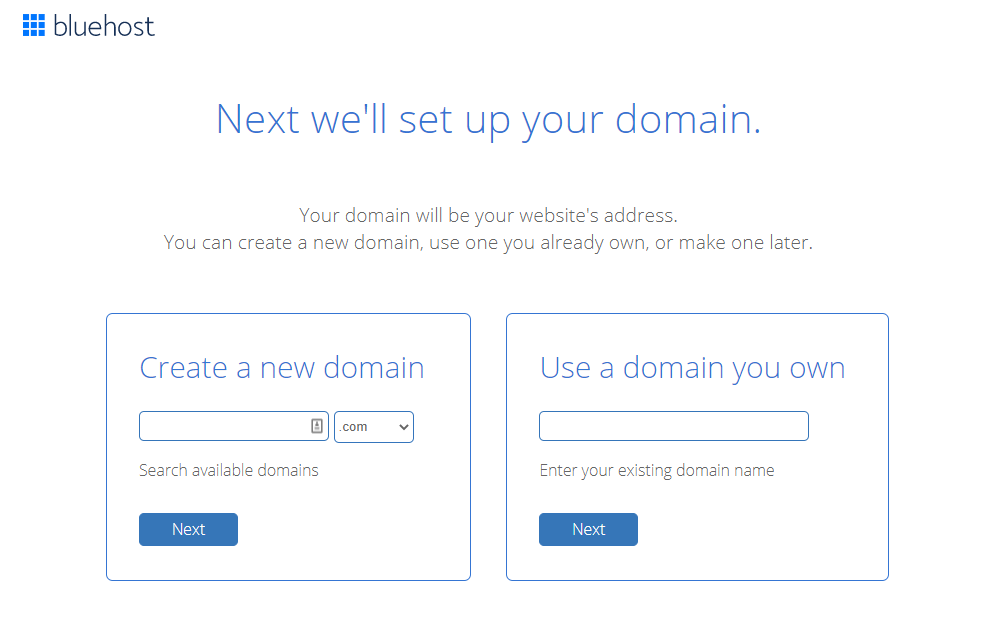 You also have the option to set up your domain later. After this, you will proceed to your account information, package information, package extras - which is basically add-ons, and lastly, payment information; in terms of payment options, you can pay via Credit Card or through PayPal.
Additionally, Bluehost makes your account set up easier by using Google Sigle Sign-On, allowing you to use your Google Account.
Pretty awesome, I would say!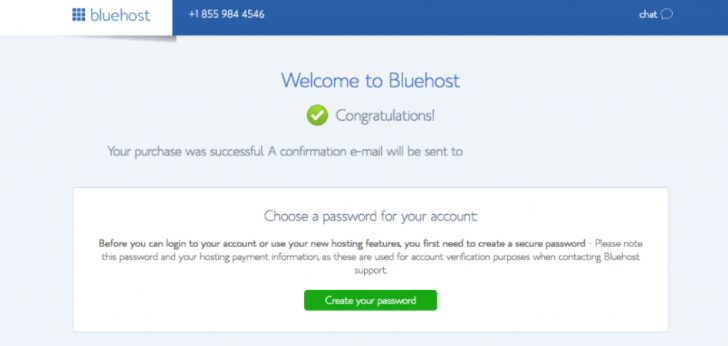 After submitting all the information needed to create your account, you should be redirected to this page, saying that your purchase was successful. Below you will see a button; click that to create your password. You can log in right away after confirming your password.
And you're all set!
Using and Managing Your Website on Bluehost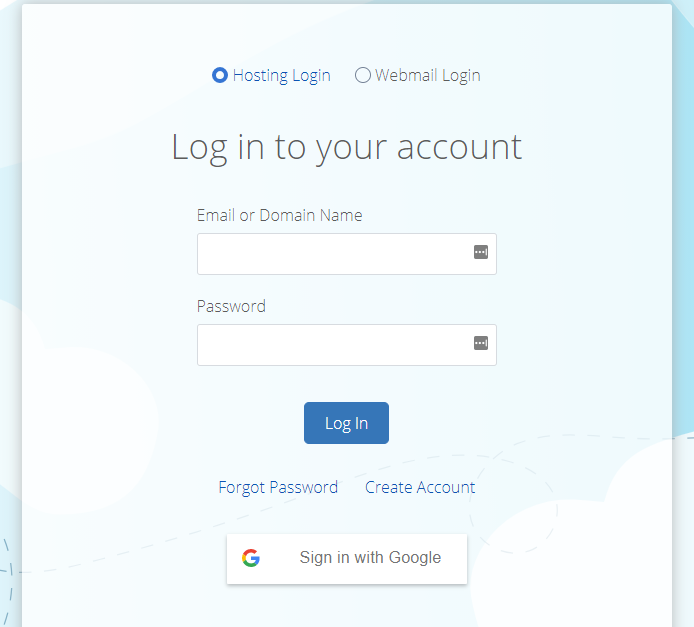 By clicking the Login tab on the upper right side of the Bluehost homepage, you will be directed to the login page. Here, you will need to key in the email you used as well as your password.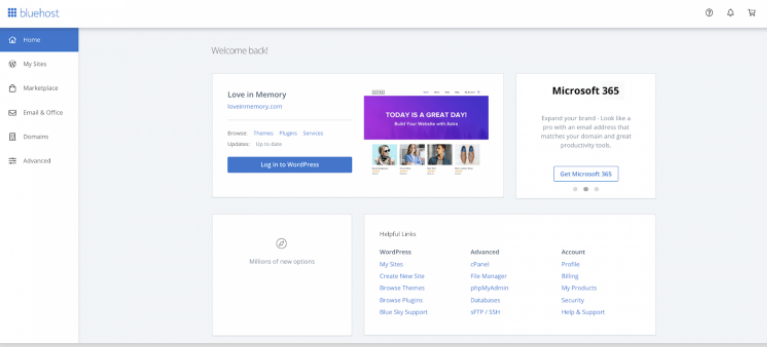 This is your Bluehost Dashboard.
This user-friendly interface makes it simple to access anything and everything you need. You may access all of the essential navigational links listed here, including the cPanel, File Manager, phpMyAdmin, and Databases.
You can also go to the "My Sites" tab, from which you can manage all of your websites. You can also build a new website from your dashboard, view your themes and plugins, and contact support.
BlueHost CPanel
The control panel is where you administer your website's hosting and accounts, such as domain name management, email address/inbox configuration, and payments/billing for the services you receive.
The Bluehost Control Panel is a tailored and upgraded version of the well-known and user-friendly cPanel Control Panel. In addition, the redesign of cPanel tends to make it a lot easier to use.
To gain access to your Bluehost cPanel, simply log in to your account, and from there, you have to click the Advanced tab located on the left side of the navigation menu.
Emails
Your Bluehost cPanel includes access to an email server. You can create email accounts using your website's domain name, a free web-based email client, or your preferred email software. Click on Email Accounts to gain access.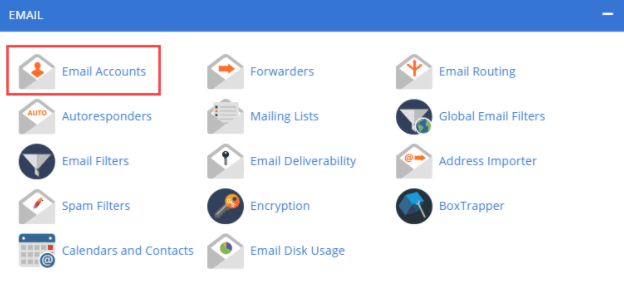 Email Accounts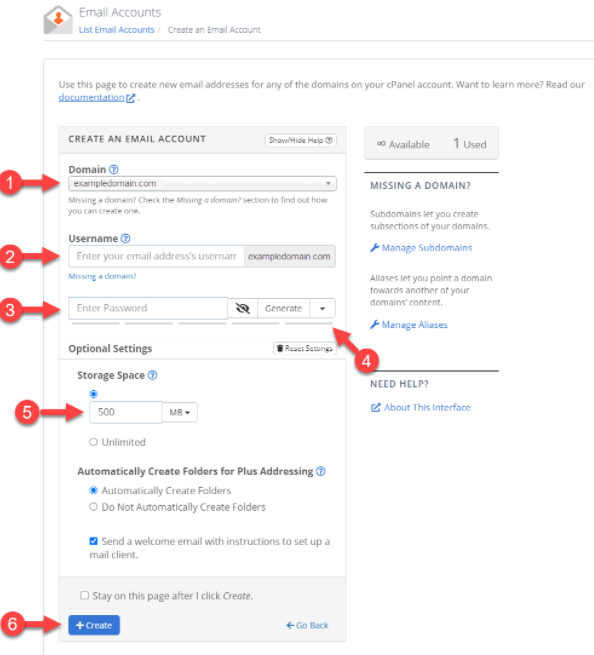 On the Email Accounts section, you have the option to create a new email account. You can do this by following the instructions on the image above.
Additionally, you can also view your current email accounts in this part and delete, change quotas, and change passwords.
File Management
File Manager
The File Manager is a simple and quick way of accessing all your files. It also provides a variety of file management features, such as uploading, creating, removing, editing, copying, transferring, compressing, and extracting your website files.
You can find the File Manager by clicking the Advanced tab under the Files section of cPanel.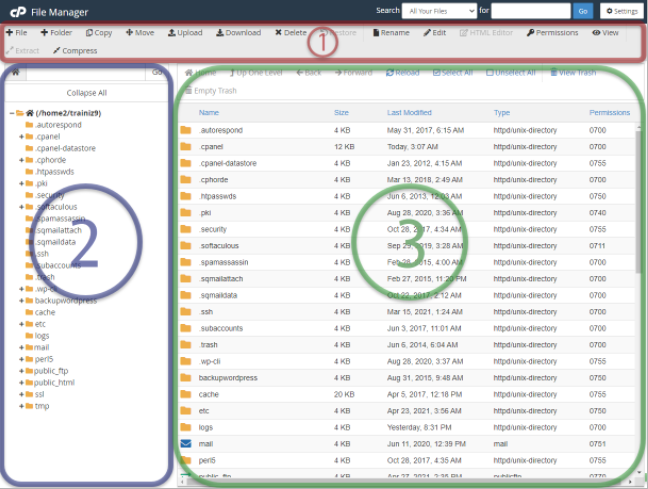 Bluehost divided it into three sections to navigate the File Manager effectively:  the Toolbar, the Directory Listing, and the File Listing.
Toolbar - This is where you can find all the navigating tabs to manage your files.
Directory Listing - This is where you can find all your file directories or folders currently present in your account.
File Listing - This section displays a list of all the files in the currently selected folder. A list of actions available in this section is provided below.
Backup
Bluehost offers a Site Backup and Restore, which helps in the preservation of account files, databases, email accounts, email forwarders, and filters.
The process of restoring files is quick, simple, and straightforward. Backups are generated automatically on a daily, weekly, and monthly basis. For reassurance, users can download a copy of their complete site for safekeeping at any time.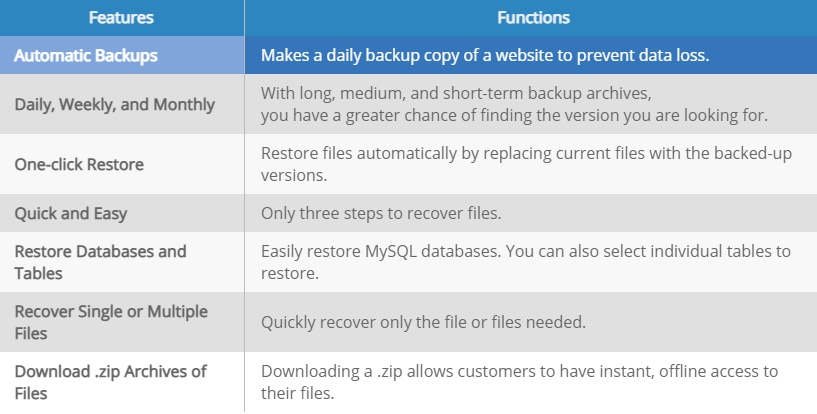 The free version backs up data but does not enables users to recover databases. The Pro tools allow users to restore any files or databases needed. It permits them to restore either all databases or a selected database. This also applies to files, with users able to restore individual files or directories.
Bluehost provides free backups to all of its clients. They are made every day, every week, and every month. However, these backups are in no way guaranteed, so they strongly advise all Bluehost customers to make and manage their own backups.
Bluehost, on the other hand, does not provide redundant or mirrored backups. Bluehost reserves the right to perform courtesy backups at its discretion.
Bluehost's backups are in addition to their Terms of Service and are not guaranteed. Customers are encouraged to run backups on a regular basis using the cPanel provided.
Disk Usage
Your account's total disk space usage comprises all data, including website files, MySQL databases, and email messages.
Bluehost provides three different tools in which you can check for the number of files, disk space used, and how much bandwidth you are using.
FTP
FTP stands for File Transfer Protocol. As the term suggests, it is used to move files and directories between your local desktop system and your hosting account.
FTP is the finest method for uploading your website. This can be accomplished in a variety of ways carried out using a variety of FTP clients. Every client requires a domain name or an IP address, a username and password, and a port.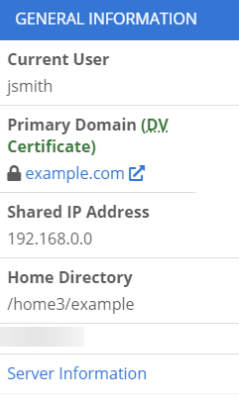 The files for your primary website should be placed in the 'public_html' folder.
Domains
You have access to the Domain Manager in the Domains section as long as your Domain is registered with Bluehost.
Here, you can manage those domains, even if you are no longer subscribed to their hosting services. In addition, it's where you can manage your domain settings, such as name servers, locking, contact information, privacy, renewal options, etcetera.
Databases
Databases provide an easy way to manage enormous amounts of information through the web. Numerous web-based applications, such as bulletin boards, content management systems, and online retail businesses, could be run with it.
Databases might develop quicker than intended at times. Any website that experiences prolonged growth may experience performance issues. If ignored for an extended period of time, this can result in downtime.
MySQL
As we all know, MySQL is the most widely used Database because of its speed and reliability, and it is compatible with UNIX, Windows, and Mac Os.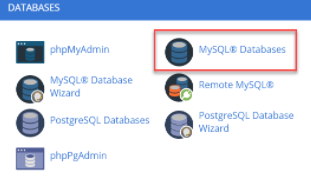 Creating a database using MySQL is pretty easy. You just have to log in to your cPanel and under the Database section, select MySQL Databases.
You will be redirected to a page where you set up a database name. Your new database will then be added to your current database table, and you can find it from there.
phpMyAdmin
phpMyAdmin is a PHP-based software utility designed to manage MySQL administration through a web browser. phpMyAdmin offers a wide range of MySQL functions.
The user interface supports the most often used tasks such as managing databases, tables, fields, relations, indexes, users, permissions, and so on, but SQL statements could still be executed directly.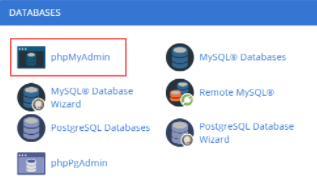 phpMyAdmin is linked with your Bluehost hosting account and can be accessed through your cPanel.
Note: Before you can start using phpMyAdmin, you need to create a database from the Bluehost cPanel.
Metrics
Records of your website metrics are extremely important in your business. Bluehost provides two programs for viewing site statistics: AWStats and Webalizer.
AWStats is an application that generates visual statistics reports about your website's traffic. On the other hand, Webalizer is a comprehensive statistic tool that generates a range of charts and graphs about who has viewed your website.
If you wish to view your site metrics, you can scroll down to the Statistics tab on cPanel. From there, you can choose between AWStats and Webalizer. When you click "View," it will give you a significant amount of information about your domain.
Security
Bluehost provides its customers with a free SSL certificate service. In a world of incredibly advanced hacking tactics aimed at compromising or destroying a user's data, an SSL certificate and HTTPS protocol notify users that your site is trustworthy and secure and that their most sensitive information is safe with you.
In addition, Bluehost's certificate system is powered by AutoSSL. AutoSSL generates new certificates for each Let's Encrypt-enabled website, and it occurs automatically for new accounts and accounts with WordPress installed.
Software
The Software section is where you can modify different configurations and install programs for your website to operate efficiently.
Bluehost provides additional scripts for installation on your website for your benefit. These tools enable you to download commonly used ready-made scripts.
Hit counters, mailing lists, blogs, e-commerce, password-protected subdirectories, searches, free-for-all pages, and random link pages are among the scripts. It is recommended that each script be tested before beginning to change its content.
These scripts do not require any programming experience to be implemented, very beginner-friendly!
Advanced
This category contains activities that are not frequently done yet are useful for customizations. For example, a Cron Job is a Linux command that allows you to schedule a task.
Cron Jobs enables you to automate specific commands or scripts on your server to execute repetitive activities continuously.
Preferences
The Preferences section allows you to adjust and personalize various aspects of your website, including themes, language, altering your account password, and so much more.
BlueHost Website Builder
Bluehost Website Builder is basically a WordPress theme. However, it is unlike your typical WordPress theme because you will be able to modify everything using the Bluehost Website Builder interface. On the other hand, Bluehost Website Builder requires you to purchase a web hosting subscription from Bluehost. Bluehost Website Builder is available on all Bluehost WordPress hosting plans, including the most affordable Basic plan.
Among the most useful features include the ability to enter a term for your website's industry or objective, and the website builder will automatically select a template to match. You have control over the setup you like, just as with any other website builder.
Search Engine Optimization (SEO) Settings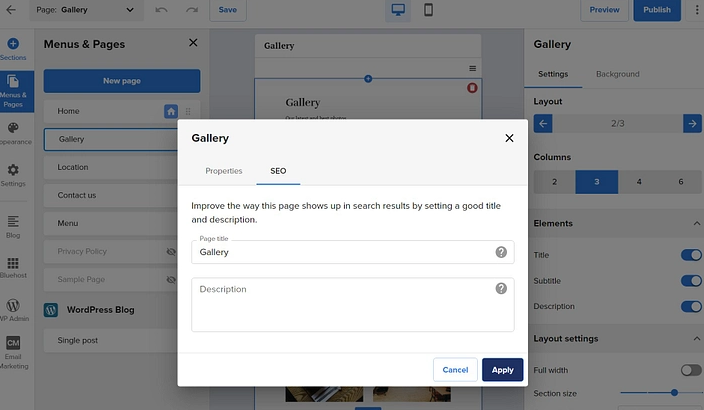 Bluehost also provides a simple SEO setting for your website, where you can configure the SEO titles and meta tags for Google. You can also change the slug of the URL. The builder should suffice for SEO for newbies, while more expert users may prefer WordPress's complete flexibility for advanced SEO techniques.
Access to Full WordPress Dashboard
WordPress powers Bluehost Website Builder. So, if necessary, you can always switch to the original WordPress dashboard by clicking the WP Admin link in the builder interface.
You can add plugins, edit content, and do a variety of other things here.
The disadvantage is that the integration is not seamless. As a result, Bluehost Website Builder may not be the ideal option if you intend to use a lot of WordPress plugins and/or work in the regular WordPress dashboard.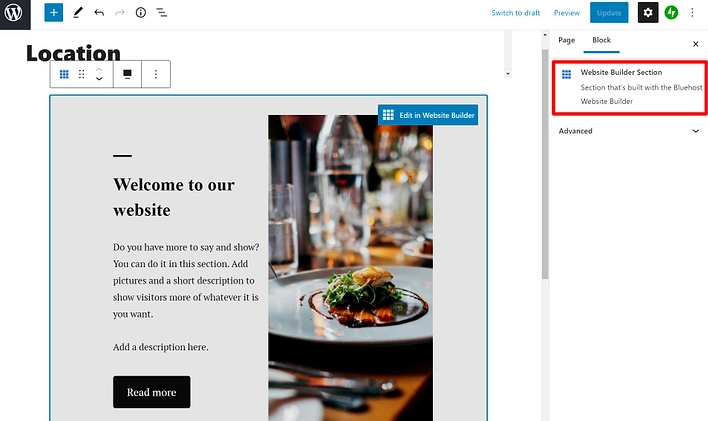 However, Bluehost Website Builder's installed functionalities might eliminate the need for numerous plugins, so this would not be an issue.
To build or update pages, you can also use the standard WordPress editor. And that is when things get a little tricky. However, if you're knowledgeable with WordPress, each part in your Bluehost Website Builder design really is just a component in the WordPress editor, allowing you to switch up different types of content within your Bluehost Website Builder designs, such as incorporating data from a plugin in the regular WordPress editor.
Ultimately, Bluehost Website Builder is a handy tool for people who don't know where to start when it comes to developing a WordPress website and only desire a basic online presence.
However, if you've previously constructed a few WordPress websites and/or want a truly custom, one-of-a-kind site, you'll be better off staying with "classic" WordPress. Bluehost Website Builder isn't intended for sophisticated users or specialized websites, and maybe you'll be more comfortable in using the standard WordPress software.
Softaculous App Installer
Bluehost comes with a default app installer called Marketplace; however, they replaced it with the Softaculous app installer except for WordPress, which will remain in the Mojo Marketplace.
So, what exactly is a Softaculous App Installer?
Softaculous is a cPanel and DirectAdmin auto-installer.
Unlike all the other auto installers, Softaculous is significantly faster, more user-friendly, and downloads all scripts in a single step. As a result, you can effortlessly install, upgrade, and delete programs without individually uploading installation files or configuring databases with cPanel.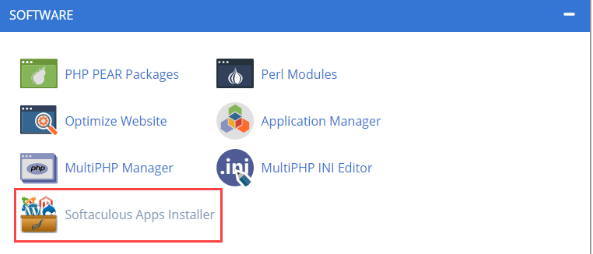 On your Bluehost dashboard, you can find the app installer by clicking the Advanced tab located on the navigation menu. Then, scroll down until you find the Software section, and from there, open the Sofatculous App Installer if you wish to install different applications without going through all the fuss.
WordPress Themes
If you create a new website or update an existing one, selecting the proper theme can make it much easier to establish a professional-looking website and meet your online objective. However, selecting one might be difficult with plenty of free and premium WordPress templates from which to choose. Here are a few ideas to help you narrow down your choices:
Start with a Bluehost-certified theme.
Ensuring its capability with Gutenberg
Check for current WordPress updates
Selecting a responsive theme
Avoiding bloated themes
Ensuring it comes with support
Look for themes with placeholder images
Look for themes with a live demo or a one-click demo
Build your site for the future
Being one of the few hosting companies WordPress endorsed, the Bluehost Marketplace has a large selection of WordPress themes. The Bluehost-Certified filter can help you narrow down your search. This filter applies to all areas and will display themes that Bluehost has approved, relying on a few factors:
Design quality and theme functionality
Quick and easy theme installation
Responsive support
Accurate, appropriate, and complete item descriptions
Regular version updates
BlueHost Customer Support
Like any other review, we had to test out their customer support in order to give our insights.
In this Bluehost review, I opted for their live chat support and asked a few questions.
Now the question is, are they reliable enough?
Here's how it went: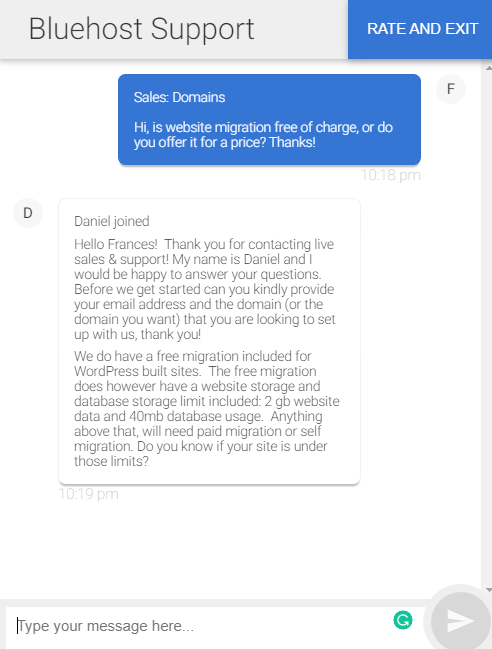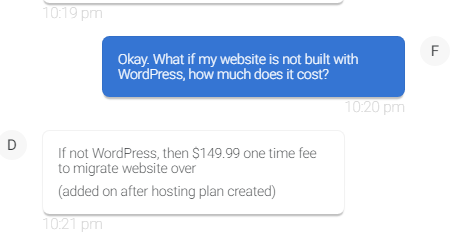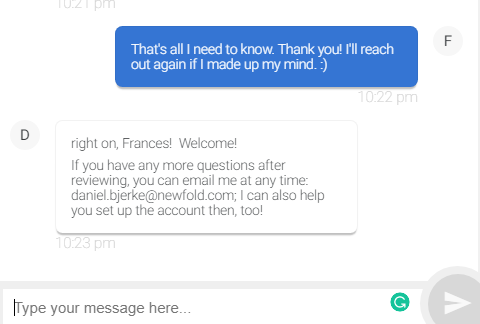 Their live chat support surprisingly responded fast - I mean in a matter of seconds!
I also liked how friendly and welcoming the conversation went, and the customer service representative answered my question spot-on. Daniel was easy to talk to as well.
Additionally, he sent an email where I can reach him directly if I'm looking to purchase and set up my hosting plan with Bluehost.
Aside from their phone and chat support, they do have a knowledge base where you could simply search for instructions and procedures on how to resolve problems happening on your website, that is, if you have any.
If you can't find solutions there, then their chat and phone support are available 24/7 to assist you with your concerns.
Overall, I really liked Bluehost's customer support. They are responsive and reliable, exactly what I'm looking for in good customer service!
Buyer's Guide For BlueHost
Plans and Pricing
The amazing thing about Bluehost is that it offers a wide range of services at a reasonable price. It provides three core business areas, each with a separate pricing plan. Shared hosting, online businesses, and managed WordPress are some of these.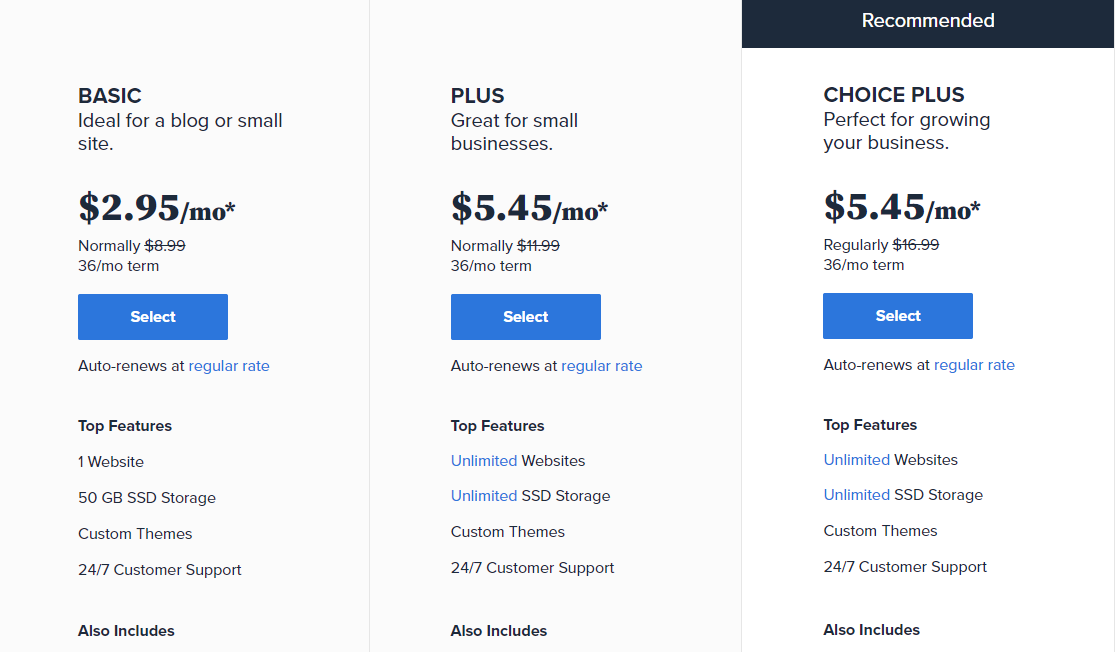 This hosting plan is ideal for blogs, websites, or online stores because it is fully compatible with any WordPress website. In addition, automatic WordPress installation, automatic WordPress updates, and Google My Business verification are all available from Bluehost's WordPress Hosting.
It's not just that, but you could still select from a one-of-a-kind collection of WordPress-specific themes and templates from the Bluehost Marketplace. With customizable features and simple-to-install plugins, you get to have complete design freedom.
This hosting package is priced differently than the Managed WordPress plans. You can purchase customized WordPress hosting within three 36-month plans, which include:
Basic: $2.95 per month
Plus: $5.45 per month
Choice Plus costs $5.45 per month.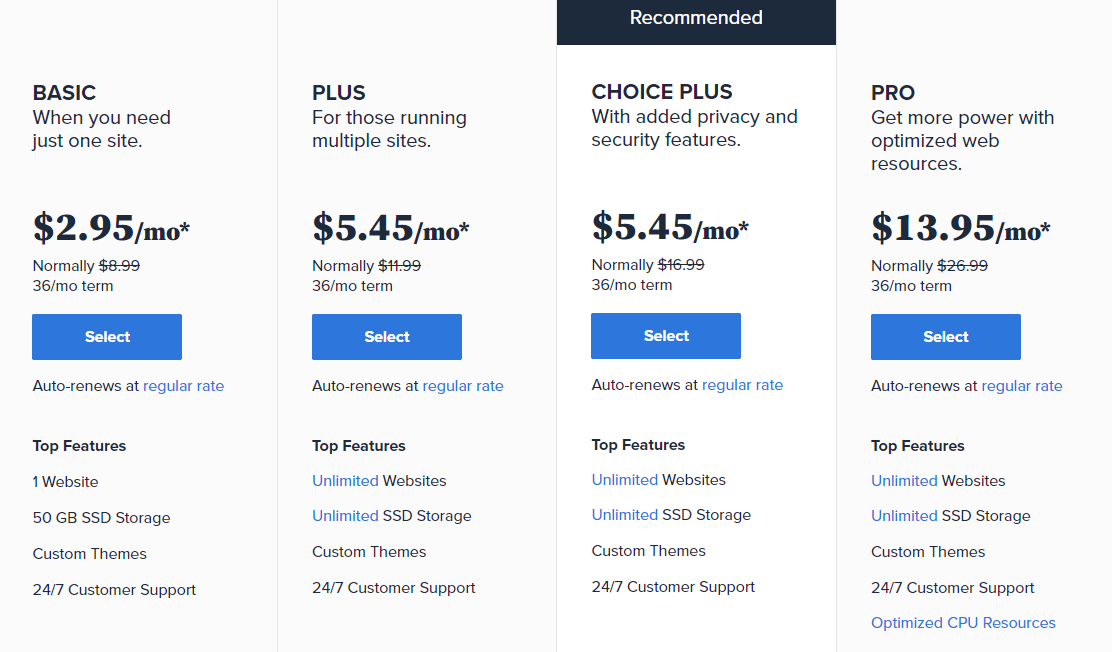 The shared hosting plan is by far the most popular among Bluehost customers since it is the most cost-effective approach to get your website up and running. This enables several users to host their websites on the same server. This package is ideal for blogs, hobbies, or small company websites.
The shared hosting package's main advantage is that Bluehost administers and monitors the server, so users don't have to bother about server management or platform patches.
The following are some of the shared hosting package's features:
Domain manager
Resource protection
SSL certificates
Google Ads
Small businesses would gain the most from a shared hosting package because it is more straightforward and cost-effective. In addition, small businesses are not quite as hampered as larger firms that require more space because shared hosting doesn't guarantee RAM or CPU.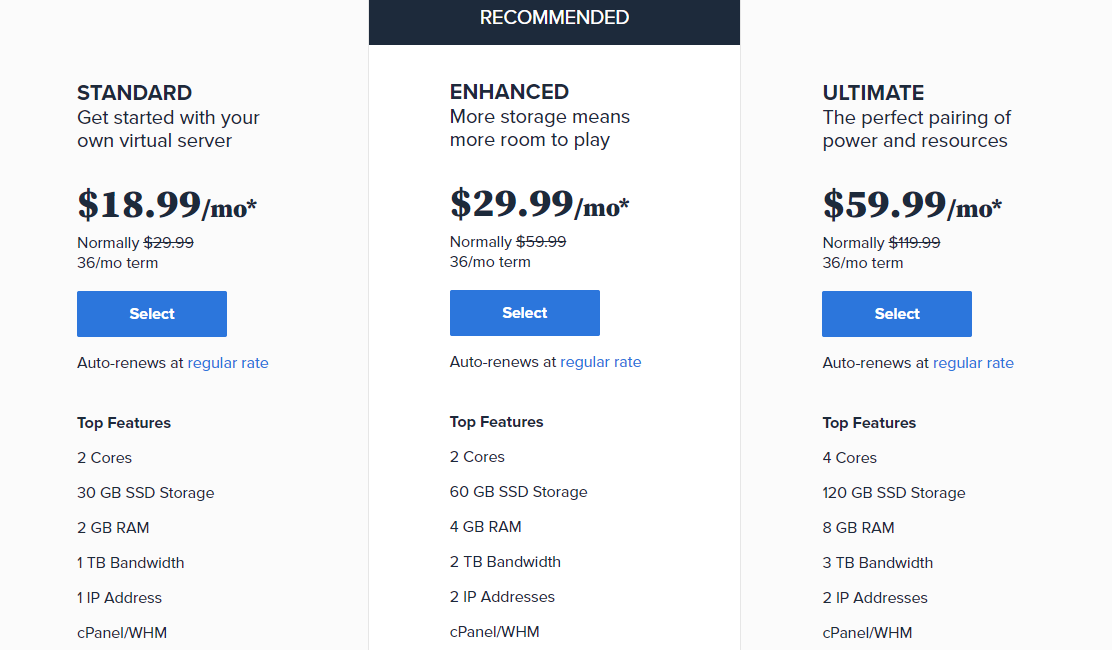 Bluehost's virtual private server solutions are worthwhile to consider if you require additional power, anticipate significant traffic levels, or have certain compliance requirements that restrict you from using shared servers.
It works similarly to shared hosting such that your site shares server resources with other websites, although there are two major differences:
VPS hosting features fewer sites per server, and the supplier guarantees a certain quantity of server resources. As a result, a VPS-hosted site can withstand a Reddit hit and continue to function.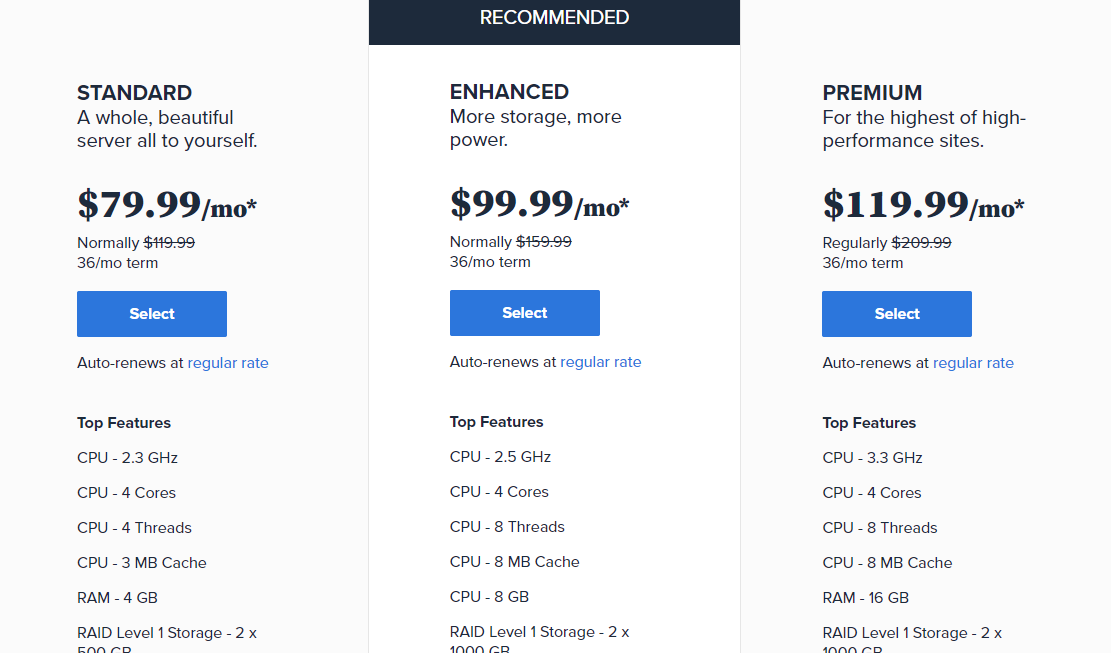 Dedicated hosting is a good option for larger enterprises that require more storage, power, and administration. This subscription is on the more expensive end of web hosting; therefore, it prioritizes performance and security.
A dedicated hosting server, as opposed to shared hosting, offers its users the highest level of safety, security, and control. Because these servers are independent of one another, each user has complete access to the server without being affected or harming another user's experience.
Bluehost's dedicated hosting provides every user with dependable and predictable website performance, as well as complete control and privacy.
This plan is ideal for users with high-traffic websites, as you will require the full range of RAM and CPU to operate your website efficiently—exactly what dedicated hosting provides.
Bluehost's dedicated hosting offers three plans which are not cheap.
Standard: $79.99 per month with 500GB storage and 4GB RAM
Enhanced: $99.99 per month with 1TB storage and 8GB RAM
Premium: $119.99 per month with 1TB storage and 16GB RAM
Reseller Hosting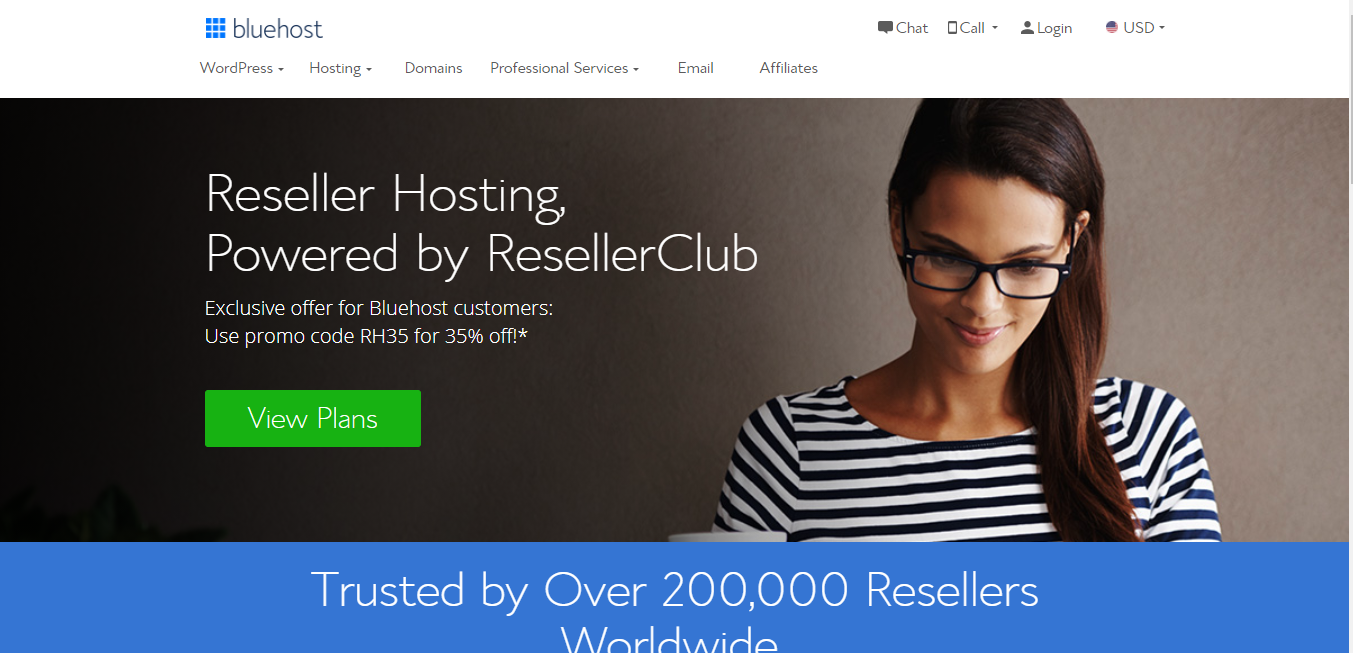 If you want to get into a web hosting company but wouldn't want to deal with structural problems, reseller hosting could be the way to go.
Bluehost used to provide reseller hosting packages; however, the website now redirects visitors to ResellerClub, a different service with its own rates and offerings. Existing reseller users can continue to use Bluehost's existing plans, but no new signups are permitted.
Server Speed and Uptime
When it comes to web hosting, uptime is one of the most important factors to consider. After all, if your site is down, your users won't be able to browse it. As a result, while seeking hosting services, reliable uptime should be one of your top considerations.
The standard for "good" uptime, according to Website Setup's uptime test, is 99.93 percent. So, ideally, they don't want to see anything less.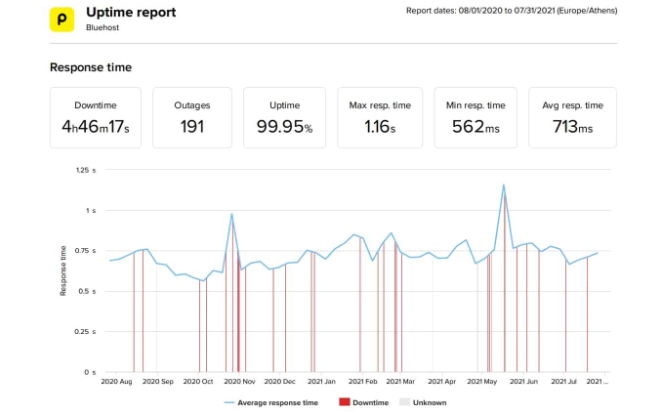 The excellent thing is that Bluehost easily exceeds this standard, maintaining the test website up and running for 99.95 percent of the time over the last 12 months. For the entire year, the total downtime was slightly less than five hours.
A page loading time of 1-3 seconds increases the likelihood of your visitors leaving your website by 32%.
Can you imagine how much money you'd lose if your page took considerably longer to load?
Secondly, because the majority of people use mobile phones to browse the internet, your website should be optimized for mobile visitors. Failure to do so will result in a loss of site traffic.
In either case, a slow website most generally means less traffic and, as a consequence, lower sales figures. So, after uptime, page loading time would be the second most essential factor that can make or break the success of your website.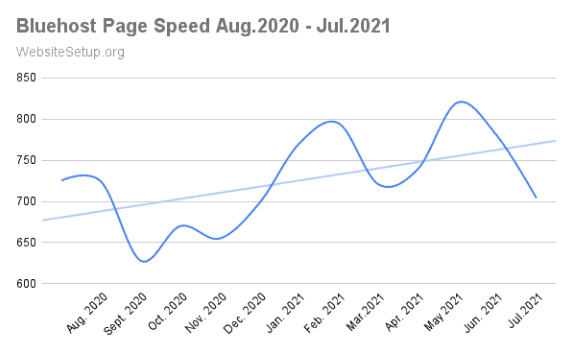 According to Website Setup's server load tests, their Bluehost test site has had an average load speed of 713 ms in the last year alone. Although their speed isn't the best, it's sufficient to gain a spot in the pros category.
Security and Backups
All of Bluehost's security tools are effective and could save you hours of adjusting your website. This will also provide you with reassurance, which is particularly important for newbies.
All Bluehost plans have resource protection and CodeGuard Backup Basic, which can be purchased for $2.99 per month. CodeGuard will assist you through daily backups and surveillance, as well as alerting you to any updates.
Furthermore, this basic security function includes daily backup and monitoring, three monthly restorations, and 1GB of storage space. However, you can get one year of free automatic backups and 24/7 network monitoring for the more expensive options, such as Choice Plus and Pro.
Features of BlueHost
Unlimited Bandwidth
Free SSL Certificate
Free website builder
Free Domain name for 1 year
Hotlink protection
99.99 percent uptime guarantee
1-click WordPress Installation
30-day money-back guarantee
Cloudflare integration
Pros
Free SSL Certificate
Month-to-month payment options for VPS Hosting, Dedicated Server Hosting, and E-commerce Hosting
99.99% uptime guarantee
One-stop-shop for small businesses
Fast server loading speed
1-click WordPress installation
24/7 customer support
Built-in anti-spam solutions in cPanel
SiteLock protection
Optimized WordPress hosting
713ms loading speed
Cons
Domain renewal prices are high
Website migration is not free
No monthly payment options for shared hosting plans
Does not offer Windows servers
Final Thoughts
Bluehost is an excellent platform for newbies. Their interface is intended to assist you in managing your website without the trouble of delving into technical details. The user-friendly dashboard also makes it simple to administer many websites.
Bluehost, however, does not provide any monthly payment plans. Instead, you must purchase a subscription for at least one year. A subscription can be purchased for a maximum of three years at a time.
I assume that the majority of users will love the Bluehost experience, which covers a wide variety of service offerings such as WordPress hosting, shared hosting, and dedicated hosting, as well as multi-tiered price plans.
The good exceeds the negative, and it's a web hosting service worthy of consideration - specifically for WordPress users.
I hope this Bluehost review helped you in choosing your web hosting provider!