It's 2021, the whole world has gone digital and we need tools that can keep up with our needs.
After a tough year, we got used to doing pretty much everything from the comfort of our homes, especially when it comes to working and studying.
We all remember the struggle we went through in March 2020, trying to make virtual conferences work. We used to think that it would be impossible to create authentic human connections through virtual events. Fortunately, I think we are way past that.
Virtual events are now more accessible and more convenient than meeting in person.
In the beginning, we would settle for the most common virtual event platforms like Google Meet and Skype. But Tools evolved and we learned how to make the most of them. Today, there are countless amazing options for you to choose from.
So now it's time to decide which one is best for you.
Our Top Picks For The Best Virtual Conference Platform
Reviews Of The Best Virtual Conference Platform From Our Research
This one is a cloud-based platform that allows you to host webinars, meetings, and live streamings, among other things.
It is a great events platform if you need to interact and receive feedback from your audience, as it includes a live chat feature, a comment section that you can moderate, and even add sticky notes with announcements.
Attendees can also share their screen, participate as speakers and even broadcast directly through a webcam. In addition, it supports all types of operating systems and devices.
Real-time interaction with attendees is quite effective through a live chat feature that allows viewers to ask questions and leave comments during the conference. One thing worth mentioning is that you can respond to the questions publicly or send private messages to the attendees.
If you want to make your presentation more dynamic, WebinarJam also allows you to display videos, images, and slideshow presentations, which helps improve engagement.
Something cool WebinarJam offers is a panic button. If there happen to be any technical issues, which are always a possibility, activating the panic button will automatically boost up a new conference with the same hosts and attendees. It should only take around 15 seconds for everything to go back to normal.
You can check our full single review about WebinarJam.
Features
Automated marketing tools
Live chat
Virtual whiteboard and polls
Landing page templates
Facebook and YouTube live broadcasting
Up to 5000 attendees
Pros
Includes useful tutorials
It's relatively easy to use and convenient
It integrates with all of the third-party apps you need
Webinars are automatically recorded.
Cons
Doesn't offer a monthly subscription
Doesn't offer a free trial, although it does offer a 30-day money return policy
Some users experience a 10-second delay
CVent is an event management tool that stands out from the rest as the ideal tool for hosting hybrid events, although it supports events of all types and sizes.
CVent goes with you in every step of the event planning process.
It includes some valuable features like a registration assistant, budget management and payment assistant, a calendar, online marketing tools, and customizable branding, among other things.
It offers a useful set of management features that helps you keep track of attendance. You can send automated emails and see how many attendees opened and accepted the invitation with an email tracking feature.
After the conference, it is also possible to get all of the data extracted and displayed to analyze your virtual events' performance.
CVent's support is something worth mentioning as well. The platform includes several useful tutorials that teach you how to use this specific tool and the fundamentals of digital marketing and virtual event planning.
Features
Contact management
Calendar
Email automation and tracking
Campaign management tools
Pros
Fully customizable branding
Great support
Attendee tracking and targeting capabilities
Useful integrations
Cons
Not very intuitive, it might be confusing for inexperienced users
It can be expensive for small companies or users that don't organize many events
Zoom is one of the most popular, if not the leading event technology platform in the market.
It allows you to host virtual meetings, classes, and webinars and join great quality conferences from basically any device.
It supports simultaneous multi-desktop in a single meeting, which many of its competitors don't offer and is an essential feature for companies and work meetings.
Zoom recently launched a pretty cool product called Zoom Rooms for Touch, a cloud-based video conference tool for large displays, ideal for collaboration sessions, brainstorming, and creativity enhancement.
Let's not forget about its fully functional mobile version! Featuring a decent app will always be a big plus.
Overall I think it is safe to say that zoom has a well-earned reputation. It is reliable, flexible, and affordable, making it an excellent option for pretty much any user.
Features
Screen sharing
Zoom Rooms for Touch
Great picture quality
Calendar integration
Audio and video recording
Pros
User-friendly and intuitive
It has a mobile app
Affordable
Reliable, pretty good performance
Cons
Interactive features could be improved.
Requires a strong internet connection
The chat feature is quite limited.
Whova is an event management software that can help you organize virtual, in-person, and hybrid events.
What I like the most about this platform is that it allows you to save a ton of time helping you with all of the tedious event management tasks. It promises users to improve their attendee engagement and expand their networking opportunities.
Whova includes a set of user-friendly branding and marketing features that can be useful for beginners. The interface consists of a single dashboard displaying everything you need to plan and manage your virtual event.
It allows you to conduct paid sessions that are only accessible for users with special tickets. Sessions can also be moderated from any device.
Another big plus is that it features a mobile app, which allows event planners to interact with their attendees on the go.
With Whova, you can interact with your attendees before, during, and after your virtual conference. You can send them reminders, notifications, messages and start conversations with them through the integrated live chat feature.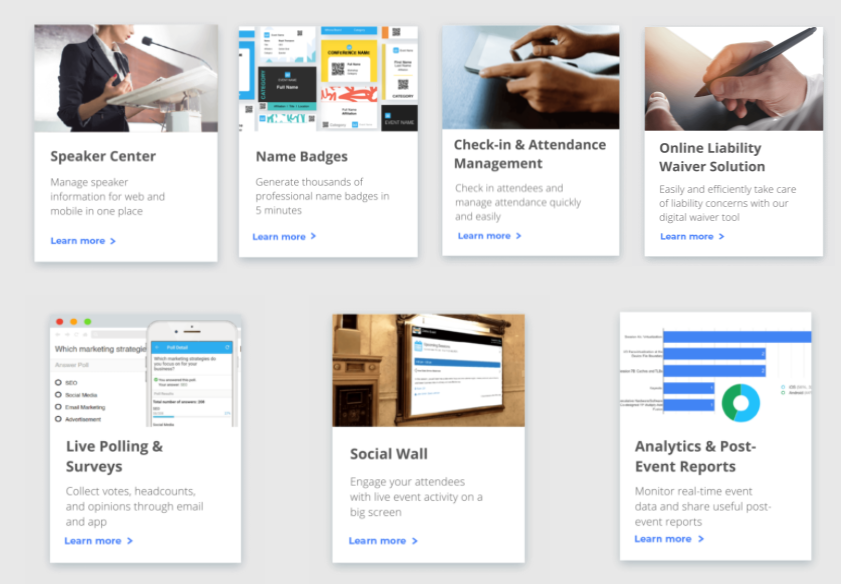 Features
Event management software
Website creator
Pre-recorded video sessions
Interaction features such as polls, chat, and live Q&A
Customizable virtual booths
Pros
It is accessible on all devices, including smartphones, laptops, and tablets.
Integrates with several video management solutions
Free and paid registration
Easy to use
Cons
The mobile version is not as strong as the desktop version
Registration steps can be confusing for people who use the platform for the first time
Doesn't offer a free trial
ClickMeeting is a virtual events platform that can help you organize all kinds of virtual conferences, although it is popular for its large virtual events.
It includes a Huge Virtual Events feature that allows you to connect to 10,000 attendees and collaborate with your colleagues with multi-user accounts. Although it is not particularly hard to understand, it offers a nice range of tutorials that help you navigate the dashboard more comfortably.
Like its competitors, ClickMeeting features analytical reports and statistics, and a management assistant to start planning your event right from the beginning, even if you're not an expert.
The price is quite affordable, considering it supports massive virtual conferences. You can also choose if your event is going to be free or paid.
One of its most incredible features is the real-time translation in 52 languages. Impressive!
Features
Screen sharing
10,000 attendees
Contact manager
Polls, surveys, and Q&A sessions
Automated recording
Real-time translation
Pros
Affordable price
30-day free trial
Detailed tutorials
Neat and clean interface
Easy to set up
Cons
The system can sometimes lag when there are too many attendees
Not the best customer support team
Buyer's Guide For The Best Virtual Conference Platform
Capacity
How big do you want your audience to be?
Are you hosting massive online events with hundreds, if not thousands of viewers?
Do you own a small company and need a reliable tool to improve your team's communication?
Ask yourself these questions first. The virtual event platform of your choice should offer you the right capacity. Otherwise, it will be useless.
Q&As and Chat
Don't you hate it when event organizers spend several minutes checking if anyone has questions? There's always some who doesn't know how to unmute their mic or two or more people overlapping. It is beyond annoying.
Having a good Q&A feature and a chat section with a clear interface is crucial if you need your event attendees to interact with you during the conference.
Some platforms even offer other interesting interactive features such as polls, which you might want to consider if you're looking to keep your attendees engaged.
It will make things easier and save you and your viewers time, thus enhancing your attendee engagement.
Custom Landing Pages
A massive part of hosting virtual conferences is promoting them.
Having an attractive landing page is a great way to spread the word and increase your attendance.
The objective of a landing page is to get more people to sign up for your online event and share the details more easily, to make it go viral.
Breakout Rooms
Breakout rooms are branches of the main conference. They are a must when it comes to brainstorming more effectively in online classes or work meetings.
Attendees can interact with each other in breakout sessions just like they would do in person. After a few minutes, you can bring everyone back to the main room to share ideas discussed in these sub-sessions.
Event organizers can usually attend multiple breakout sessions to check on each group.
Integrations
Virtual event platforms offer all kinds of integrations to solve the problems that could arise when you need to host virtual events.
Don't underestimate integrations. The more you have, the fewer third-party tools you will need. Their job is to make your life easier!
Making sure your tool includes integrations to help you stay in touch with your audience and promote your event is an excellent way to start. Most of them tend to integrate with the basic social media platforms and online marketing tools like Kartra, and Mailchimp among others.
Reports And Analytics
The best virtual event platforms usually allow you to evaluate the performance of your event.
Numbers are important. They help us analyze our events to understand what worked and what didn't. It is important to pay close attention to these reports and focus on the aspects that need improvement.
Frequently Asked Questions For Best Virtual Conference Platform
What Is a Virtual Conference Platform?
Virtual conference platforms are online spaces where you can hold large-scale conferences for a certain audience.
These platforms grew exponentially during the last few years, especially after the pandemic and helped us stay connected.
They are typically used by companies as well as universities and even individuals. There are hundreds of options in the market and they respond to different needs.
How Do You Use a Virtual Conference Platform?
The best virtual event platforms usually follow the same procedure.
Just create a meeting, adjust your preferences, and send out invite links or design a landing page for people to sign up for the event.
If, on the other hand, you want to attend a meeting, use the link or credentials you were given when you were invited.
Always remember to mute your microphone unless you're allowed to speak, wear earphones and make sure you have a decent background in case you have to turn on your camera.
What Are Hybrid Events?
A hybrid event is a combination between an online event and an in-person event. Attendees can usually choose whether they want to attend the meeting in person or through a virtual platform.
The main advantage of hybrid events is that you can invite people from all over the world while at the same time enjoying the interaction with the locals who can attend the conference in person.
How Do You Make the Best Virtual Conference?
The most dedicated event planners are constantly thinking about their audience. Successful virtual events usually require a fair amount of effort and commitment, so start planning your conference at least a few weeks in advance.
Promoting your event and having a solid social media presence is the key to increase your attendance.
Your topic has to be attractive and valuable to others. Make sure to include graphics or some visual content. This usually helps improve the engagement and get better feedback from your attendees.
Final Thoughts
This article exposed several reasons why it is so important to choose the right virtual event platform for you.
It is safe to say that understanding the virtual world and feeling comfortable in it is essential nowadays. Online conferences are here to stay and we might as well try to incorporate them into our daily activities in the easiest way possible.
Choosing the ideal tool for you doesn't have to be hard as long as you have a clear idea of what you need. What kind of virtual events do you need to organize? For how many people? How often? What's my purpose?
Ask yourself the right questions and you'll find the right answers!