Apex Hosting is an American-owned company established in 2013 to provide the best service to its Game server hosting clients.
Apex Hosting recognized that launching a game server was a novel concept for several individuals, so they designed a hosting platform and support team to assist you with every inch of the process.
Industry-leading support is one of the most crucial components of game server hosting, and that they have set it their purpose to provide the greatest support possible.
Suppose you're just a beginner or a seasoned administrator. They have put their costs at a reasonably cheap way that enables them to employ the best hardware and hire competent customer support personnel.
Apex Hosting has a broad background regarding server size and provides an infinite amount of options for establishing the Minecraft of your desires.
Apex Hosting uses a customized Multicraft control panel, allowing everyone to administer their server with no prior experience or knowledge.
With over 300,000 customers globally with data centers in Europe, North America, Australia, Singapore, Hong Kong, and South America, they can provide excellent connectivity to many different regions.
Getting Started With Apex Hosting
To get started, you need to go to the Apex Hosting website.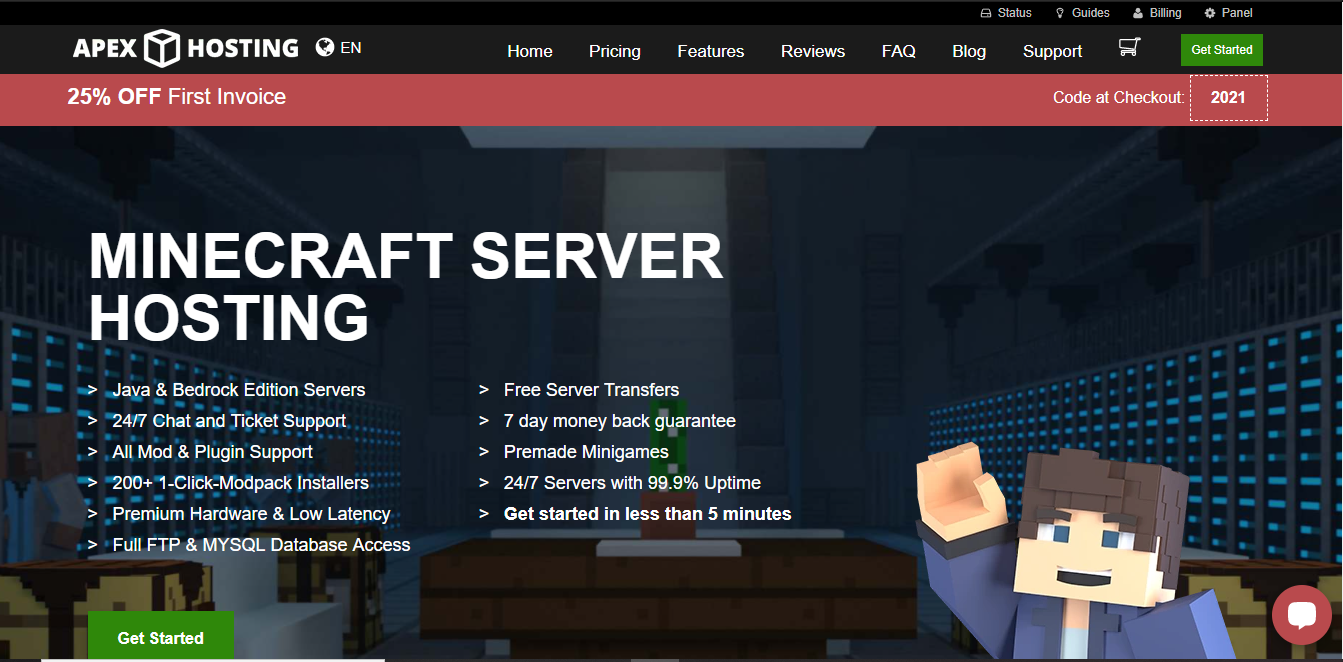 Apex Hosting is known for its Minecraft Hosting. So when you head to their website, you will be greeted with a Minecraft avatar, as shown above.
What exactly is a Minecraft Server?
A Minecraft host is essentially a business that hosts or stores your Minecraft game for both you and your other players. If you intend to run your own Minecraft server, you must choose something that you can count on for a pleasant gameplay experience.
By clicking the Get Started button, you will be redirected to the Pricing page, which you can also access on the top part of the homepage.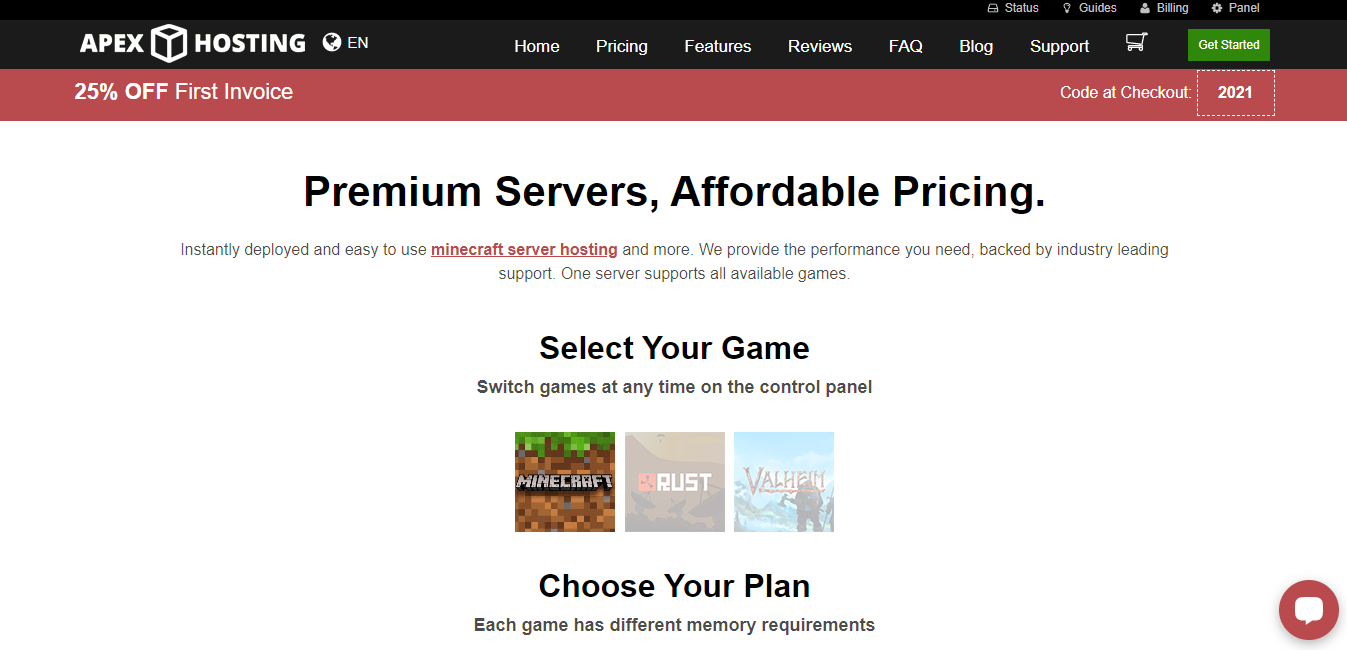 Apex Hosting offers three game servers, namely: Minecraft Server Hosting, Rust, and Valheim.
The first step in signing up for Apex Hosting would be to select your hosting services.
Here, you will choose the plan which suits your needs or the plan of your preference. Below are the prices for each.
Minecraft Server Hosting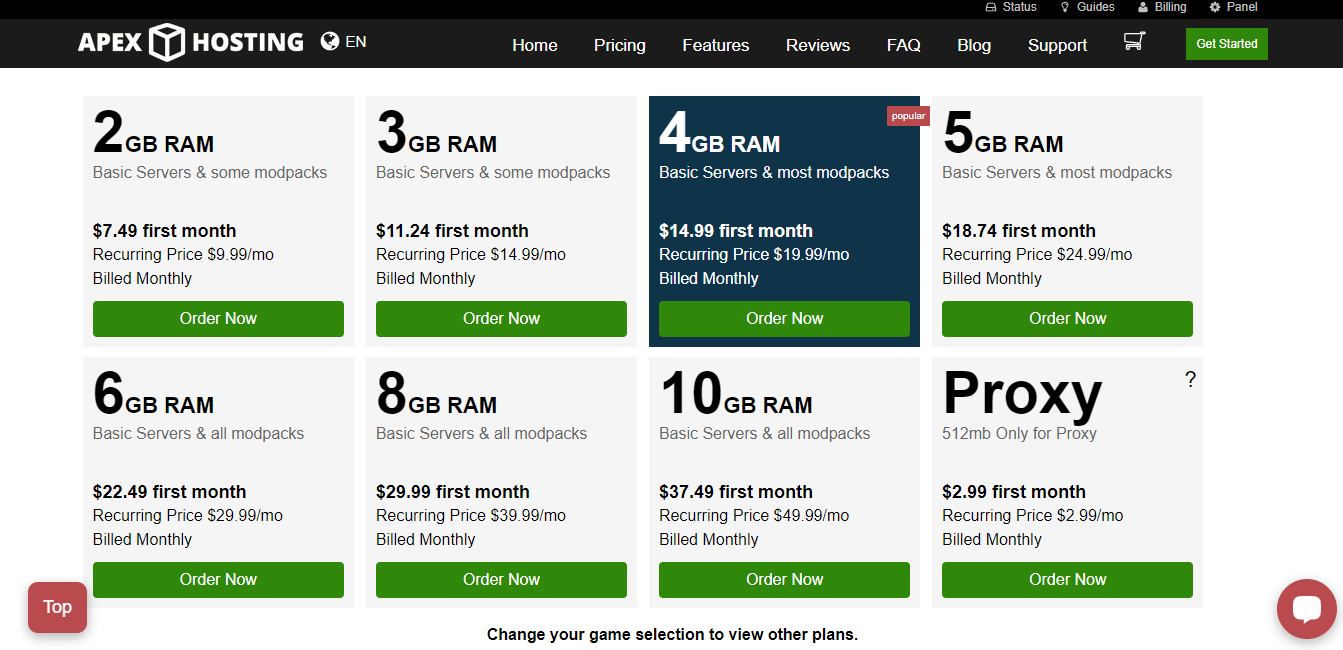 Rust Server Hosting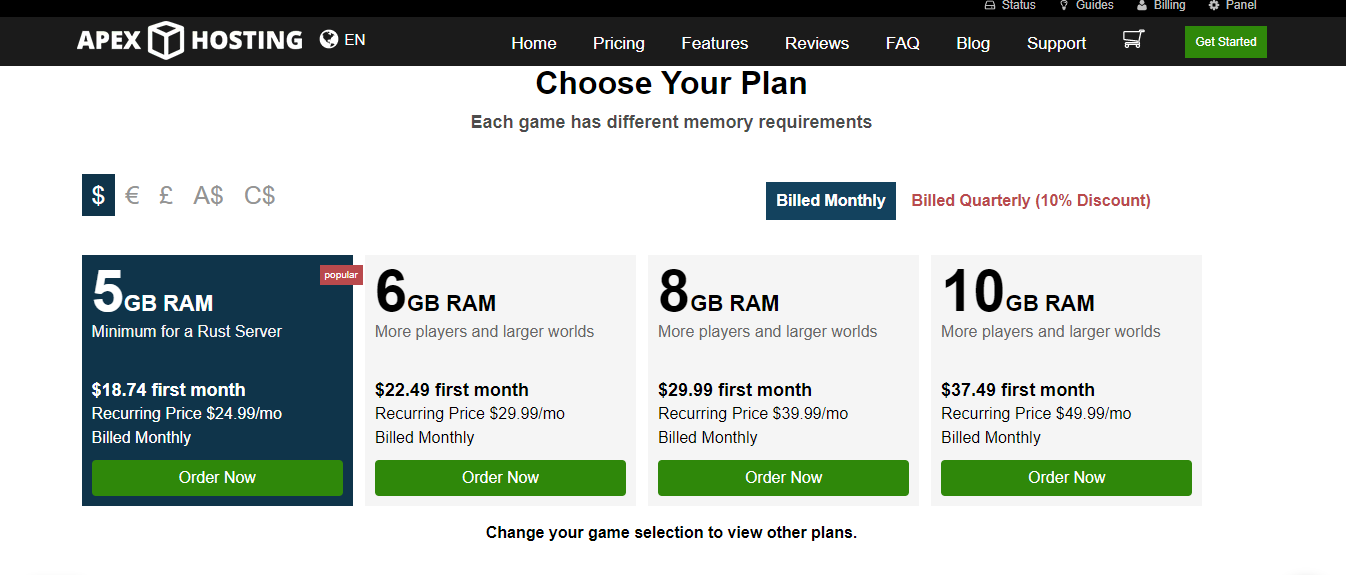 Valheim Server Hosting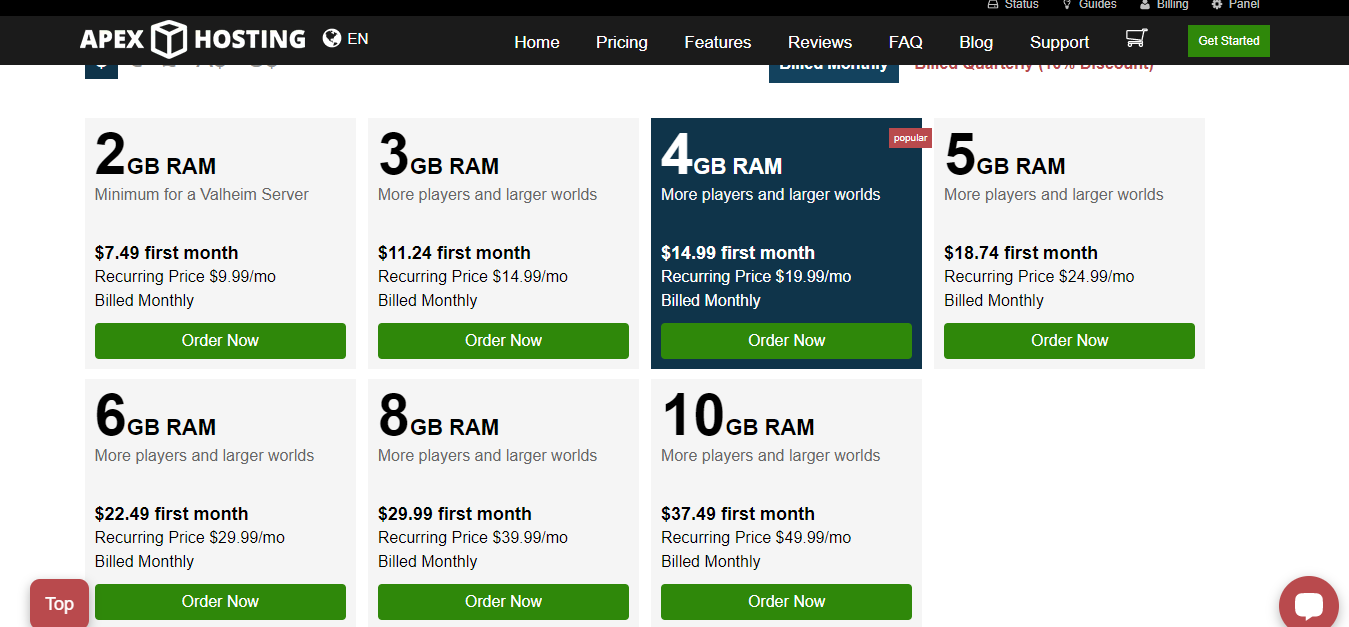 For this Apex Hosting Review, we opted for the hosting service they are known for - Minecraft Server Hosting.
We went for the cheapest plan, which is the 2GB RAM. This specific plan has basic servers and a few modpacks priced at $7.49 a month and renews at $9.99 a month.
After clicking the 'Order Now' button, you will be redirected to your shopping cart.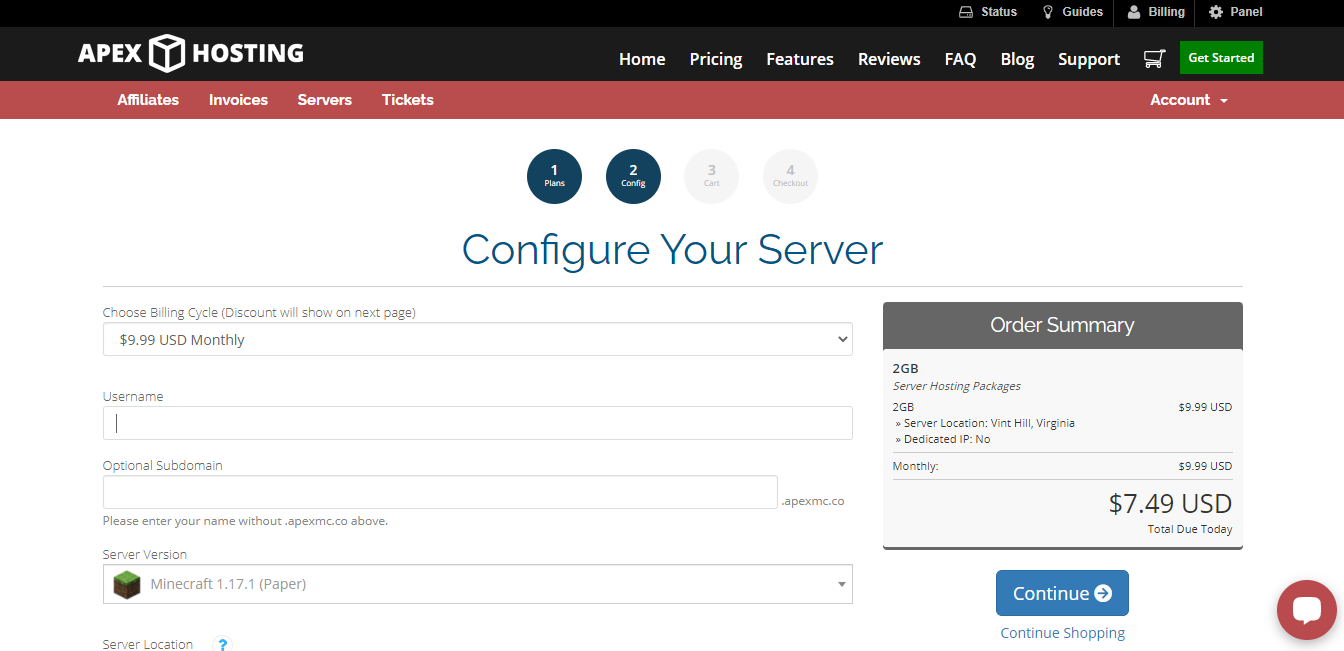 You need to set up your billing cycle, username, server version, and server location here.
You can also include an optional subdomain and purchase a dedicated IP Address and support to enhance your Minecraft server. Once you're done, click continue.
After this, you will proceed to the checkout page, where you'll see a breakdown of your Minecraft hosting service and discounts - if there's any, for you to review.
The last step for the sign-up process is the Billings page.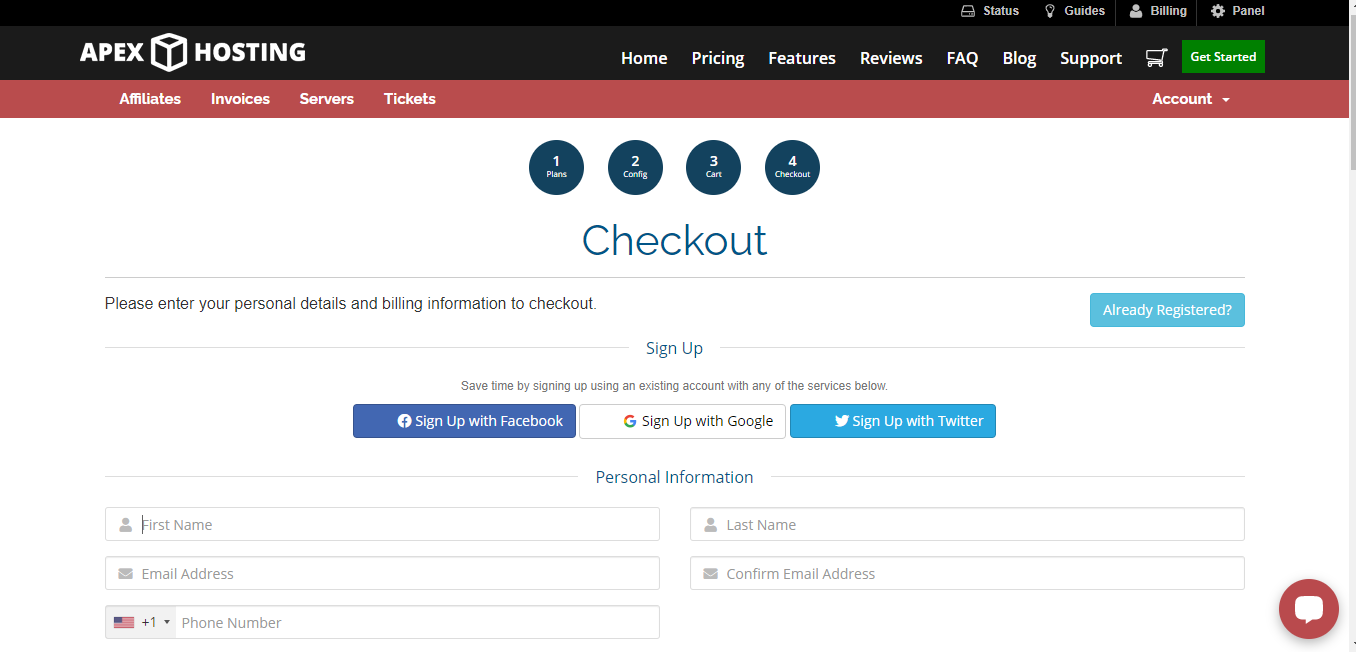 Here, you can choose which way to sign up; you can do it manually or sign up using Facebook, Google, or Twitter to speed up the process.
As you scroll down, you can find the Billing details. You need to type in your billing address, passwords, and your payment information here. You can opt to pay via Credit Card or through PayPal.
When you completed your order, you should receive a New Product Information email. This means that your order has been verified, and it will contain all your login credentials and all the relevant details of your apex hosting account.
Using and Managing Your Website on Apex Hosting
You can access the login page by clicking the Panel tab located on the upper part of the navigation menu.
Here, you key in your username and your password.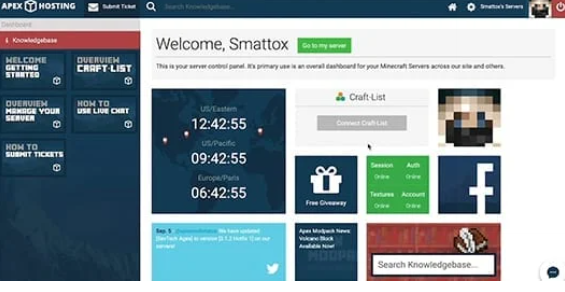 This is what your account dashboard looks like.
Hosting a Minecraft server would become practically unimaginable without the need for an extensive user interface. If an interface is difficult to navigate, users will abandon it and look for other hosts that provide a more straightforward interface.
Fortunately, Apex Hosting takes care of all of that for you. Moreover, it is an efficient site, owing mainly to its Multicraft tool feature.
Apex Hosting CPanel
Multicraft Control Panel
This control panel is comparable to other hosting companies' widely-used cPanel, but this is mainly designed for gaming.
For all of your servers, you can access the console, manage files, edit configurations, change server versions, and much more right from your web browser or mobile phone.
Numerous other user-friendly components make it simple to configure one Minecraft server and perhaps supervise its productivity with its responsive user interface.
The main dashboard displays a summary of data for your Minecraft server, such as the IP address details and specified port, which will differ for each recently created server for our users.
This user-friendly control panel provides you with all of the customizing options you require without requiring you to memorize all of the game's commands.
Domain Name
Each domain name provided by Apex Hosting will include an area code based on your region. The area code will be matched by the domain 'apexmc.co', making it extremely clear that the site is a Minecraft server.
The domain is highly significant when selecting a hosting service to construct a server. Because the domain name is the prominent part of your server, numerous gamers will recognize that within the server.
Database
When building an Apex Minecraft hosting account, the actual capacity of the database is very much an important factor to consider.
This game's administration and hosting will necessitate a robust database, and Apex Minecraft Hosting is indeed an excellent supplier. You will be able to construct your Minecraft server without difficulty.
Because Apex Minecraft Hosting uses the MySQL database, we have access to the records. This authorized SQL database management system is often regarded as the most extensive and most popular open-source database.
Storage
Apex Hosting, like databases, provides varying storage capacities relying on the user's demands and the price to be paid. Every one of these constraints is taken into account in the various Minecraft Hosting methods of payment.
This means you may select a server space ranging from 1GB to 4GB, nearly equal to the databases.
It is critical to note that this decision will significantly impact the service, amount of players, and general capacity of the Minecraft server; thus, paying a larger price is advised.
Security
Apex Hosting's infrastructures are extensively secured against both local and huge DDoS attacks, assuring player safety. This is well-taken care of, and security precautions such as SSL certificates are provided to obtain optimum data protection and privacy.
Jar File
The jar file defines the version of Minecraft that will be used by your server. Our control panel offers features for Bukkit and Vanilla, as well as the right to establish your jar.
This is accomplished by setting the dropdown to default and placing your jar file in the server's jar folder. To add or remove files from your server, you have two FTP choices: the built-in browser-accessible via the files tab in the control panel or a software FTP manager such as FileZilla.
After you've linked to your server's FTP, you can add and remove whatever files you want.
Console
The control panel also has monitoring features.
The console displays the server command line and all actions occurring; this is useful for monitoring your server and attempting to identify any faults. You can also access the server with commands and chat without launching the game by using the admin interface.
Memory determines how many players your server can accommodate and is checked in real-time on this page.
If your server begins to slow down and feel sluggish, evaluate the number of RAM available and improve the existing account if it is running low.
Bukkit Plugins
Unlike the usual Apps Installer of other hosting providers, Apex Hosting offers a different software to install plugins - since this is a Minecraft server hosting.
Bukkit is an API (Application Programming Interface) that allows third-party developers to add their own code to Minecraft using plugins. This has fundamentally altered the way Minecraft servers are maintained and has tremendously increased their capacities.
Plugins are similar to browser extensions in Minecraft. Third-party programmers use these to build new code and plug it into the server. However, because they do not affect the game core, as mods do, they are more restricted in what they can reach.
This, nevertheless, implies that they only have to be put on the server's side. Therefore, it is not essential to make any changes to your game files for them to work.
FTP Access
From the web interface within Multicraft, you can manage your server files here. The FTP Host IP address would be the same as your server's IP address.
Bear in mind that your FTP password is the same as your multicraft password. The user name for accessing FTP will be different for each server and will be your email address followed by a '.#' as an identification.
Server Management
You have direct access to your server's config files in this section.
You can modify server files through either the Config Files tab or straight through FTP. The Config Files tab lets you quickly change most of the server configuration files with a basic text editor, and that you can employ a sophisticated interface for some of the main configuration files, such as 'server.properties.'
Config Files are made up of whatever file from your server that the panel can still recognize as editable, allowing you to easily update files without having to access them over FTP.
Although most of the files you find are editable, others are not and must be reached via FTP. Those that can be edited will do so through the use of a text-based editor or an application.
User Management
In the User Management section, you can manage users for the server and its functionalities to access the control panel and all of its tools.
Apex Hosting Customer Support
Customer support is yet another vital aspect of any web hosting platform. Apex Hosting provides 24/7 customer care, including a live chat function and a dedicated and skilled support crew. You may contact the support team at any time, regardless of your location, and you will receive helpful support to answer your questions.
The downside is that you can't access the live chat support if you're not a registered user in Apex Hosting.
What a bummer, don't you think?
But on a brighter note, Apex Minecraft Hosting offers a Knowledgebase where you can take an in-depth look at how to navigate and resolve specific issues within Minecraft servers through the articles and tutorials included there.
Buyer's Guide For Apex Hosting
Apex Hosting Pricing Plans
Minecraft Server Hosting
2GB RAM - $7.49 - Basic Servers & some modpacks
3GB RAM - $11.24 - Basic Servers & some modpacks
4GB RAM - $14.49 - Basic Servers & most modpacks
5GB RAM - $18.74 - Basic Servers & most modpacks
6GB RAM - $22.49 - Basic Servers & all modpacks
8GB RAM - $29.99 - Basic Servers & all modpacks
10GB RAM - $37.49 - Basic Servers & all modpacks
Server Speed
Because high-performance servers are implemented and a decent internet connection of 1Gbps, downtime is improbable to occur unless you do not purchase enough RAM.
This host's excellent feature is that you may choose from nine distinct geographical regions for server hosting. For example, to attain lag-free servers, you could host your server near to where your players reside.
There is just so much power you could get out of these Minecraft servers until you encounter problems. Since this host does not have any dedicated servers or VPS, you might have to switch hosts if your server grows to a size that demands a more robust server version.
Security and Backups
Security is possibly the most important factor in all aspects of life, including the Internet. Opening a Minecraft server necessitates extra consideration for security and user privacy. There will be no significant issues with regards to this in Apex Hosting.
The SSL certificate is a globally recognized security standard. In simpler words, a technology that assures effective data encryption between the browser and the web service used. Of course, this is not technically necessary, but it is convenient.
As a result, it is best to go with the more costly hosting services. These will assure the best quality of service, making it much safer to build your server without worrying about breaches.
Because of the volatile nature of administering a Minecraft server, you're sure to come across a situation where you would like to restore your world to a prior state due to trolling, corruption, or simply wanting to reset your world.
You can use a backup generated by Apex Hosting's panel backup function to restore your world to a former condition.
The backup tool available on the panel automatically creates a backup of your primary world and compresses it in a zip file with the world's title. Backups are taken regularly each day, but they can also be done manually with the tap of a button.
Features of Apex Hosting
Unlimited player slots
Automatic backups
Bedrock and Java Support
Plugin & ModPack Support
Custom control panel
Free MySQL database
Unlimited bandwidth
Free server transfers
Free subdomain
Automated backups
99.9% uptime guarantee
99.99 percent uptime
7-day money-back guarantee
Provides a range of servers from modded to vanilla
Apex Hosting Pros
Unlimited storage and bandwidth
Responsive customer support
Global server locations
99.9% uptime guarantee
24/7 Live Chat feature
Easy and Fast Setup
DDoS Protection
Discounts on first invoices
Easy to navigate user interface
Affordable pricing plans
Specialization in Minecraft Servers
Apex Hosting Cons
Limited FAQ
Live chat only available for registered customers
High prices for renewal plans
Final Thoughts
If you're searching for a dependable Minecraft server provider at a reasonable price and with a wide range of tool functionality, then consider Apex hosting. It also offers costs that are tailored to the specific demands of each user. As a result, apex hosting is an excellent choice if you need a server for a few or an endless number of users.
It has a simple but appealing user interface and enough storage. Apex also provides a dynamic database from which to host your Minecraft server, and it is incredibly safe to use. A thumbs up for that!
We hope this review helps you in choosing your Minecraft server hosting provider!