Promotion gets a bad rap.
People associate it with people twirling those cardboard signs outside restaurants, being badgered by people handing out brochures, or, in the digital world, spam.
But that's not what we're talking about.
When we talk about promotion, particularly for your blog, we're talking about smart tactics that will reward you for your hard work. Better yet, if you're looking to monetize your blog, these tactics will get you paid.
It's not enough to just have in-depth, well-researched content, and that provides value to your readers. All of the work that goes into getting that piece of content written is worth much less if not enough people read it.
So that's why this post is all about:
Showing you the difference between strong, sustainable promotion and spammy, annoying promotion
A 'best practices' list of how to tactically promote your blog and your content
Which is all geared towards getting not just extra eyeballs on one post, but regular visitors to your blog.
Let's get into it.
Strong Promotion Versus Annoying Spam
Grant is an outstanding chef. He creates food that is delicious, visually stunning and also, fun. He and his business partner have found a location, hired staff, and opened the doors.
A few people have visited, but the place is less than 50% full on weekends, much less than the 90% capacity restaurants typically need on weekends to turn a profit.
Ella designs cars. They are beautiful. And she has been working with a small company to create a smart, affordable car that looks like a luxury model using sustainable materials for certain parts. The prototype is built. But that was finished 6 months ago. And nothing else has happened yet.
Do you see the common problem?
Both Grant and Ella are dedicated and good and what they do.
They are producing very different but very valuable goods and services.
But, they aren't getting rewarded for their passion and hard work.
Their output is sitting unappreciated.
What they need to do is to work with someone (or learn themselves) to correctly get their products in front of the right people who will appreciate it.
There's a word for that: promotion.
How These Examples Apply to You
Now put yourself in the same situation.
Maybe you've got a blog, a website, or a social media page where you put up good quality, strong content.
Are you anything like Grant and Ella? Do you feel as though there is a bigger audience out there who would appreciate your work - if only they could find it?
Did you find out the hard way that just because you built it does not necessarily mean that they will come?
Chances are your audience exists, and you have to use the correct tactics and strategies to find them.
This isn't about clickbait and spam to quickly grow page views and get more eyeballs on your stuff. It's about building a strong, sustainable audience who gets genuine value from your content.
One true fan is worth multiple casual browsers.
So, that's why promotion matters. If you're convinced that promoting your blog is worth your time, and you want to find out exactly how you can do it using specific tactics, then read on.
Tactic #1: When Should I Publish My Blog?
In short, write once, publish multiple times.
Chances are that when you hit "publish", you probably think the job is done.
You're selling yourself very short. Reward yourself for doing the hard work of getting a piece of content written by publishing it multiple times.
Publish it across multiple channels. Your own blog or website should always be your primary location first. You want to retain your audience, not only "rent" them on social media platforms.
However, sharing your article on Facebook, Instagram and Twitter should also be part of your regular plan.
Whenever you share it on another platform, you should link it back to its primary location.
And be smart about how you do it.
Instagram is a visual medium, so a beautiful, well-chosen image with an excerpt of your piece in the caption will go further than a bland stock photo and the article title.
Facebook will allow you a bit more text, but be smart about how you use it – for example, by highlighting the key points in a bullet-pointed list and using a poll or question in your post to drive engagement and interaction.
And Twitter's status as an "up to the minute" reaction platform means that you can drop links to other pieces you've published into conversations around a trending topic when you see a conversation getting traction.
Further, you can even create unique content that seems more native to that social media platform with a link back to your original post.
Tactic #2: How to "Shamelessly" Promote Your Blog
Get over the cringe.
How many times have you seen an ad for a particular brand of car? Or for a common fast food restaurant?
Probably hundreds of times. Does it make you hate them? Does it make you think, "man, that ad is annoying, I'm never buying (insert brand here) again!"?
For the vast majority of people, the answer to that is No.
The modern human is very used to being marketed to. You've been bombarded by promotions your entire life, so don't worry about the risk that someone might see your content more than once and be annoyed by it. It's not a real risk.
People are only generally averse to ads if they ruin their browsing experience or don't add value.
Keep your delivery method by choosing different images, captions, and target audiences– and test to see what works best.
Tactic #3: How to Maximize Your Blog Promotion
Work smarter, not harder.
Constantly producing new, fresh, engaging content can feel daunting and exhausting because, well, it is.
It's even more laborious when you don't see the sweet results of your hard efforts come to fruition.
Producing dozens of articles only to have them fall on deaf ears can be particularly demoralizing.
Make your content work smarter by creating different forms of the same narratives.
For example, infographics and visual content fantastic ways to add to a written blog post.
YouTube tutorials and courses from places like Udemy and Lynda, paired with tools like Canva, will take even someone with very basic (or non-existent) knowledge of graphic creation to an above-average standard.
And there's statistical reason to do this.
Data shows that over 6 out of every 10 people identify as visual learners. It's also proven that attractive images and graphics cause people to slow their scrolling on phones and desktops to view the image.
In fact, blog posts with visuals get over 90% MORE views than those without.
The main benefit to you?
You get more "miles" out of your existing content while also presenting the ideas in a way that will appeal to a completely different group of people.
Tactic #4: How to Build Your Blog Fan Base
An audience and fan base of professionals in a particular field can be very valuable depending on the kind of content you publish.
That's because we are all drawn to ideas that might help us save time or earn more.
So firstly, if your content is focused on professionals (anyone from teachers to plumbers to SEO experts), then be sure to publish on LinkedIn as this is where those audiences are best found.
If you know your audience lives on a specific subreddit on Reddit, go there.
Secondly, consider reaching out directly to people via email.
Don't include your whole blog post in an email – that will not endear you to them. But introduce yourself, say why you got in touch, and invite them to read your piece.
By following the same etiquette as you would offline, you may well get a new fan online.
Tactic #5: How to Track and Test Your Blog Promotion
There is one problem with an article like this. It doesn't account for the fact that content targeted at buyers of real estate in one city won't benefit from the same promotional tactics as content about helping teachers build better classroom resources.
There is no 'one size fits all' advice when it comes to content promotion. But there is a fix for that. And it's a pretty simple one.
You need to track what tactics you are using and how they perform.
Then, when you get to your next piece of content, repeat that process.
After a few times, you now have a data set. You can look at it to see which tactics perform best specifically for your style of content.
And when you find something that's working, double down on it and repeat your earlier steps. Think of it like cooking. The first time you make something new, it's probably not perfect. But after a handful of attempts, you've worked out the kinks and maybe even personalized it to make it your own.
You arrive at the best results by testing, learning, then refining.
If you're purposeful about this process with your content, then you'll get more and more reach as you publish more. No shortcuts, but it definitely works.
Tactic #6: What to Write on Your Blog for the Best Promotion Potential.
Ask yourself this very specific question.
You definitely need to know what you are creating to promote your blog well. And that starts with asking yourself an obvious, tactical question when you begin.
"What problem am I solving for my reader once they've read this?"
That one straightforward control question will level up your blogs and promotions in a big way.
There are millions of blogs published every day. In addition, there are hundreds of millions of additional posts and pieces of content created for Instagram, Twitter, Facebook, Snapchat, and LinkedIn every day.
That is an absolute ocean of content.
If you don't know exactly what you're trying to do with yours, then your blog post is going to end up as one tiny drop, lost in that ocean where no one will see it.
Tactic #7 – The Best Blog Content for Getting Readers
This tactic is really closely tied to Tactic #6.
Blogs and blog content have a special advantage over other kinds of content.
Take two examples.
A tweet doesn't have enough depth or detail to break down a complex topic.
And Instagram is a visual medium and suited to scrolling.
Some audiences may only use these networks as passive entertainment rather than with a learning-oriented mindset.
Blogs are different.
If someone is reading blog content, then chances are that they are in a 'discovery' or 'learning' mindset. That is really important. It means that you can create content that is in-depth and has more detail.
It also means that a certain type of content is best suited to blogs: specific problem-solving content.
Content breaks down a problem and then suggests a solution. This kind of content can be incredibly varied.
Take a look at these examples:
'How to unblock a clogged sink'
'How to write a better job application'
'What is the best way to teach a child to read?'
'How do you cook the best pulled pork?
These types of content solve a problem for the reader. And as you can see, there is huge diversity in the content topics, spanning from education to plumbing to professional development and BBQ tips!
The other great advantage to this kind of content for blogs specifically is that it is completely aligned with how search engines work.
If your blog post can answer the question being asked in a clear, direct way, then it is far more likely to get a good ranking on Google.
Once you manage that, you are doing marketing and outreach to the world automatically by doing what you already want to do: creating high-quality content.
Of course, problem-solving content isn't the only type of blog content you can create. It's good to vary your content types.
"Entertainment" content exists to amuse or entertain and is best suited to get shares on social media. However, this type of blog content competes against light entertainment from many sources, including enormous content aggregators like Twitter and Instagram.
If you manage to get "in" with the algorithm on one of these platforms, you'll likely see a flood of traffic. If you don't, well, tough luck.
"Informative" content seeks to introduce a new idea or concept to readers. It often benefits from being linked to problem-solving style content to explore an idea in more detail.
It's also handy for service pages on websites to explain your products and services to potential customers in more detail, including telling them a story about the product, why it exists, and what sets it apart from other products.
Tactic #8 – How to Invest in Blog Promotion
Be prepared to open your wallet– but with a clear plan!
Up until now, the strategies we've gone through have all been free.
And with good reason. Everyone likes free better than paying.
However, some paid campaigns can get you enormously profitable results.
The majority of blogs have zero dollars behind their promotions, and that's totally fine.
However, if your goal is to monetize your blog while demonstrating your expertise, you've got good reason to spend some time educating yourself on how paid campaigns can help you achieve your goals.
There are many ways to pay to promote your blog.
Still, the Big 3 are Google Ads (previously Google Adwords), Facebook & Instagram ads, or paying other popular blogs or publications to allow you to post a sponsored post on their site (sometimes you can get away with this for free with a value-driven and well-executed pitch!)
It comes down to a fundamental business principle: what's your ROI?
For example, if you're a high-end interior designer and stylist who also works on staging homes before they are listed for sale, then your blog could be a place to showcase work and demonstrate your knowledge of style trends and the results you've achieved for clients.
Each booking for a four-week home staging might generate $3,000 - $6,000 revenue for you.
Once you account for costs incurred, you have your profit margin. If promoting your blog will cost less than your profit margin, it might make sense to promote your blog with some ad dollars.
Of course, you can't just launch a campaign and hope for the best. You need to test and have data on your side.
However, let's assume you spend $500 on a sponsored post in a popular blog in your city, and you get two new clients. That's a minimum of $6,000 in new revenue for $500 in ad spend– that's quite the bang for your buck!
However, would it still be worth it to you if you only got one new client?
Or, if you didn't get any new clients at all, would you choose to stop your promotion, or would you try and tweak it to get better results?
Here's how you should think of it in logical order:
What is the goal of my blog (e.g. generate new business, sell products, get new bookings)?
What is the profit margin I expect to make on each new client / booking?
What number of customers do I expect to get from a promotion?
What is my budget for promoting my blog?

This number should be less than the number that you get from multiplying your profit margin per client by the number of customers you expect to get from your promotion

How am I going to measure the success of my promotion?

This could be done by asking new customers / clients where they heard about you so you can collect data about whether your promotion was the reason they found you.

If I don't get the results I expect, what will the next course of action be?

For example, this could be: testing a new promotion strategy, getting help from a professional marketing / online ad agency or terminating the experiment to pay for promotion.
Spending ad dollars is one of the easiest things in the world– it's getting that ROI that's the hard part.
So, before you start, ask yourself the questions above, and you will have the building blocks in place to get a much better result from any ad spend.
Tactic #9 – Is an Email List Good for Blog Content Promotion?
Most blog and website owners are proud of their blog posts and articles. And they should be.
An incredible amount of detailed work goes into researching, drafting, and publishing a high-quality piece of content.
But that also leads many of us to assume that our blogs are a destination that people will naturally gravitate to when they pick up their phone or open their laptop.
We like to think that our content is a magnet, constantly pulling people into its magnetic force by simply existing.
Unfortunately, that's just not true.
Statistics and user feedback show that we are oversaturated with content. For example, most people only download one new app a year.
Most people spend the majority of time on their phones (over 80%) on just 2-4 apps. That means that as a blog owner, you are fighting an uphill battle, even with the greatest content in the world.
Building an email list is one way around this. An email list helps you retain your audience and notify them when a new article is posted.
It also creates another touchpoint with those people who are interested but who might forget about you otherwise. Email is a core function of the internet, and most people check their inboxes multiple times a day.
This tactic won't suddenly double your readership. But it's a smart, repeatable, incremental strategy to promote your blog content and build and nurture a connection with your audience.
Final Thoughts: Start Promoting Your Blog Now, Reap the Benefits Tomorrow
Some articles will tell you that 'this is the only blog promotion strategy you'll ever need' in an attempt to hook you. This isn't that.
These tactics are not quick fixes or things that will double your readership overnight.
However, applying them in a consistent, repeatable way will help you sustainably promote your blog so that you grow your audience, and more importantly, keep them.
That's the real goal of promotion: finding people who enjoy your content and keeping them coming back for more.
Your logo is the part of your business that bridges the gap between from "just another dentist" to "leading dental brand".
Your logo logo should provide a powerful visual impact that consumers will associate with your practice. There are so many things that can be told in a logo yet with a special simplicity that makes it unique.
Don't really know how or where to get started?
Luckily, we have put together some fantastic ideas for you to get started and come up with the logo that will make your practice stand out.
How to Create an Awesome Dental Logo
1. Color is Key
Think about the type of dentistry you provide - do you primarily serve kids or adults? Does your practice focos on cosmetic work or more surgery based procedures?
These questions will help you decide the colors for your logo - what feeling/emotion do you want people to associate your practice with?
The following is a list of some colors commonly used in logos and what they evoke:
Red symbolizes passion, energy, urgency, and even sometimes danger - probably not the vibe you're going for.
Orange is enthusiasm, energy, movement, and action.
Green is a symbol of nature and, relaxation.
Yellow is associated with happiness, but too much can feel a bit intense.
Blue provides professionalism along with a friendly and relaxed feel.
Brown is the color of the ground and not anything you as a dentist would have anything to do with.
Pink is romance, but it also reminds people of gums if placed in the context of a dentist's practice.
2. Font Choice
If the choice of colors is important, the type of font you chose is a very close second. In fact, the type of font you use will affect what your entire logo looks like. There are two basic font styles to choose from:
Serif - Fonts that have a "serif", which is a flourish or stroke at the end of the letter, include Bodoni, Garamond, Georgia, and Times New Roman.
Sans Serif - The word "sans" means "without", hence these letters do not have the embellishments of a serif. The most common ones include Arial, Futura, Helvetica, and Tahoma.
In the above example, Desert Creek Dental has chosen sans serif fonts. This gives the logo a more modern look than that one given by the more traditional serifs. Use this type if you want to appeal to younger patients.
Traditionally, serif fonts are the fonts preferred by dentists as they give an impression of solemnity. This is still a sentiment you want to convey to your patients. On the example below, note how Creekside Endodontics uses serifs, which gives a sense of commitment and professionalism.
3. Modern is What you Must Aim For
Truth be told, when it comes to the design of a logo, you should aim for a more modern look. This is something that will not necessarily hurt your more veteran patients.
Many times, modern is simple. You could even use the traditional molar art and give it a fresh, modern twist.
4. Less is More
The most effective way to surface emotions in your potential clients is through simplicity. They cause such a powerful impact that people are able to relate your brand by the mere look of your logo. Just like the Nike symbol.
Furthermore, a simple logo will look good no matter where you print it. Use a too elaborate one and try printing it on the corner of a letter-sized page and the details will get lost. Consider that your logo will be placed in a variety of places, from large billboards to a dental brochure.
Here's some food for thought:
Test your logo in as many places as you can. Try it in different environments and sizes.
Try removing all the colors. Will people still recognize it?
Consider the technique to be used: printed, stenciled, embroidered, etc.
5. Look Friendly
Coming to visit the dentist is a downright scary experience for many. To try to ease that, dental practices must show themselves friendly. So, how do you bring warmth to a chilly waiting room?
Since your logo is an effective way of communicating what your practice is about, what a better opportunity to tell your patients it will all be all right.
6. Make it appropriate
Do you specialize in a particular area of dentistry alone? Make sure your logo is appropriate to the type of audience you want to attract. Check out Bright Healthy Smiles's logo.
It is pretty easy to tell what they specialize in. Besides being very clear on the type of patients they take in, the logo is fun and pretty friendly.
7. Include your Name or the Name of Your Practice
This is called personal branding in marketing and is very important. Most dentists only include their names followed by DDS or DMD. If your practice does not include your name, it is still important to include it in the logo.
Your patients will connect the name with the logo. At some point, clients should be able to recognize your name from the logo alone. Think about what do you want people to see when they see your logo.
8. Leave trends to the Fashion Industry
A common mistake when designing logos, not only in the dental industry, is making it follow the present trends in colors and design. Yes, your logo will look modern and timely, but only while the trend is on.
Instead, think of a timeless design. Do not confuse being trendy with being modern. We have mentioned already that a modern logo is the best way to go. However, this does not always mean that you have to follow trends.
9. Communicate as Much as Possible in One Design
This is where creativity plays a big role. Note how this logo from Smile Brite shows three teeth connected by an orthodontic device but also in the shape of a smile.
It is simple, nice, creative, and it tells what this dental office is about. Did you notice that the order of the colors of the teeth is the same as the name? This helps in connecting the logo with the name whenever people only see the logo.
10. Connect with Your Location
Dental offices are usually local businesses. Whenever you get patients, you want them to feel at home. A good way to instill that is to show in your logo how proud you are of the place you live and appeal to community goodwill. .
Notice how Seattle Oral Care nicely incorporates the Space Needle, an iconic symbol of Seattle, into their logo.
Adding the name of your city to your practice and your logo also serves other purposes:
Including the name of your city on your name is good for SEO marketing purposes.
Most searches on Google are local and they do not even require the name of the city on them. If someone searches for "dental care", for instance, local results will show up. Placing your city on your name helps to your SEO while representing it on your logo helps with people connecting your service with your city.
Visual representations of your city on your logo helps the locals better connect with your brand.
11. Fancy TypeFaces can Also Look Good on a Logo
Perhaps the most colorful logos will belong to pediatric services. However, it is ok to experiment with colors and fancy typefaces. Notice how Creative Pediatric Dentistry uses colors and creative letter-building elements.
The fancy fonts reinforce the idea of this being a nice place for kids. Very few children will stay scared of the dentist after walking into this logo.
12. Don't Be Afraid to Stand out of the Ordinary
Who says that dental logos must have a tooth on them? You can go out of the ordinary and place it creatively. Granted, the shape of a tooth will forever be the symbol of dentistry. But this does not mean you can try other approaches.
Garden Orthodontics decided to go for a design that, at first glance, does not tell it is a dental office. When you first read the word "Gardens", and notice the grass shape above, you start thinking of a fence and a backyard. Once you get to the "Orthodontics" part, the brackets and the smile at the bottom begin to gain shape.
13. Include a Tag Line
A tagline adds a strong plus to the message you are trying to convey through your logo. Note how Orthodontex adds the geographical feature to their logo and then also adds four words that express what they do.
You must be able to describe everything you do through a tagline. This also helps your patients to connect with the mission of your practice.
Here are some quick tips to come up with a killer tagline to include in your logo:
Make it nice and simple.
Think of the patient first-what benefit do they get by coming to your office.
Be specific about what you do.
Try to make it no longer than 4 words, otherwise, it might be forgettable. Plus, it might just stuff the space of your logo.
It definitively is a challenge but you can get some ideas online for inspiration. Once you have come up with the one for you, make a quick Google search to make sure it has not been taken already.
14. Make it a Unique Dental Logo
Even if your dental logo checks all the above boxes, it still has to be unique in order for it to work. Now, this does not mean to kill the typical elements of a dental logo - the smile, the toothpaste, the toothbrush, etc? Not at all. These elements are actually important as they are part of the dental business activity.
But how to start building something that has not been done before?
Check out the logos from the dental practices in your city. These are the ones you want to stand out from.
Check out the color of these logos. You will probably notice that most of them have blue or a tone of it. This is because blue gives a feeling of calm and peace. You may use it too but if you do, your logo will not stand out from the rest.
If you want to go cliché, place a tooth on your logo. Now, if you want it to be unique, find a creative way of representing a tooth (if you really want to place a tooth on your logo) using other forms. But also keep in mind that you can still do away with the tooth.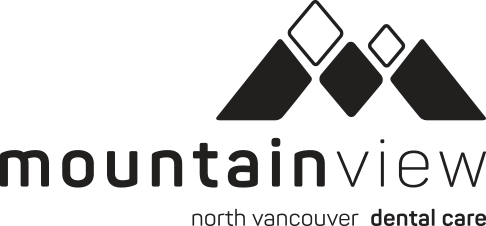 The Mountain View logo is not your traditional dental logo. Instead of focusing the design on a dental device or tooth, it was inspired by the mountains. These brought about a design that is simple, elegant, and versatile as it can be changed to any color.
15. Abide by Symmetry and Balance Rules
Symmetry is very important to provide an aesthetically pleasant dental logo. Few people understand geometry but almost everyone can tell when a design is crooked. Now, you do not need to be proficient in geometry to get a perfectly balanced logo.
However, don't leave it all to chance. Brands such as Apple, Bing, and Adidas did not miss out on this aspect to create their successful logos. Start at least with a design grid and make sure all the lines and angles match.
16. Make a Smart Use of Shapes
Note how Dr. Dental was able to insert the tooth inside the "D", which is the initial of the name. This is another example of smart and creative design.
Decide what it is that you want people to look at when your dental logo is on display.
17. Don't Forget About Elegance
Notice how Supremia's logo is symmetric, simple, and nice. The fonts are sans serif, and the logo itself is elegant with a geometric shape.
This is a nice combination of simplicity and elegance.
18. Use the Services of a Professional
You might want to hire a professional designer to help you materialize your ideas. Once you come up with the design, this will be yours for the rest of the existence of your practice. Therefore, leave it to the experts.
You don't want to hurt the main design of your logo all the time. This will only hurt your practice's face.
Reasons why you should hire a professional:
They have a sharp eye for art and artistic styles.
The expertise and skills of a graphic designer are specific.
Their expertise allows them to incorporate a marketing hue into the design.
They will provide you with samples over and over until you are happy with the final work.
The average daily time spent on social media is 142 minutes a day – this is not a marketing channel you can ignore (attorneys included).
The effectiveness of social media for the legal industry is proven, and as more law firms start ramping up their social efforts you need to make sure you know how to stand out.
In this guide, we will be covering:
The exact steps you can take to cut through the noise
What you should be posting to get new cases
How you can grow your law firm using a few little-known social media marketing tactics
One thing is for sure: This game has to be strategically played with a properly laid out plan.
Luckily, you now have a direct look into the strategies and methods we use with our law firm marketing clients, which I will share with you now.
Why Do Law Firms Need Social Media?
The American Bar Association (ABA), through its 2019 annual Legal Technology Survey Report, established one very interesting reason why social media for lawyers is up and running. In essence, the ABA found out that 67% of lawyers use social media for networking.
Networking? I thought we we're talking about marketing...Already going a little out of left field right? Wrong.
In our business (digital marketing services) social media is incredibly valuable for networking – through Facebook groups I have personally met 3 business partners, life-long friends, and most of the employees that work at SERP Co.
Mind-blowing.
Out of the total surveyed, 49% use it for client development. This involves everything having to do with engaging current clients and attracting more.
And just from our conversations with a large number attorneys our team has worked with in the past, that number is only scratching the surface of how many of you law firms should be using it more.
Pro Tip: It doesn't matter what you are selling – your customers are on social media. Stay in front of them, stay top of mind, and engage with them where they are.
How do I know this? Because pretty much everyone is. Here's some context that will blow your mind again:
As of December 2019, the total population of the planet is 7.8 billion.
The internet has 4.45 billion users.
There are 3.7 billion active users on social media.
And.... drumroll......The average person has 7.6 social media accounts!
Mind-blown again? I think so.
So let's get to some spoilers – your new best friend & necessary social network of choice: Facebook.
Depending on the type of law you practice, you will certainly need to adjust your advertising strategy but the key here is to put out content that is Valuable, Engaging, Persistent.
Do People Actually Use Social Media to Find Lawyers?
Fact: more Americans are using social media year over year, and adoption is continually growing, especially with older adults.
Also Fact: I just Zoomed with my dad the other day. Never thought I'd see the day. He'll probably launch an IG profile soon...
YouTube and Facebook stand as the most widely used networks, with Twitter, Pinterest, Instagram, and LinkedIn trailing by a rather ample margin.
Personal opinion: LinkedIn is going to be the second best friend for law firm's looking to up their social media game. Ad costs are cheaper, mindset is different, and it caters to the type of content you should be releasing.
You can use Linkedin for posting on social media, networking, and even automating your brand awareness by connecting with, and messaging, people in your community. Be sure you do this in a way that isn't sales-y.
Provide value first, and introduce yourself as a helpful resource.
A Little More Social Proof
A 2018 study found that potential clients are increasing their use of social media to make informed hiring decisions - including hiring lawyers. More than half of the users interviewed stated that they are more likely to hire an attorney with a social media presence.
Why? It's a sign of trust.
At this point, it's almost mandatory that if you exist on this Earth you have a social media presence. And that's true for everything from business to dating. No social media? What are you some kind of creep?
Interestingly, this same study revealed that out of the lawyers interviewed, 96% use social media, but only 7% consider that it has been directly responsible for attracting new clients.
Why the disparity? ...ATTRIBUTION.
Whenever you are thinking to hire a company to help with marketing your law firm, you need to have attribution on the tip of your tongue.
This is what most marketing companies miss (not us) and the reason why most campaigns don't scale well (not ours). Knowing where your leads are coming from, and tracking their entire lifecycle from first touch to purchase allows you to make ROI profitable marketing decisions.
Without proper attribution (aka analytics & tracking) your marketing campaigns may seem like a waste, but really be working... or they may feel like they are working but actually are setting you up for a pretty nasty surprise.
Your marketing efforts without proper attribution:
Benefits of Social Media Marketing for Attorneys
Let's begin by exploring the value that social media for lawyers will have for your practice.
Is it real? Will it really generate conversions for my firm?
Attract Potential Clients
We posted this one first because it is the core of a business, law firms included.
The 2018 survey by the American Bar Association (ABA) mentioned above represents a great opportunity to use social media without breaching ethical and legal obligations.
Your potential cases are on social media – everyone is. Get in front of them and start acquiring brand awareness/mind share.
Concentrate on your geography and produce relevant content that you know people will get help from.
For example, if you are a PI lawyer you can post & comment about items in the news and give your commentary on it. Your neighbors will see you as an educator (trusted authority figure) and will have no choice but to think of YOU if a similar situation has happened to them or someone they know.
You can also decide to serve these ads in white-collar or blue-collar areas of your city (hint: think workplace injuries).
Want more tips for marketing your personal injury law firm?
Create a Strong Brand Presence
People do business with people they know, like, and trust.
And to be totally honest, if you just hit that first one you're already 90% of the way there.
Social media is the perfect place for establishing the "know". Post content & queue up the proper ad type and you can get your brand in front of thousands (yes, literally thousands) of people for a couple hundred dollars. And if your segment those users to people who visit or interact with your ads and re-target them you can stay in front of them for just dollars. Not even hundreds.
It is SO cheap to stay in front of your customer's viewpoint with social media that if you aren't doing it right now you need to stop reading and contact us so we can give you a game plan.
Seriously, please do yourself a favor – if you do nothing else today at the very least – contact us – so we can hook you up with some easy brand awareness tips.
Well, also don't forget to eat and stuff like that.
Engage with your Audience
Social media provides an excellent platform for not only interacting with friends and family but with brands too. It also offers an opportunity to learn and be educated.
Social media for lawyers allows practitioners to become informative, interact, engage, and answer law-related questions.
Social Media can Improve Your SEO
A strong social presence is one of the google ranking factors that can help with your law firm's seo.
An increase in social media presence has an important correlation with an increased search engine ranking. Not only this, but social media can improve your visibility and increase traffic to your website.
Traffic to your website, likes & shares on your posts, and visitors interacting with your content are all good signs to Google that your website is known, liked, and trusted.
See how that works? SEO is basically just brand awareness for web crawlers, insteaf of people
Search engines will always rank authoritative sites better than those with less trust, and when you utilize social media to leverage your expertise you are attracting more prospective clients who trust your authoritative input.
How to Use Social Media to Grow Your Law Firm
Now that we have established the why let's get started with the how. You are not to be part of the majority that is doing it wrong.
In order to reap the benefits mentioned above, here are some best practices for launching a successful social media campaign.
Check Out What Others Are Saying About You
Start by searching for your brand to find out what other people are already saying about you. These are called "mentions".
Mentions help you understand what people's view of your practice is, and help when it comes to filling in customer experience gaps.
Consider every time you see your name out there an opportunity to educate, influence, and most importantly – interact with those people.
53% of consumers expect brands to respond to reviews, however, 63% percent say that a business has never responded to their review – the same principle applies to social media. 
Respond to people's comments, questions & conversations about your brand to build trust.
Look through your Facebook, Yelp & Google Business reviews and reply to them.
Additionally, head over to Twitter and search for your name and your law firm. If no one is talking about you, is this an indication that you are not influencing anyone? This is the time to change that.
Get Down to Basics
Social media has a basic formula that works the same for pretty much any company. So, these are the first things that you should be able to understand.
Start with a few platforms: Trying to be in as many channels as you can at the same time may dilute your efforts. Not to mention that it can become a hassle to handle. Pick one or two platforms and commit to them. Probably best to start with Facebook & LinkedIn.
Set goals: Make realistic goals that are achievable in a not-too-long time.

Do you want to increase online visibility?
Do you want to get more traffic to your site?
Engage with your current clients, or perhaps.... bring in new ones?

Create content: If you want to have an online presence, you need to be found when someone searches for keywords related to your practice. This is done through content.
Decide what kind of content you want to create and how often you will post.
Understand Your Potential Clients
Now that you have started to get your toes wet, one fundamental principle for you to remember is that your social media for lawyers only works when you have your target client in mind.
This is probably going to be the easiest part of the process for you if you have been practicing for any amount of time at all. Look at your data - who is your demographic / custom avatar.
Remember, everyone is on Facebook. So, as long as you know your ideal customer you can target them on Facebook to put your content, messaging, etc. in front of that person.
Plan Your Content
This is more of an organizational / productivity tip, and can be applied to everything in life. Planning & batching your content strategy and creation process will allow you to create all the posts, articles, etc. that you will need for a given week or month all at once.
Once it's made it is much easier to hand that off to an Associate / Assistant / Administrator in your office to make sure it gets posted on your channels. We call that the Triple-A-Power-Play for Attorneys. And yes, the A stands for Awesome.
If you know which episode of the show this is from, we will design you a free
law firm website
!
But anyways, let's get back to business – make your cause known, and then roll up your sleeves and get creating.
Create Informative Videos
73% of all adults in the UA use YouTube
People love to watch informational videos (much more so than reading at least).
And the best part about video is they significantly increase your perceived authority. There is a much stronger inherent trust when you see & hear someone speaking confidently and knowledgeably about a topic
Another great thing about creating videos is that they can be easily syndicated all over.
Make the video once, then easily:
Post it on YouTube.
Run it as an ad on Facebook.
Post it on LinkedIn.
Share it to your email list
Need ideas of content to create?
Stories: Tell interesting stories relevant to the areas of law you practice.
Educate: Create educational information on a particular practice area.
Engage: Engage with your audience by talking about a trending topic.
Share Useful Facts & Graphs
Visuals are very important in social media, as they are what will "stop the scroll" of someone online. You are competing for attention, so make sure you start with somethign eye-catching.
Need more ideas of content to create?
Legal tips
Inspirational quotes
News & updates about the law
Pro Tip: Take data, information, etc. and turn it into visuals (called infographics) using a program like Canva, or by hiring it out on a platform like Fiverr.
Tell your Story
When people think about law firms, they hardly connect it with humans.
Why are you in business? Do you help people? Personify your practice, or at least highlight & display the good you bring to the community.
Utilize social media to propound your message.
Need EVEN more ideas of content to create?
Tell your brand story to help humanize your firm and allow people to connect with you more easily.
Create meaningful content that shows your ability to listen, have compassion for your client's cases, think creatively, demonstrate your expertise, and showcase your perseverance.
Highlight successful cases you have won, with a video testimonial from the people you helped. Here are some examples of how we do this on our success page.
If you have employees, put their faces out there and tell their stories too.
Be available
Another way to say this is to respond to comments and answer questions.
Remember that the main purpose of social media is to make connections and promote engagement. Most consumers rely on social media to communicate with brands.
Social Sprout found that 40% of consumers reach out to brands through social because they have a question about the product or service.
I know I do this personally. Mostly to complain about customer service to be honest, but almost every-time I do, the situation gets remedied. Any idea why? Because many companies outsource their customer service overseas to people who don't give a shit about your problems and aren't well trained... But guess who is running their social media? Someone domestic who cares about the reputation of the company they work for!
Here's an example:
Guess what happened? I DM'd them, and the problem got solved. Boom! Now I've been turned from hater to brand advocate for Streak.
Do this in your law firm.
It work's incredibly well because people use social media to vent. When they are pissed off they will post about it – and that give you an opportunity to rectify the situation. And, on the flip side, when they are happy about something they will post too, which gives you an opportunity to grab a screenshot of that digital pat-on-the-back and use it in your marketing collateral.
Take Advantage of Social Media Tools
At some point, managing social media accounts can become overwhelming, plus your responsibilities at work don't magically disappear because you decided to focus on your marketing. Wouldn't that be nice?
There are tools out there that can help you manage this extra workload.
Or, if you are too busy for that you can always hire a law firm marketing company.
Just keep in mind that automating for too far into the future might be counterproductive. Circumstances change and so you might need to tweak to adapt to such changes.
Top Social Media Platforms for Attorneys
It's about tine you chose your social media channels, and got to work.
Out of the hundreds of platforms out there, here's a few of the ones we recommend starting on:
LinkedIn
The social network for businesses is the one preferred by lawyers due to its professional nature and opportunity to connect and educate.
Currently, LinkedIn has nearly 690 million users and 29 million monthly active users.
LinkedIn lets you connect with professionals, potential clients, current clients, and referral sources.
Benefits of using LinkedIn:
It helps you stay up to date with news and trends.
You can get endorsements and recommendations, which helps to your credibility.
All of your clients, potential clients, and referrals - all in one place.
When sharing blog posts, other professionals help boost your authority and leadership by reading, commenting and reacting.
Consumers on LinkedIn are more in a mindset for educational, "denser" content.
Facebook
With over 2.5 billion users worldwide, Facebook is the largest network. Pretty much everybody is there, so the chances of your content being seen and shared are rather large.
Benefits of using Facebook:
You can connect with your clients via Messenger, FB groups, or post discussion.
The Messenger app includes a bot for business accounts.
Perhaps you want to make this one your first choice of network - it is easy to set up an account and get started.
Everyone is on Facebook and their targeting is extremely good, if you decide you want to amplify your messaging with some ad dollars.
Instagram
Over the years, Instagram has become a major social network. It has a total of 1 billion monthly active users.
Benefits of using Instagram:
You can share quality photos of your pristine-looking self and office.
Create content super fast by turning your phone on selfie mode and "going live" in stories. No need for scripting or prep, just talk from your expertise.
The feed is a great place to share bit-sized insights, new updates, etc.
Instagram stories can be used to share clips with testimonials and many more.
Hashtags allow for more exposure to the content you share.
Twitter
Most businesses make use of Twitter as part of their marketing campaign. With 330 million monthly users, this is one of the first social networks out there.
Benefits of using Twitter:
No need for long posts as its purpose is to share short content.
Hashtags allow for more exposure to the content you share.
Creating your own hashtag can create interesting interactions with your audience.
The length of your posts are restricted, so you can't really overthink this one 🙂
YouTube
YouTube has also become one of the favorite social media for lawyers. There are currently 2 billion users consuming, sharing, and creating visual content.
This is a great platform to place all your instructional, inspirational, and promotional videos. Or really just all your videos.
Benefits of using Twitter:
You can share your YT video links through the other social platforms.
It helps build your authority by allowing you to upload explanatory or educational videos.
You can visually and effectively display what your law firm is about.
Google loves YouTube (because they own it), so if your videos get traction you can embed them on your website and improve your SEO.
In their own particular way, all of these networks can easily help you generate traffic, improve SEO, expand your social reach, and improve your ROI.
Social Media for Lawyers – Legal & Ethical Obligations
As a lawyer, you are to portray all the integrity expected from your viewers. Your behavior, online and offline, must consider ethical obligations proper of your career.
Whenever you select a social media channel, make sure you act accordingly to the channel. This doesn't mean you always have to be in a suit with your hair perfectly combed (probably only on LinkedIn), it means that you should understand the context & mindset your viewers are in on that channel. Want to post more professional, educational stuff? Use LinkedIn & YouTube. Want to display more of your personality? Turn to Instagram.
Of course, don't forget to consider the laws of your state or country relating to issues of your posts resembling "in-person" and "live telephone" contact, which might be subject to liability in some cases.
The Final Word: Get Social
Are you interested in getting more people to learn about your practice? Get social.
There is no doubt that lawyers and law firms can greatly benefit from a solid online presence.
Social media has the ability to project an image of professionalism and humanity at the same time. Take the time to seize these opportunities to connect, inform, and grow as a lawyer and law firm.
Yes, it will require some initial planning and smart execution, but with focus and dedication you will see the fruition of your efforts. There has literally never been an easier time to get your face, brand & message in front of people than with the tools and platforms we have now. Don't ignore it!
Building a trustworthy brand for your dental practice may be the single most important thing you can do to set yourself up for success in the long term.
In this guide we discuss the key components to building a recognizable dental brand - something all successful dentists & DSOs understand and implement.
If you follow along with the actionable instructions in this guide and put them into practice in your practice you will be setting yourself up for massive long-term success.
A better brand means better marketing results, which means more patients, more revenue & ultimately more of a positive impact on your community, and the dental industry as a whole.
What is Branding?
Branding is the process of creating meaning for a company's products & services.
Branding helps consumers, and potential consumers (aka leads), more quickly know, like and trust you - which helps them make more frequent purchasing decisions.
Emotions drive purchases, and people do business with organizations they trust. So, a primary objective of your brand should be to build trust and meaningful connections.
Your brand is your promise to your patients.
Your brand tells your customers (and potential customers) what they can expect from your services, your staff and your office.
Your brand differentiates your offering from that of your competitors, when there is really not much difference in the specific service they buy - but that doesn't mean the experience is the same.
Your brand is derived from you - who you are, who is on your team, and how you want to be perceived. Branding is all of the ways you establish an image of your company in your customers' eyes.
Branding is all the ways you establish an image of your dental practice in the eyes of your customers, vendors, team, etc.
Branding gives your patients a reason to choose your over another dentist, and a reason to continue to choose you over going to a different dental office.
Benefits of Branding
Branding gives your patients a reason to choose your practice instead of a competitors; and a reason for them to continue to choose your practice for all subsequents dental needs.
Branding helps build awareness for your practice.
Branding increases the value of your practice.
Branding helps generate new patients.
Branding improves employee pride & satisfaction.
Branding builds trust for your practice in the marketplace.
Branding improves your sales & advertising activities.
43% of customers spend more money on brands they are loyal to.
Positioning your Dental Practice
The purpose of positing your brand is to help your customers clearly and easily understand how what you offer and how it's different from your competition.
Positioning is the combination of all the different ways you use to communicate what you stand for.
Brand Components & Fundamentals
Understanding the fundamental components that make up a brand will help you create one that will resonate with consumers in your industry.
Brand Mission Statement
Your brand's mission statement defines your purpose for existing, and the effect you'd like your practice to have on the community, and possibly the world.
Typically, a mission statement is a clear statement that defines your organization's reason for existing.
A brand mission statement is written declaration of a company's core purpose & focus, that typically remains unchanged over time.
Dental Mission Statement Examples
Our goal is to provide patients with highest quality dental care in a comfortable, relaxed and friendly environment. - Aspen Creek Dental
At Booragoon Dental Clinic, our staff provide complete dental care with the highest standard of treatment, tailored specifically to each individual client. We will strive to understand your needs and exceed your expectations. - Booragoon Dental Clinic
To honour the Lord by treating patients and fellow workers the same way we would like to be treated. We will continually strive for excellence in the care we render, and comfort in the way it is rendered. In this way, we will help patients to realize how good oral health can improve their quality of life. - City Center Dental Care
Dove Dental Services strives to provide the best quality dental care to every patient that visits our office. It is our mission to ensure that each patient we treat feels as comfortable and at home as possible – establishing a family atmosphere conducive to an outstanding dental experience. - Dove Dental Services
Craft a mission statement for your dental practice that truthfully illustrates your brand's values and the impact you want to have on the community around you, and the world.
Your brand's mission statement should focus on today and what your organization does.
Brand Vision
Your brand vision is the large goal you aim to achieve - it should be straightforward & clearly explained.
Your brand vision must be attainable & measurable so that you can track its progress and communicate it internally.
For a company like Tesla, this means: "to accelerate the world's transition to sustainable energy", and "to enable people to go anywhere on Earth in under one hour."
Dental Vision Statement Examples
Our vision is to provide our patients with a dental experience that will promote a lifelong relationship built on trust, confidence, quality of work, and exceptional patient care.

It is our vision to strive to remove barriers that seem to get in the way when it comes to a patient's ability to maintain a healthy smile. The Hansen Dentistry Team is constantly working to discover new ways to break through these barriers so that each and every one of our patients can achieve the smile they deserve! - Hansen Dentistry
At Family Dental of Roscoe, we seek to become a leader in the dental industry by maintaining a consistent and systematized approach to dental care as well as a high level of customer service. Our brand identity is meant to embody confidence while also ensuring comfortable care.

Our dentists hope that our zest for dentistry inspires our patients to develop a commitment to their oral health.

All our doctors employ passionate team members who not only love what they do, but also love the patients they serve.

We value passion, consistency, and discipline at our dental practice in Chicago, Illinois.

We base our corporate culture on these values so employees feel appreciated and respected in an environment where they are able to grow and have fun.

Our goal is to eradicate the oral health diseases that chronically affect humanity. We do so by educating our community on oral health care and providing an approach to fight these diseases. - Family Dental of Roscoe
Your brand vision statement should focus on tomorrow, and what your organization desires to achieve.
Brand Guidelines
Brand guidelines (aka "brand book" or "style guide) are a set of rules explaining how your brand should be presented.
Brand guidelines help maintain a consistent 'look' for your brand across all touch-points with patients & potential patients.
Create a single document that could if given to anyone in your organization (from the practice owner, to hygienists and administrative staff, all the way across to your marketing team) that can be read and understood to the point where everyone in your dental organization understands how to properly represent your brand.
Good brand guidelines reflect & support the goals of your organization, as well as differentiate you from competition.
Dental Brand Guideline Examples
Logo
Your logo is a graphic, symbol, emblem or stylized text used to identify your dental practice. Many times your logo will be the most widely recognizable aspect of your brand, only second to your name.
Your logo should be clear or abstract, but have some kind of inherent purpose, meaning and personality of your company.
Your logo should go on your website, business cards and everywhere else you can think of that consumers might see!
Website
Your website is a digital representation of your practice.
In many cases your website will be the first impression that potential patients will have with your practice, and crucial to your online success.
Time for a better website?
Check out our dental websites, and get a plan for a new site for your practice by clicking the button below:
Media assets help you tell the story of your brand in a way that can create emotional connections with your patients.
Typically this will include images, videos, commercials, product explainers, team photos, etc.
Having high-quality visual assets like unique photography, videos, graphic, etc. will help build trust much more quickly in consumers eyes and significantly improve the perceived credibility of your practice.
Conversely, not having unique images (and trying to fully rely on stock photos) will have a negative impact on all of your marketing activities.
We have seen first hand how stock photos can significantly increase ad costs, reduce leads volume, lower sales conversion rates, and have a negative impact on your bottom line.
For dentists, there are a few types of media that you absolutely need to have.
Photography / Images
Unique images are an amazing brand asset that you should not overlook. Try and get as many high-quality unique images for your brand that you can.
Not only will these help increase the trust of your practice, but they will significantly improve the success of your advertising, marketing, lead generation and sales efforts - HUGELY.
Office Exterior
Office exterior photography serves many different purposes, and is a staple of any good brand media package for dentists.
Increase your brand's perceived credibility & quality.
Build trust with potential patients.
Begin to build that emotional connection, starting from the outside in.
Reduce the amount of people who get lost on the way to your practice 🙂
Repurpose as great content for your Google My Business profile & other business citations.
Office Interior
Office interior photography is arguably even more important than exterior - simply because this is where your patients are going to be when they are coming in for their dental appointments!
If you have professionally done photography you can create a feeling of comfort, assurance, peace of mind and even excitement in your patients minds before they ever even speak to you.
Dental Office Interior Photography - Dentistry for Kids
Dental Office Interior Photos - The Atlanta Dental Spa
Team
Team photos are a hugely beneficial way to build your brand. After all, dentistry is a very personal service, and your patients want to get to know YOU.
The doctor & the team are a big part of your UVP (discussed later in this article) and a great opportunity to represent your practice professionally and in a positive light - after all, a picture is worth a thousands words and you're the one with the control over what those 1000 words say.
Check out our brand media presentation to see how much money you will save (and make) by using professional media.
Types of team photos worth getting:
Individual people
Group shots
More serious
Playful, showcasing your personality
Action shots / Day in the life
SERP Dental Client : Bright Healthy Smiles
The more photos you get of life at your practice the less you will have to rely on stock imagery - which translates to huge gains in advertising, marketing & sales efforts. To the tune of $35+ per lead from our personal tests.
Happy Patients
Happy patients, and even a Smile Gallery, are great photographs that you should have.
These fall in the category of social proof - Social proof is a phenomenon where we, humans, essentially will trust a person, place or thing (ie: your practice) even if we have never experienced it first hand if we see other people having a positive experience with it.
The more happy people your prospective patients see, the more they will inherently trust you and take the next step in their buying journey.
Since you can't always have a professional photographer lurking around your practice, the best thing to do is learn the basics of taking the best photos you can (ask our team for help) and try to take them yourselves.
Honestly, higher production photography here is actually not the best strategy - social proof works better when the production value is lower (not photo quality, but production value), because it seems more real, which it is!
Happy Patient Photos - Todd Curley DDS
Video
Even more important for your branding than images, are videos.
You really cannot have too many videos, but since budgets are not infinite (wouldn't that be nice?) we recommend you start with these at a minimum, and continue to accumulate more videos each quarter based on your budgetary capacity.
Welcome to PRACTICE
Videos that showcase the Doctor's personality and warmth are an excellent way to build trust with potential patients before they even come.
A good "Welcome to PRACTICE" video should give the 30,000ft. bird's eye view of the entire patient experience with your dental practice – the goal is to build as much emotional connection as fast as possible.
They usually show a little bit of everything - from shots of the practice, to interviews with the doctor, the team, and maybe some happy patients as well.
Your "Welcome to PRACTICE" videos are like a combination of all the other videos you will get made for your practice.
Obviously you will replace "PRACTICE" with the name of your dental practice 🙂
Hello from the Owner
A "Hello from the owner" video helps personify your practice by putting a face to a name.
It allows people to make a connection with the owner of the practice, and feel more at ease knowing a little about who is behind the business.
Speak from the heart, focus on the reason why you got into dentistry, and talk to your potential patients with passion & enthusiasm for helping improve their lives through dentistry.
Office Tour
Office tour videos are a great way for patients to get a feel for your office environment.
The 2 main types of Office Tour videos you will want to have produced are: interior & exterior
Many people are nervous to go to the dentist, so taking away one more thing for them to 'imagine' is a great way to build trust and peace of mind.
An example of an Office Tour video from our client, Bright Healthy Smiles:
Meet the Team
The Meet the Team video is your chance to really lean into that X-factor that makes your dental practice special & unique – the team.
Showcase your team's dynamic, personality and unique characteristics that make the experience of coming to your practice different than another competitor in the area.

Your patients don't just deal with 1 person - it takes a team to power a successful dental office. You know that, and your patients know it too.
Let them get to know the team before they even come in!
Why Us
Your "Why Us" video can be many different things - but this is your chance to show why a potential customer should choose your practice over another competitor.
What makes you different or special?
Focus on your "why". What makes you tick. If you are authentic about you "why" people will recognize that truth and you'll have a chance to make an emotional connection - and possibly a new patient, for life.
Patient Education (aka "Product Explainers")
Patient Education (aka "product explainer") can be anything from educational videos about the products & services you provide, like how Invisalign works, to the experience a patient might have when they come to your office.
Remember, the idea is to give potential patients more information about the services they need and help them feel comfortable checking out your practice – instead of someone else's.
Here are a few examples:
Patient Testimonials
Testimonials are huge. Written ones are good, images are better, but videos are the best.
90% of buyers who read positive customer success content claimed that it influenced their purchasing decisions.
Here is an example patient testimonial video from one of our clients, Supremia Dentistry.
Note: Your testimonials videos don't need to be produced like this with animations and backgrounds - they can be as simple as your patients taking a selfie video on their iPhone.
For example:
What's important is that you start getting these videos to add to your brand assets.
Dental Practice Media
Level-up your dental practice with unique, high-quality media.
Brand USP / UVP
What makes your practice unique?
Why should someone buy from you, instead of the hundreds or thousands of other options they have to buy from?
This is your brands USP (unique selling proposition), sometimes called a UVP (unique value proposition).
A USP (unique selling proposition) is the one thing that makes your practice different, and more specifically better, than your competition.
Your USP should emphasize & highlight the specific aspects of your practice that can convince someone to buy from you rather than the alternatives. It should make it clear to potential patients how you can improve their current situation and add value to their lives.
Your UVP is a form of brand messaging that makes your customers fall in love with your brand.
Here's a great (non Dental) example - Nerd Fitness.
In the health industry where fitness tips is already very saturated, they stand out.
Why? Their unique value proposition:
This UVP emphasizes the idea of community - that other nerds should get their fitness ideas from them (aka other nerds), instead of from the jocks that have been picking on them up their entire lives (at least according to the movies).
Think about how you can find a unique angle for your dental practice that you can turn in to UVP
Build Your Brand
Share your Values
Sharing your values means being transparent with your why.
The better you illustrate your values the more your patient leads will have an opportunity to connect with you.
Some of the most successful brands are incredibly polarizing - but instead of worrying about the people they will alienate with their beliefs, they double down on them and get full commitment from people who share their views.
Example: Fox News vs. CNN
89% of consumers remain loyal to brands that share their values.
Build Customer Trust & Loyalty
Consumers do not buy products or services from brands they don't trust.
Building trust in your practice takes effort, but here are some proven steps to getting there:
Always be professional.
Empathize with your patients point of view and situation.
Respond to questions quickly.
Be consistent everywhere.
The brands who do a great job of building loyalty & trust follow these principles religiously.
94% of consumers show greater loyalty to brands that offer complete transparency.
Be Transparent
Transparent branding is becoming increasingly more important for consumers - and increasingly more difficult to hide with the prevalence social media.
A transparent brand is one that says one thing, and sticks to it.
Play your cards face up - no hidden fees, no fine print, no surprises - only smiles 🙂
94% of consumers show greater loyalty to brands that offer complete transparency.
Create Quality Content
Have pride in your practice, image & reputation - and create brand assets that reflect it.
Creating high quality content will build positive awareness of your practice and distinguish you as a trusted source of information.
Building quality media assets is a huge leg up on your competitors - don't underestimate this.
54% of consumers want more video content from the brands they support.
Maintain Consistency Across all Platforms
Consistency of your values, visual media, and messaging will help consumers have trust in your brand that when they finally come in to your practice they will receive a consistent experience there as well.
Consistency builds massive trust with your patients & will keep them coming back over time, and referring their friends & family.
Presenting your brand consistently across all platforms can increase revenue up to 23%. 
Practice Purposeful Engagement
Practicing meaningful engagement means having real conversations with people.
If someone comments on your social media – reply back.
If a person asks a question – answer it.
If a customer is kind enough to leave you a review – reply & thank them.
Respond quickly – people expect it.
Showcase your personality – it's the human thing to do.
86% of consumers prefer honest & authentic brand personalities on social networks.
Make Meaningful Customer Connections
People have options.
If they choose to buy from you – use this an opportunity to build a true connection.
Everyday there are multiple opportunities for you to go above & beyond with customer experience that most businesses totally miss out on.
For an incredible example of meaningful connections, check out this story from the Ritz Carlton.
94% of consumers say they would be highly likely to recommend a brand they are engaged with on an emotional level.
Grow Your Reputation
Your reputation is everything - you should create systems to actively work on growing it.
Contribute in your community.
Contribute to the growth and innovation of your industry.
Making employee wellbeing a priority.
Get reviews.
93% of consumers use reviews to decide if a local business is good, or bad
Stand for Something, and Give Back
Giving back is beneficial for your business because people enjoy buying from brands who are socially responsible.
It's nice to know that your money is going to not only purchasing a product but also something more beneficial, but it is also the right thing to do.
13% of consumers would pay 31-50% more for a product or service if they knew the business was making a positive impact on the world.
Final Thoughts
Branding is the way you bridge the gap between name and meaning.
Branding is everything that you represent as a dental practice, and allows your patients to really feel those values.
One crucial element that will help you build a strong brand for your legal practice is to come up with a professional logo.
You want your clients to recognize you, remember you, and tell you apart from competitors. Professionals in the legal industry often go with the traditional gavel and mallet.
Fortunately for you, this article will help you come up with a more novel, eye-catching great idea for a law firm logo that will set you apart.
Tips For Creating an Awesome Law Firm Logo
1. Research Your Color Scheme
Colors have meaning and evoke emotions. Your logo color is important because it communicates your brand message and speaks to your target customers.
It is imperative, then, to realize what emotion is every color linked to.
Colors & emotions:
Red represents passion and energy. It also represents anger and danger - message you probably do not want to be connected to as a firm.
Orange is enthusiasm and energy. This is movement and action but perhaps it is more suited to subscribe to buttons or calls to action to buy a product.
Green is a symbol of new beginnings, hope, and health. Nature is green and green is relaxing. You could use some tones to make your logo easy to the eye.
Yellow makes you feel happy, doesn't it? But too much of it is not recommended as it can feel overwhelming.
Blue may evoke relaxation and even spirituality. But it also provides a friendly and relaxing feel. Why do you think major social media networks use it as their main color?
Brown is the color of the ground so it reminds you to keep your feet on it.
Pink is romance, delicacy, charming and is cute. Nice and all but not necessarily suited for a firm's logo.
Do you want to be seen as a strong litigator or be perceived as a partner that will be with them throughout the entire legal process?
Spend a little time thinking about the colors you will need to represent what your law firm stands for.
Pro tip
: Remember that the colors you choose should be used across all your branding, including on your
law firm's business cards
.
2. Choose Your Fonts Wisely
Depending on the brand personality you want to convey, you can choose to use either modern or traditional fonts.
Modern fonts present you as innovative and up to date. People will tend to trust they can be genuinely helped with modern problems requiring modern solutions.
Traditional fonts present you as conventional and dependable. Not to mention that you can be seen as a counselor with the wisest advice.
Before making a pick, take these short tips into consideration:
Make sure that your fonts are easily readable. Some times, when trying to be too innovative, you end up making the reading unintelligible.
The balance between function and style should be there. This is important since the final result of smart design is appealing and refreshing.
If possible, stay away from cursive fonts as much as possible. Aside from being difficult to read, they are unsuitable for law firms as well.
3. Try to Avoid Traditional Logos
It is okay to do away with the traditional gavel, justice scale, or law book design. In fact, if you want to come across as unique, we highly recommend it.
Your potential clients will typically search for the words "law firm", "attorney", and "lawyer" when searching for help with their case. They are not really looking for those traditional symbols mentioned above.
Pro tip
: Make sure you have a solid
legal seo
campaign in place so you can show up for these queries.
Once they visit your website, they want to see content that paints you as a professional law firm.
4. Consider Where it Will be Used
Your logo should be clear and recognizable, no matter the context. Consider the following pointers prior to sitting at the design table:
It must look the same at the corner of your website, on a social media thumbnail, and on a huge billboard.
Test your logo in as many contexts as you can. This includes a high spot, underwater, under the rain or snow, in a tunnel, etc.
What happens if your logo is placed without color? Is it still recognizable?
Consider how will your logo be placed: printed, stenciled, embroidered, etc.
If part of the logo is not visible, it should still be recognizable.
Simply ask yourself if your logo can endure the test of context and adapt to any environment. If the answer is no, then it is time to redesign.
5. Highlight Your Specialization
A logo that showcases your expertise with specialty law will catch people's attention. Consider designs that demonstrate your unique value.
For instance, if you specialize in personal injury, a logo with an art showing a person wearing a cast would very powerfully describe what it is that you do. A family attorney would have a representation of a family on its logo. Just remember to keep it stylish and modern.
Think of ways in which your design will tell clients if you either specialize in one of the two mentioned above, or divorce, elder, tax law, environment, or whatever the case may be.
6. Feature Your Name
In the legal industry, reputation is the name of the game. And people relate your reputation to your firm name. Make a strong statement by displaying the name of your firm in your logo in a distinct way.
In the future, once your logo has earned its reputation, people should be able to connect your logo with your name, without even having to read it. Consider what do you want people to think about when they see your name in the logo or only the art design on it.
Want to improve the brand awareness of your law firm? Our
legal marketing services
are engineered specifically to help you grow your reputation, lead volume & caseload.
7. Don't Be Afraid to Put in Some Colors
As long as you did research your color scheme, you can get creative and add in non-neutral colors. As you probably know, some colors do not really match and can make your logo look stuffy and/or overwhelming.
Apply the rules of complementary colors to decide which will be your best combination. We do not recommend using a large number of colors. Two to three colors in the same design should do just fine.
8. Communicate Your Brand's Intent
A logo is powerful if it clearly tells your clients what you can do for them just by simply looking at it. This also helps build positive perception to your brand when they associate your logo with positive connotations.
9. Convey the Business Message of the Company
Fashion Law Institute's logo communicates the business message of the company in a simple yet succinct way.
At first glance, It looks like a hammer. But if you look closely, the head portion is actually and thread and the handle is a needle.
Simple, clear, yet creative.
10. Logos With a Fancy Typeface Can Look Good Too
LGBT Law Center wanted a logo that communicates its goal of nurturing justice across time, societies, and sexual orientation.
That messaging is reinforced by this choice of typeface. The rainbow-colored polygons also make their logo stand out from the typical law firm logos.
11. Make Use of Geometrical Shapes
This logo of TE Law Offices is in a geometrical shape put together using the letters 'T' and 'E'. The letter 'T' at the center and the small blue lines also make the logo look like a scale, which is one of the symbols of justice.
Geometric shapes are made of patterns that are regular and provide a feeling of order and structure. The best part is that these patterns are easily recognizable. The fact that these shapes are regular gives a feeling of efficiency and organization.
12. Add a Tagline
The Jacob Law Firm's logo incorporated unique elements such as the tip of a pen, green stems, and leaves. It is non-traditional in terms of symbols and colors and adds a tagline to further communicate what the firm does for its clientele.
A tagline is a short text that describes everything you do. In three to four words, you must be able to give your audience a complete scope of your purpose, mission, and vision. A tagline will help clients feel more connected to your firm.
Have these ideas in mind when coming up with a tagline:
Keep it simple.
Be specific, not generic.
Mention the benefits of coming to you.
Make people talk about your firm.
The shorter, the better.
It does sound like a challenge, right? Take your time to collect your thoughts and come up with something brilliant. Remember to search Google if your tagline is not already in use.
13. Give a Familiar Logo a Modern Twist
Pannu Law added a modern twist to the traditional shield commonly used in logos. Distinctive cuts were added to divide the shield into two portions.
Two shades of blue were also used. This color is usually associated with intelligence and friendliness. This is a great way to show that you can be conservative and modern at the same time.
14. Try Gradients
The trend in design right now is going towards making flat logos. To make your logo stand out, you can add a gradient to it. Benakem Law's copper gradient made its logo look even more elegant.
One important thing to consider is to not make the gradient the main point of your logo. It should only be used to give it an extra flair. This accentuates an already strong logo.
15. Make it Sophisticated, yet Straightforward
The classic typography of 'L' in gold is used as the centerpiece of Lahmann law's logo. It exudes a strong sense of elegance, achievement, and prestige.
This is yet another example of simplicity with elegance.
16. Use Shapes Smartly
Russell Law Firm was able to incorporate the pillar and the letter 'R' for its logo. This is another example of how you can add a creative twist to traditional law firm logos while making it memorable.
Keep in mind that shapes must portray elegance, regularity, and simplicity. Do not try to force a shape into a design. This might only make it appear too loaded or make it difficult for clients to understand it.
17. The Classic Monogram
Monograms never go out of style. Why? Just because they work. If you create a balanced, eye-catching monogram for your logo, it is a good way to add credibility to your overall brand image.
18. An Intricate and Meaningful Logo
Looking at this logo from Dickson Law Firm, you can see that the main symbol used is a shield. But it's more than just that. They were able to integrate the founder's initials MDD into the shape of the shield with a subtle reference to the baseball history of the founder.
A meaningful logo shows individuality. It helps clients connect the person with the brand, which is very important in this line of work.
19. It's in the Details
Goldman Law's logo is another example of integrating letters into a pillar symbol (just like what Russell Law Firm did with theirs in the example above). This logo was able to execute this creative trick in a more subtle way.
As we have mentioned before, keep it simple and understandable. Pay attention to details such as balance, space, and symmetry.
20. Years Build Credibility
In the legal practice, the longer you are there, the more people trust you and your expertise. Mckenzie Law Firm made sure to include their date of establishment in their logo to show clients that they have many years of experience.
21. Your Logo is About You
Kennedy Payne is a solo practitioner and decided that her full name will be conveyed in her logo in a straightforward way. It is also supplemented by her initials on the left-hand side. This logo is simple, clean, and easy to understand.
22. More Ways to be Creative
Thompson DC Law had another creative way of using the pillar symbol. They were able to incorporate the letter 'T' in it. The angled edges at the end of the lines also make the symbol more modern.
To this point, you are probably wondering if you have it in you to come up with your own creative ideas. Since this is a profession you chose because you love, it is easy to tap into that to get a logo that will tell others what you are about.
Here are some quick ideas to get those creative juices flowing:
Look at other law firm logos for inspiration. We have been showing you great examples of logos throughout this article. Learn from them.
Consider your audience. Remember that you want to connect your firm with the client.
Google some other logos. It's ok to get ideas from others.
Start with a pen and paper. Don't jump straight unto a designing software. Using the old paper and pen is still the best way to flesh out ideas.
23. Strong Symbols
In this logo, Alexander Law Group combined to traditional yet strong law symbols - justice scale and a sword. Creating an original symbol out of classics is not easy to pull off but once successfully done like this, it can greatly benefit your law brand.
24. Keeping it Simple
As we have mentioned earlier, sometimes, less is more.
Your logo would be easily remembered and recognized by potential clients if it is easy to understand and look at.
Avoid having too many complicated symbols that people will most likely not remember. We recommend that you choose a simple logo that is straightforward in communicating who you are and what you do.
25. Hire a professional designer
Hire a professional designer to do your logo for you-just like you would advise your clients to hire a lawyer instead of representing themselves.
Your legal practice's logo will represent you moving forward in your professional practice. You have one shot to make it right. Changing logos along the way will hurt your brand image more than help.
Here are some benefits of hiring a professional designer to design your law firm logo:
They have an eye for visual art
They have the technical skills needed to produce digital designs
They have the marketing ability
They will give you several versions and sizes of your logos you can use for different materials
If you want to hire a professional designer but don't want to break the bank, here are a couple options:
In SEO we are always dealing with CSVs - combining, cleaning, analyzing - you name it.
In this article (and video) I will show you how to quickly & easily combine and merge multiple CSV files into one CSV file for free on a Mac.
Follow along, and start combining!
Update: Back in the day I shot a video about how to do this manually on a mac, and it still works. But since then we've had a lot of people ask about doing it on a PC.
So we actually just made a tool that combines CSVs for you.
And it's way faster than the manual method.
And it's free.
Check it out here: SERP App CSV Merge Tool
If you have multiple CSV or Excel files that you need combined, follow this simple process to get them combined in a flash, using the built in "terminal" on your Mac.
Step 1 - Create a new folder
Create a new folder on your Desktop & put all of your CSV files into the folder.
I will call mine "combine".
It will look like this:
Caution: Everything in this folder will be combined.
Step 2 - Open Terminal
The program "Terminal" is located in your "Applications" folder under "Utilities"
Applications > Utilities > Terminal
Open Terminal.
It will look like this:
Step 3 - Print Working Directory
This is a fancy name. Don't worry about it, just follow the steps.
1. Type: "pwd"
2. Hit enter
It will look like this:
"PWD" means "Print Working Directory". It simply is showing you what "directory" (aka folder") the Terminal has selected. Don't worry about it. Just keep following along.
Step 4 - Choose the folder you created
Set your "directory" to the folder you created that has your CSV files in it.
1. Type: "cd /Users/devin/Desktop/combine"
2. Hit enter
Note: you will need to change your file path so it matches your username & folder name
Step 5 - Merge the files
Now you are ready to merge your files.
1. Type: "cat *.csv >combined.csv"
2. Hit enter
It will look like this:
Step 6 - Check your folder
If you followed along correctly, you are done!
Inside your folder there will be a file called "combined.csv"
It will look like this:
Final Thoughts
If you need help with your digital marketing, web hosting, or other services please contact us.
If you want to learn more SEO tips & strategies to help your workflow, improve your team's efficiency/productivity, and bring more traffic to your website join us at:
SERP University.
Revamping the marketing efforts of your carpet cleaning business is one of the best ways to get more clients. Consumers today search for information online and make several comparisons before they arrive at a purchase decision.
If you are having a hard time letting customers know that you provide the best carpet cleaning service, then this article is for you.
Here are 10 marketing tips and ideas to grow your carpet cleaning business:
1. Have a website for your carpet cleaning business
Your website is the digital version of your brick-and-mortar office. Be where your prospects are when they are at the stage of looking for and comparing possible service providers.
Make sure to put relevant content on your website - information that will help clients know more about you and your services. Your website should be easy to navigate and mobile-friendly.
Adding photos of your previous work and testimonials from previous clients will also help strengthen your reputation for prospects who are already considering to hire you.
2. Get your carpet cleaning business listed on online directories
Online directories such as Google, YellowPages, Yelp, and Foursquare will make your business more accessible to potential clients. People looking for service providers usually refer to these directories to look for local businesses.
Get your carpet cleaning business also listed on niche directories like carpetcleaningdir.com or Angie's List is also important to make sure that clients looking for carpet cleaners find you first before they come across information about your competitors.
3. Post on social media actively
Establish an active presence on social media to get your carpet cleaning business known to more people out there.
Gain followers by creating and posting engaging content. This does not necessarily mean that you will bore your audience to death with carpet cleaning tips all day. Post quizzes, polls, memes, gifs, or funny videos related to your business.
Another strategy is to host giveaways and promos using your social media accounts. Some business pages, for example, give small discounts to the 500th or 1,000th person to like their page.
Encourage your customers to leave reviews on your carpet cleaning social media pages. This will help your business look more credible and trustworthy to prospects who might be looking into your page to assess if they should hire you over competitors.
4. Respond to online reviews
Responding to reviews online is a good way to establish rapport with your clients. Thank them for taking the time to leave a good feedback about your carpet cleaning service. Engaging with your customers online is a reflection of how you treat and value them.
This is true even for negative reviews. Make sure to respond politely and explain your side of the story. If the fault was from your side, genuinely apologize and make sure that you are and will be doing everything to correct the mistake.
If the budget permits, a good customer recovery strategy is to offer customers with discounts and coupons.
5. Learn about SEO
Businesses who appear on the first page of a Google search have more chances of acquiring customers than those who are at the 2nd or 3rd pages. You can do this by making sure that your digital assets and content are search engine optimized.
Most customers think that businesses on the first page are more known, credible, and trustworthy. Make your carpet cleaning business appear on the first page not just once or twice, but thrice by:
Registering on Google Business
Running paid ads
Getting listed properly on all major online directories (check your current local seo health here)
Make sure your website is search engine optimized – utilize keywords that prospective customers use to search about carpet cleaning businesses
6. Run a campaign to make prospects call you
Expect the phone to start ringing now that you have established your website and online presence. These potential customers will start calling to inquire about your carpet cleaning services or ask for quotations.
On top of these leads, also launch a call campaign to get warmer leads - these are people with already higher intent to hire. You can do this through pay-per-click (PPC) advertising on Facebook or Google.
Make sure that your contact number is on the header or main copy of your adds. A "Call Now" call-to-action button should also be there to clearly communicate what you want your leads to do. Targeted call campaigns will give you higher ROIs and more quality leads generated.
7. Get a van and detail it
One of the most effective offline on-the-go marketing materials is - yes, you read it right - your van. It doesn't matter if you are driving it around or just parking it outside your client's home while providing your services. A nicely detailed van will speak for itself.
Detail your van with your business name, logo, and contact number. These information should be big enough to be seen even from afar.
One success story was from a creative driver of a landscaping business. He parked their company van in a car wash station just beside an intersection usually packed
8. Sell relevant add-ons
Add-ons are an upsell to your sales funnel. To maximize the upsell, you need to offer more services to your customers to increase the value of their order.
For example, instead of selling a $150 carpet cleaning service, you could present them with add-ons to 'up' that purchase.
You can offer them to also buy steam carpet cleaning for an additional $80 and window cleaning for an additional $50. A $150 order is now suddenly worth $280.
Another example is giving DIY after-care tips to your customers and then selling them some blotting paper or carpet cleaning solution they can use in the future. Taking time to discuss helpful tips with customers can also make them want to recommend your business to their families and friends.
9. Promote offline
From a marketing perspective, your participation to events within your community will help boost people's awareness of your carpet cleaning business.
Local events are great venues to showcase your work and expertise to prospects in your area. You want your carpet cleaning business to be your target audience's top of mind when they look for carpet cleaning services.
You can also join community and professional organizations to build your network with people and businesses who might need your carpet cleaning services.
Show them you are an expert. Use your carpet cleaning knowledge by teaching others about the best practices in your industry.
10. Get some marketing help
If you are the type of business owner who likes to focus on the operations of your business, getting some marketing help will be able to optimize your process of getting more landscaping customers.
SERP Co has worked with hundreds of brands across several industries. We were able to help them grow their business through strategic digital marketing.
In the world of digital marketing, the learning process never ends & competition is only heating up, so if you want to compete (and stand-out) in this game you'll want to stack the deck in your favor as much as possible.
Getting your hands on some digital marketing certifications can help you land clients, a job, or just sharpen your skillset.
Are you lacking the digital marketing skills required for securing that new job?
Are you losing business to competitors because they can prominently display qualifications they have?
Or maybe you just want to flex more?
If any of those questions hit home for you, then you have arrived at the right place.
We have rounded up a list of the best digital marketing certifications that you can get to boost your game.
Whether you want to grow your clients' business or your own, these digital marketing certifications will help you get it done. Plus, many of these are totally free - so your success only depends on your determination and hustle.
This is how I started my marketing journey, and being able to professionally showcase my certifications helped me land my first couple clients, which turned SERP Co into what it is today (the world's coolest SEO company on the planet).
SERP University
SERP University is a blog-esque learning environment with articles written by our agency's marketing experts, who are working "on the battlegrounds" every day.
We aim to make SERP University the best place on the internet to learn digital marketing, and by the time you read this post, it may already be that.
Features
In-depth blog articles written sequentially to teach you about marketing concepts like: Advertising, Content, SEO, Email, etc.
Video courses to give you (and your team) beginner-to-advanced marketing training on all things digital marketing: Advertising, SEO, Sales, Productivity, Team Management, Email Marketing, etc.
A Private Slack Community where you can ask us (and the whole community) any questions you have during your learning experience - 24/7.
Weekly Q/A sessions to help you troubleshoot campaigns, answer questions, and help you with anything you need, live.
Enrollment
Google
A huge part of digital marketing revolves around getting traffic from Google.
Whether that be organic search (SEO), paid search & display (Google Ads), YouTube, etc. Google is definitely a great starting point to start racking up those certs.
And of course, Google provides a TON of resources to get good at using their tools (go figure... ?)
But the best part is - they are actually good (whew! ?)
Google Partners
Google Partner certifications allow agencies & individuals to become a "Google Partner" with an accompanying badge they can prominently display on their website to show potential customers (and jealous peers) that they are the ?when it comes to all thing Google.
Enrollment
Google Analytics Academy
Google Analytics Academy helps you learn more about the world's most widely used website measurement tools so that you can grow your website using intelligent data collection & analysis.
Google offers a few courses within Analytics Academy (all of which we recommend you go through if you want to be an internet marketing super-star... or even just an internet marketing regular-star.)
Enrollment
Google Digital Academy
Google Digital Academy (Think With Google) brings together Google education to inspire marketers and business owners to do go further with Google products, providing solutions to business problems & helping more people become digital partners along the way.
Enrollment
Google Digital Garage
Google Digital Garage teaches the basics of digital marketing and is a great place to start if you are brand new.
This 'introduction to digital marketing' course is designed to show you the core concepts of marketing & foundational knowledge in this field.
It is a free course & is accredited by Interactive Advertising Bureau Europe & The Open University.
The course will take about 7 hours for you to complete, and you'll get a sweet looking certification.
Enrollment
Google Certifications & Badges
If you can power through all of the Google certifications you will end up with an arsenal of certifications & badges that you can use to showcase all the new knowledge you've just picked up.
Google Badges
Google Certifications
Lynda (LinkedIn Learning)
A great way to get started on your digital marketing certifications journey.
Lynda.com is an online course platform that was acquired by LinkedIn in 2015 (which was subsequently acquired by Microsoft in 2016). It is now called LinkedIn Learning
Features
LinkedIn Learning offers video courses taught by industry experts in business, creative, software, and digital skills, for example:
Enrollment
They have a free trial, after which it's a monthly subscription.
But, if you have a LinkedIn Sales Navigator subscription you can get access to LinkedIn Learning for free.
Cost: $29.99/month
Link: Lynda
HubSpot
HubSpot is a developer and marketer of software products for inbound marketing and sales.
You could say they are pretty big:
Features
HubSpot has quite a few certifications, which can not only improve your digital marketing street cred - they are actually very good for teaching you solid marketing skills.
Here is a snapshot of some of the awesome certifications they offer to learn digital marketing:
I have personally taken a lot of HubSpot courses, and am friends with (can I call us friends Ian?) their director of SEO Ian Howells - and I highly recommend the content they put out.
Here are some examples of the certifications you can get from HubSpot:
Enrollment
Content Marketing Institute
The Content Marketing Institute's University is a great place to learn content marketing & pick up a certification.
Features
The good: It's put on by The Content Marketing Institute (CMI) - a very well respected and highly following website that helps people with content marketing.
The not as good: The university portion is $995/yr
If you do sign up though, you'll definitely get provided with quality information about growing your business through content marketing and get a certification that you can hang on your mantlepiece, or maybe even have a seamstress turn into a sweet flag you can wave around at your next marketing convention.
It looks like this:
Enrollment
YouTube Creator Academy
YouTube is the 2nd largest search engine on the planet, and video consumption is overtaking everything online.
If you're not using video as part of your marketing strategy you are going to get left behind.
Plain & simple.
YouTube Creator Studio helps you learn how to make videos by watch videos on learning how to make videos. #inception
Features
YouTube creator academy helps you learn:
Video creation strategies
Best practices to grow your channel
Techniques to develop your YT channel towards success
YouTube platform strategies
The certification is totally free and is valid for 18 months.
Here what it looks like:
Get it, and start marking videos.
Enrollment
Bing
Compared to Google, Bing is not that big - but there are still over 12 BILLION searches a month that take place on this "smaller" search engine.
In reality, Bing can still drive a ton of traffic to your website if you can rank (or advertise) well on their search engine.
To give you some perspective, here is a comparison of the size of Google, Bing & Yahoo:
Features
Bing comes installed as the default search engine on a lot of Microsoft (and Microsoft partner) computers - so there is still a huge amount of people using it - and if there's traffic out there you should definitely want your business to be benefiting.
So, to encourage people to use their ad platform Bing also has some training & an available certification, allowing you to become a "Bing Ads Certified Professional"
Enrollment
Facebook is the biggest website on the internet, and pretty much everyone (and their mom, and their dog, and their cat) is on it.
With over a billion and a half users, it's crucial to take advantage of this platform to drive engagement and increase brand awareness.
Features
By completing the Facebook Blueprint Certifications, you'll learn how to use the (always changing) Facebook Ads platform & drive a ton of success to your website.
Facebook Certified Media Planning Professional
Facebook Certified Media Buying Professional
Facebook Certified Ads Product Developer I
Facebook Certified Ads Product Developer II
Facebook Certified Ads Product Developer III
Enrollment
Cost: Free; but the exams for certification are $150 each
You will be flying no planes today.
Twitter flight school is simply the name of Twitter's Ad training (because you know, birds and such.)
Features
Twitter flight school courses are designed to help you improve your expertise in video advertising on Twitter so you can grow your business using Twitter ads.
They offered short (~15 minute modules) tailored to teaching you about the various account functionalities & agency roles. You'll learn how to initiate, manage and optimize a campaign for your (or your client's) business.
Enrollment
Digital Marketer
DigitalMarketer.com is a very well known & respected marketing training website. They have a wide variety of courses, resources & certifications that can help improve your skills.
Features
Marketing Resources
Mini-Courses on a lot of digital marketing topics
Certification: Content Marketing Mastery
Certification: Paid Traffic Mastery
Certification: Social Media Mastery
Certification: Conversion Funnel Mastery
Certification: Search Marketing Mastery
Certification: Email Marketing Mastery
Certification: Analytics & Data Mastery
Certification: Conversion Rate Optimization
Certification: Ecommerce Marketing Mastery
Certification: Copywriting Mastery
Certification: Community Management Mastery
Enrollment
Cost: From Free up to $495/certification
Copyblogger
Copyblogger offers strategic content marketing courses that are taught the founders & industry experts.
Features
Persuasive Copywriting 101
Creative Foundations
Brian Clark's Build Your Online Training Business the Smarter Way
The Content Confidence Checklist
Enrollment
Hootsuite Academy is among the most recognized social media management platforms in the world today. There are various courses offered in the field of social media marketing, starting from beginners, all the way to advanced.
Features
There are 15 lessons and assessments in total, with each module testing your concepts and knowledge of social media marketing.
You will receive your certification once you pass the online exam consisting of 60 questions.
Enrollment
Digital Marketing Institute
Located in Dublin, Ireland, the Digital Marketing Institute was founded way back in 2008, and has the recognition of training, in their own words, "more graduates to a single digital marketing standard than any other certification body."
Features
The courses offered by the DMI have been designed for beginners, all the way to advanced levels.
Taught by very experienced digital marketing professionals, they offer courses in:
Digital & Social Media Strategy, Planning and Selling
Digital Marketing
Mobile Marketing
Search Engine Marketing
Enrollment
Final Thoughts
These were some of the best digital marketing certification courses you should look into if you are either already in this business or are serious about getting into this field.
Not only will it help to improve your credibility and reputation in the digital marketing ecosystem; it will also give you the confidence and skills to get the results your clients (and teammates) expect.
What is Guerilla Marketing?
Before we get into details about guerrilla marketing for lawyers, a quick note about what this marketing actually is!
The term 'Guerilla Marketing' was first coined by the American business writer and author, Jay Conrad Levinson in 1984. He came up with the idea of having a marketing and advertising strategy that was not only creative and witty, but also cost effective.
His book, also named Guerrilla Marketing, has been so influential, it is required to be read in MBA programs across the world.
Guerrilla marketing is all about coming up with new and interesting marketing and advertising ideas for your company and the services/products you offer.
Creativity is at the heart of guerilla marketing, utilizing humor, imagination, and unconventional methods to target customers/clients.
The plan is to always come at your target clientele in the most unexpected ways, leaving them curious and interested. This form of engagement creates more buzz and excitement as compared to conventional marketing, making guerilla marketing more effective.
Does Guerilla Marketing Work for Lawyers?
You will be surprised to know that the most successful marketing campaigns in history were initiated and completed with very little funds. Guerilla marketing is all about marketing on little to no budget. What you lack in finances, you make up for it with ingenuity.
The goal is to surprise the audience in a way that generates word of mouth; something that gets them talking. Thanks to social media, this can be done much more easily and quickly than before.
So, does guerilla marketing work for lawyers, the answer is a resounding YES!
Even though most advertising campaigns focus on products rather than services, guerilla marketing can be shaped to cater to law firms.
Even lawyers need to market themselves to spread awareness of how they can offer advice and representation in legal matters.
So why not utilize the most powerful form of marketing there is?!
Marketing for lawyers does not have to be expensive. Even though you can throw as much money as you want at your firm's marketing campaign, there's really no need to.
With the world going digital and the power of social media within your grasp, you can get a lot more outreach with much less money.
It has become crucial to harness the power of the internet into guerilla marketing so as to target your specific audience.
How to Start Your Guerrilla Marketing Initiative
In order to get started with guerilla marketing, the first step is not to worry about your finances. As mentioned before, you don't need a huge budget. All you need is to prep your mind and let your imagination go wild so you come up with the most creative marketing ideas.
The most successful guerilla marketing campaigns demand some out-of-the-box thinking. You need to do something that sets you apart from the rest. Of course you have to stay within the confines of the law and make sure it's not something offensive.
So, if you want the world to know about how good a lawyer you are, here are some ideas to get you started:
Visit Community Events, Conferences & Workshops
Get Involved Locally
Create a Referral Program
Leverage Social Media Marketing
Partner with Law Firms Complementing Your Practice
Capitalize On Your Travels
1. Visit Community Events, Conferences & Workshops
One of the best ways to get people's attention is to give them your time. By volunteering at events, workshops and conferences, you can give the attendees an idea of your expertise.
Depending on the type of event, you can share strategies and offer helpful information. Let them know that you have an active online presence such as a website, Facebook page complete with pictures and information related to your law firm.
You can also give out media kits to the attendees containing your credentials, bio and your law firm's mission. This info can be vital for them to understand what you specialize in and whether you can help them with their specific legal issue.
2. Get Involved Locally
Build your network by getting yourself involved in local events. If there are no events coming up, why don't you host one of your own!
Getting a fundraiser campaign for a good cause or having a canopy at the county fair, this is the best way for you to get the attention of the local 'movers and shakers'.
By being a part of such organizations and boards, you will be assisting them with your knowledge and skills as a lawyer. This is something that is greatly treasured by everyone.
Remember NOT to give a sales pitch during these events as people respond more positively to valuable information.
3. Referral Programs
Quite similar to affiliate marketing, you pay someone for sending business your way. You have an arrangement with referrers who know about your work and when they meet someone who needs your specific services, they send them your way.
This does not cost you money as you only pay the referrer when you actually get paid from that particular business.
The ideal people to get referrals from are your fellow attorneys at law.
For instance, you work with criminal law cases but don't handle divorce law. However, there are times when criminal cases require divorce attorneys.
You can take advantage of this by making an arrangement with another lawyer to send referrals your way and vice versa.
Create a guide and send it to your local attorneys so they can send those referrals your way.
4. Leverage Social Media Marketing
Even though you will hear how a lot of people are opting to leave social media behind, there is no denying that it is the largest guerilla marketing platform today. By riding the social media bandwagon, you can reach more people than any other platform.
There are always people on Facebook and Twitter looking for lawyers to handle their legal battles. There might be someone on Twitter right now who was charged with DUI and is looking for an attorney who can take on his/her case.
If you are a divorce attorney you can get the attention of someone who might be going through a tough marriage. This results in that person instantly becoming your potential client.
With more than 2 billion social media users, it would be foolish to not take advantage of this medium for marketing your law firm.
You can create your profiles for free, followed by posting information on various legal issues where you and your fellow lawyers can help.
5. Partner with Law Firms Complementing Your Practice
This is a great way to save money while connecting with more clients. Think about other law firms whose services complement yours in your area.
For instance, while you specialize in Family Law, you might know some firms in other practice areas such as Estate Planning, Bankruptcy, Criminal etc.
By collaborating with such firms, you can avoid considerable printing and mailing costs. And by sharing your own network with them, your law firm also emanates a sense of involvement in the legal community.
6. Capitalize On Your Travels
If your legal business has you traveling a lot, capitalize on it. Get a bright yellow box and put a couple of non essential items in it. Put your firm's branding on the box's outside, with your name, contact number and website.

Better yet, also add a tagline, like "Having trouble with a business deal? We can help!". When the box comes around the belt, let it ride around for a while.

Let People Find You Online
Nowadays, almost everyone goes online to search for people, brands, products, you name it!
By having an online profile, you can let potential clients view your achievements, both educational and career wise. This also gives a sense of trust to the potential client as they know where and how to reach you.
With social media, you have the chance to not only stay connected with your clients, but also gain new ones by being available online for some Q & A.
If you are willing to spend some money, you can also post ads on various social media platforms. These ads will be shown to your target audience to capture their attention towards you regarding their legal issue.
What Else Can You Do?
If you wish to succeed in this competitive world, you need to consistently focus on marketing your services. Whether you have a budget for marketing or not, you need to be consistent in finding ways to grow.
It is crucial to keep up with the changes and advances in the world of guerilla marketing. This is the key to not only ensure your survival, but also to give you a competitive edge.
Here are some of the things you can do:
Have a great search engine ranking
Post interesting content
Create informative online videos
Show-off your reviews
Lawyers and law firms need to utilize each and every technological tool available to reach their target clientele. Let's get into the details a bit.
Have a Great Search Engine Ranking
As you are aware, if your website is not listed on the first page of the search results, it will not be seen by the majority of the users. Search Engine Optimization, or SEO, is the most important aspect of having an online presence via a website, as it ensures that you can be easily found on Google searches.
Your website needs to be optimized so your website loads faster and has links on other websites leading back to your website.
You also need to ensure that you have a web design that is not only on par with today's standards, but also captivates the visitor into staying and exploring more about your law firm.
Post Interesting Content
Believe it or not but great quality content is what sets your law firm's website apart in the vast ocean that is the world wide web.
By providing valuable and relevant information, you can let your target clients know about your expertise and skills on handling legal issues.
Post informative blogs and articles to drive scores of potential clients toward firm. You can also post as a guest on other law firm websites and have others do the same.
This will greatly help in expanding your reach towards new clientele.
Create Informative Online Videos
The days of spending hundreds of thousands of dollars on expensive video and audio equipment are long gone. Today, all this can be accomplished with a smartphone, or much cheaper than before professional audio/video equipment.
Create a short video where you discuss the most common legal issues faced by your community. Expand on that and cover other topics.
Make sure to keep things simple by not going into details. People are more likely to watch videos that are to-the-point and short rather than going on and on about all the legal mumbo jumbo!
You can post these videos on your law firm's website, YouTube channel, Facebook, Twitter and Instagram pages. Connect all your accounts so it is easy for users to share and tag your videos across several social media platforms.
You can also create simple yet elegant graphics to work within your video to interest the viewers.
Most importantly, do not forget to smile!
Show-off Your Reviews
Reviews can make or break your game!
Nowadays, it's all about going online and searching for reviews. People hardly ask each other about referrals or their experiences as now they are more likely to read reviews online.
Even anonymous ones are given weight and credibility, so having them posted on your social media pages and website can really boost traffic towards your law firm.
Make sure to feature the most positive reviews as they will naturally have a positive impact on the potential client. You can also ask your local community members to write testimonials which you can showcase as well.
Legal Guerrilla Marketing: Sustained!
If you have reached this part of the article it means you have a basic understanding of guerilla marketing for lawyers. Note that there is still a lot more to this form of marketing technique than what has been discussed here. For now you have a solid grasp of what it entails.
There is no one way to utilize guerrilla marketing for your law firm. You have to stay on your toes and wait for the most opportune moments to come up with something that is interesting and engaging.
There are chances you'll probably end up using all of these, or perhaps some of these methods. The best way to go forward is to personalize your guerilla marketing campaigns to suit the needs of your law firm.
Get in Touch with Us Today
Guerrilla marketing is something that can really level the playing field for your law career. It can give your firm the competitive edge to get ahead.
However, if you need help getting started, do not hesitate to contact us!
The landscaping industry has been growing at a healthy rate year over year.
Forecasts also show that median income and revenue of landscape companies owners will continue to increase.
And, as you can clearly see from Google Trends, the popularity (and therefore competition) of landscaping companies is rising as well.
This landscaping industry growth can be attributed to the following factors:
Increase in disposable income in the U.S.
Increasing number of older Americans (aging or busy homeowners)
Increased outsourcing of landscaping services
Increased level of spending for constructing private non-residential entities
Increased focus on corporate campus environment enhancements
Thus, there has been an influx of new entrants to the industry because of the increase in demand.
If you are a landscaping business owner, you should now think of more ways to rise above the competition and maximize the potential of this growing market. Start by upping your marketing game.
1. You need to have a website for your landscaping business
Your website is your company's online storefront. Today's consumers – especially those seeking services – have developed the habit of doing research online before making a purchase decision.

The contents of your website can help make prospects perceive you as a reputable professional. Showcasing your portfolio and sharing testimonials from your previous clients will establish your expertise and provide more information about your landscaping business.
2. Build and manage your reputation online
Register your landscaping business on the main directories: such as Google My Business, Yelp, Thumbtack, Porch, Angie's List, and Home Advisor.
This is one of the top/primary factors for making sure your business shows up in the maps - make sure you do it right.
Want to show up in maps?
See what directories you are missing & where you can get listed for instant SEO improvement
When prospects search for landscaping services online, seeing listings and reviews about your business will further emphasize your legitimacy and work quality.
Ask your clients to write a short review for you and engage with them by leaving replies. This is also true for some of the negative feedback you might receive – always engage politely and leave your side of the story.
3. Run a campaign to make prospects call you
Now that you have established a website, register your business on listings, and have reviews from your existing customers, expect leads to come in asking for estimates and quotations.
But on top of that, make sure also to target "warmer" leads – those who have higher intent to hire already – by launching a call campaign.
You can do so by through pay-per-click (PPC) advertising on Google or Facebook. Your contact number should be on the main title or copy of your ads and the call to action "Call Now" should be clearly indicated.
Targeted call campaigns have higher ROIs and can provide you with more landscaping customers.
4. Create an official business video
Most landscaping companies fail to realize the value of an official business video. This is a digital asset you can use across all your online platforms.
On average, people spend more than an hour and a half watching online videos per day. In other words, people love watching and engaging with video online and that ain't gonna change.
A marketing video will make it easier and more engaging for potential customers to learn more about your landscaping services, get to know you as a business and help them Know, Like & Trust you.
And of course, it will give me content for the search engines to find about your business & help build your trust/authority online.
5. Leverage social media
People spend time on social media for more than four hours a day. Your business should be there even when prospects are just idly browsing through their feed while stuck in traffic.
Create a Facebook business page for your landscaping company and run Facebook Lead Ads to boost awareness and generate leads.
It is also a plus if you build a community for your customers on social media. Ask them to share photos of your work, tag you, and leave reviews.
Leverage the power of referrals so that prospects who find your Facebook and other social media pages see an online community of people who support your business. This gives prospects confidence about working with you.
6. Learn about SEO for landscapers
Businesses who appear on the first page of Google search results have more chances of closing the sale than those who appear on page two and beyond.
Make your landscape business appear MULTIPLE on the first page of Google search by doing the following:
Run paid ads
Register on Google Business
Get listed properly on all the major online directories (check your current local seo health here)
Make sure your website is search engine optimized – utilize keywords that prospective customers use to search about landscaping businesses.
Here is an example of a client of ours that we did this for:
Talk about DOMINATING the search engines.
This client is getting ALL the traffic for this search.
See how we achieved a 990% ROI in under 5 months for this Landscaper in NYC
7. Promote offline
Your marketing efforts should extend offline.
Participate in local events to showcase your work and expertise to prospects in your area. You want your landscaping business to be your target audience's top of mind when they look for landscaping services.
Another idea is to join professional organizations or other community organizations where you can build your network with people and businesses who might need your landscaping services.
Show them you are an expert. Use your landscaping knowledge by teaching others about the best practices in your industry. Volunteer to share presentations for local garden clubs or other similar organizations.
8. Start your marketing efforts before the peak season
It always pays to start first.
Peak season for landscaping services usually starts in spring and continues until fall, depending on the locality.
Begin your marketing efforts earlier by offering a pre-pay discount. Recurring revenue is important for service businesses, such as landscape companies.
Secure your existing clients' business early on to also help you plan your budget and schedule routes.
9. Suit up
Make sure your landscape crew members are dressed in neat and clean attires that display your company name and logo.
Even your landscaping trucks can serve as mobile marketing materials if you include your company name and logo.
These efforts will increase brand awareness and recognition offline.
10. Make use of the 3/9 strategy
The 3/9 strategy in landscaping means that when you send a crew of 3 out to do a job. Two of them stay at the customer's house to do the work, while the other one goes to the nine nearest houses to give fliers or leave door hangers, before returning to help or heading back to the office.s.
Benefits of the 3/9 strategy:
Low cost
Another easy way to promote your business offline
Helps you learn more about your potential clients and their properties.
11. Connect with similar businesses and offer partnerships
Expand your network to get more business.
Some businesses you can partner with are the following: real estate, pest control, architects, home inspection companies, garden shops, urban planners, community organizers, etc.
They can refer you their client base and you can do the same for them also. You may even want to make service bundles to make the offer more enticing to customers.
12. Get help crafting your landscape marketing strategy
If you are the type of business owner who likes to focus on the operations of your business, getting some marketing help will be able to optimize your process of getting more landscaping customers.
SERP Co has worked with hundreds of brands across several industries.
We were able to help them grow their business through strategic digital marketing.
Build Your Marketing Strategy
Contact us for a consultation and let's work together to achieve your business goals.
With over 1.35 million lawyers to compete with, U.S. attorneys need to find new ways to stand-out and be remembered.
If you are one of these lawyers, you are probably wondering where and how to start.
Enter a timeless classic - your law firm business card.
A well-designed attorney business card will make you memorable to your clients, stand-out for first impressions, inspire confidence & promote your brand effectively.
You will want to reference your law firm branding guide-book you created for font choices, colors, logo, etc. but the design can still take many forms…. You did do your brand guidelines, right?
To make your life easier (no need for thanks, it's part of our job description) we have compiled for you 25+ best practices, tips, design ideas, samples & templates that will land your business cards in your client's wallets (and avoid their trash bins).
If you want to cut right to the chase and get a new business card, we recommend 99 Designs for the price and quality of look and feel.
Warning: If you don't take this seriously – no one will take your brand seriously. And your cards will probably just be used as ninja star throwing practice.
So, without further ado and in no particular order ... Here are:
The Best Law Firm Business Cards (w/ commentary)
1. Make Your Contact Information Easily Accessible
Don't forget the most important element in a business card: your contact information.
Let your clients know where and how to reach you. Include your phone number, email address, office address & website.
Time for a website upgrade?
We build beautiful websites for the legal industry - designed to WOW, and engineered to perform.
Listing your complete contact information also helps establish your credibility.
Clients will most likely take a look at your website, call you, and Google your reviews before contacting you.
If your business card is the first brand impression, your presence online will very likely be the second.
2. List your jurisdictions
Your business cards should reflect your jurisdiction(s), or the states only covered by your license.
This will help clients know if you are licensed to practice law in the area where they need help.
If you have an office in a specific state but cannot practice there, it may be worth noting on the back of your card.
3. Include your specialization
Information on your specialization will help filter inquiries to clients you are capable of servicing based on your practice – saving time for you & prospective clients.
Additionally, your specialization is your offer. There may be hundreds of lawyers in the area(s) you practice law, but not all of them serve the same types of cases.
Aside from that, a specialization under your name paints you as an expert of that practice. Clients will most likely choose you over other lawyers once they see that you are an expert in winning the case or situation they are in.
4. Distance yourself from overused motifs & legal symbols
It is okay to do away with the usual justice scale, gavel, or law book in designing your lawyer business card - in fact we recommend it.
Choose a logo relevant to your specialization and add a twist to it.
5. Apply your brand elements consistently
Make sure that the logo, color scheme, and fonts in your attorney business card is consistent with what you use in all of your marketing platforms.
Consistency will build brand awareness and familiarity over time.
6. Make sure your text is readable
Workaround your brand elements to see what color, font size, and font style combination will work for a small material like a business card.
Keep clutter to a minimum – less is more (also there's a back side)
7. Experiment with colors
It does not have to be always black and white. Look into your brand colors and see which ones will look good once printed.
8. Add a catchy tagline
Add a short tagline that will briefly describe your brand promise or what you can do for your clients.
9. Avoid superlatives
Including the words "best", "top", "world-class" in your lawyer business cards can land you in hot water.
Any claim you make about your law firm needs to be backed up by substantial proof/evidence or can be considered misleading, according to attorney advertising guidelines.
10. Opt for space
Oftentimes in all things design, less is more.
What not to do:
You don't want to make your business cards to look like a promotional flyer for your law firm. Keep it professional and stick with the essentials only.
11. Make use of both sides
A business card is a valuable marketing asset at your disposal.
Maximize it by putting relevant information and branding elements on both sides.
12. Do more with your cardstock
You don't have to stick with the traditional cardstock. There are specialty cardstocks available that will add texture to your cards.
If you want to exude credibility, you can choose a harder cardstock material and even have it silk-laminated.
13. Consider cut-outs to really make your design stand-out
Make your business card unique by trying the die-cut design.
For example, if the name of your law firm starts with the letter "M", you can have your business card cut to an "M"-shape as well.
14. Explore using other materials
Don't limit yourself to cardstocks, there are plenty of creative materials out there to choose from as well.
Material ideas for your law firm business cards:
Plastic
Stainless steel
Acrylic
Carbon fiber
Meat
Okay so for the record we don't recommend you use a meat business card, we just wanted to be thorough in presenting you with the options.
15. Try the minimalist design
Give your business cards a more personality and youth by using a minimalist design. Choose sleek and clean-looking fonts like Museo Sans, Quinta, Simplifica, Gidole, or Quicksand to complete the look.
16. Embed some tech
If your target clients are younger or are tech-oriented, you can embed a chip or include a QR code in your attorney business cards.
Once scanned, they will be led to a website or a page with more information about you and with an option to book an appointment.
17. Store your business cards in a hard case
Your business cards should always be neat and presentable. Store them in hard cases to avoid being crumpled or folded when inside your bags or pockets.
18. Add texture
Use suede, linen, or have an embossed detail to add some texture to your business card.
19. Include a call to action
Adding a call to action will differentiate your business cards from competitors. Only a few companies and professionals have this. It might also be the reason for a potential client to call you back for an appointment.
20. Make use of foil to add accent
Instead of sticking with the usual ink for printing, add foil accents to make your attorney business cards look more elegant. Use copper foil instead of gold foil to achieve a more premium yet softer overall look.
Some Rules to Remember When Crafting Your Law Firm's Business Card Design
Adding a touch of creativity to your lawyer business cards will help you stand-out. It is important to keep in mind that there are regulations that govern advertising yourself and your law firm.
Here are some rules of conduct to remember as you design your attorney business cards:
21. Be truthful in what you offer or communicate.
The services and level of expertise advertised on your business cards should match your capabilities.
Do not label yourself as a specialist or an expert without making sure that you are certified to use these titles in the state or states you are operating in.
Some states even require disclaimers. For example, in Illinois, if your business card describes you as a certified specialist, your card needs to have a disclaimer stating that the certification is not required to practice law in the state.
22. Accurately indicate your name and your law firm.
To be safe, make sure that your attorney business cards reflect the complete name you used upon licensure. There are some states that accept nicknames and variations as long as it does not result to a misleading identity.
Be transparent also in indicating whether you are a solo practitioner or part of a law firm. You cannot just add "& Associates" after your last name if you do not actually work with other lawyers.
23. Declare if you do not have brick-and-mortar offices.
Usually, attorneys would just indicate their website on their business cards if they don't have a physical office.
This can mislead some potential clients to think that you have an actual office location. This is why it is important that your business card should indicate that the office is available "by appointment only".
24. Indicate your area of practice.
This is not just best practice in terms of design - Your business cards should reflect your jurisdiction, or the states only covered by your license to prevent misleading clients into thinking that you can practice in the area where you are advertising.
If you are not licensed to practice law in the same state that your firm is located, this must also be communicated on your business card.
25. Claims on your business card should have substantial proof.
If you indicate "Law Firm of Choice" or "Top Performing Lawyer" as tagline or website domain name, make sure that there is proof to back your claim.
These superlatives could violate the ethics rules that prohibit false or misleading communications.
Final Thoughts
Business cards help you make a good first impression to your potential clients. These are powerful marketing tools that you can carry every day.
In the process of designing your business card, make sure that you are mindful of rules covering your state and ethics that govern lawyers.
Remember that lawyers are always held to high ethical standards when it comes to their work and marketing.
Invest time in designing an attorney business card that is ethical, worth keeping, and is something that will make clients remember and contact you.
Not sure where to get business cards for your firm? We recommend you check out 99 Designs. They have a variety of affordable and premium packages that will guarantee a professional look for your firm.
Additional Recommended Reading:
The same old law firm branding & message is not resonating with potential customers anymore.
Branding evolves, marketing evolves, and so does your customer – and they expect better.
Traditional (maybe even boring) legal branding does not attract attention nor allow a firm to differentiate itself from a sea of competition (anyone else tired of seeing gavels & stuffy law libraries everywhere?)
To stand out from the crowd, proper law firm firm branding is the first step you can take to create a powerful reputation for your legal practice.
What is Law Firm Branding (& Why You Need it)?
Good branding attracts customers & creates strong emotional connections to your business, and marketing runs on emotion.
Branding is:
And if you're curious to where it comes from, here you go:
Notice the definition says distinctive wording or design – I'm looking at you Mr. Lawyer who puts gavels on everything. Everyone does that, let's strive to stand out.
But more than that, branding is being able to establish a positioning strategy. Identify your Unique Selling Proposition (USP) – what makes you different – and then marry that with how you portray it to your clients.
The end goal is brand equity for your legal practice - meaning the level of influence your brand makes in the purchasing behavior of customers.
Attorney Branding Components
Law Firm logo
By now, you should already realize that you do not have to limit yourself to the typical weighing scale, gavel logo, courthouse columns, etc.
We want to evoke EMOTION – think about exploring different font styles, sizes, and colors to come up with a creative (yet still professional, or even "formal" if you so desire) logo perfect for your law firm. There is more than one way to visually display justice, integrity, equality, etc.
The best way to start anything creative is to see what's out there, and use them for inspiration.
So, in the spirit of Pablo we have curated a list of our favorite law firm logos for you to check out and draw some inspiration from.
Law Firm Buyer Persona
Law firms often select a target market, gather general information, and create a basic overview of the services they can provide to address the market's needs. But once again – everyone is doing that, so let's dive a little bit deeper & help your law firm brand stand out.
How? With a customer person (aka buyer persona, aka customer avatar)
A buyer persona helps you identify & improve your understanding of your ideal customer. What kind of cases do you want? What kinds do you NOT want?
The first step towards getting more of what you want is to be highly specific about that.
The process of creating buyer personas will force you to put yourself in the shoes of your potential clients & give you a better idea of how and where they find information when they need legal services.
As a result, you can start giving most of your attention to the types of clients you want to serve, and spending less time dealing with the leads/clients/cases that you don't want (you know what I'm talking about ... you probably even have a name for them at your law firm like "the crazies" or "time sucks" – guess what, that is pretty close to creating a buyer person for what you DON'T want, and you wonder why you keep getting those calls?
Law Firm Brand Voice
Your brand personifies your legal practice.
What you say and how you say things will determine your law firm's brand voice. Your voice communicates the firm's values, identity and even opinions to the market. It is not just the way things are shown (logos, imagery, etc.) but also how things are communicated (vocabulary, tone, etc.)
The goal of having a brand voice is to be able to project a uniform positioning, personality, and image – across all channels of interaction. From your office decor, to your website, to marketing materials, etc.
Your Law Firm's USP Unique Selling Proposition (USP)
Your firm's unique selling proposition is really the actually differentiating factor between you and your competitors – branding is really the practice of communicating that.
Unless you can identify what makes your firm unique in a crowd of homogenous law firms, you cannot establish a unique brand successfully.
Consistent Application
Once you have established your brand identity, it is important to consistently apply it across all consumer touch-points.
A consumer touch-point is any place / time a potential customer or client comes in contact with your brand (before, during or after they purchase something from your business).
You can do this by crafting guidelines for design and application. For example, your logo should appear the same in your business cards, websites, letterheads, and any other place where potential clients might come across your brand.
Remember, this is how your clients will get to know your law firm moving forward.
How To Differentiate the Branding of your Law Firm
So, how can a law firm stand out? How do you establish a strong positioning strategy?
Start by identifying the following:
Differentiators
Basics
Neutrals
Issues
Differentiators
These are two to three elements that truly set your firm apart from the competition. They will serve as pillars of your differentiated brand.
Basics
Many law firms use basics as key messages in their advertorials and promotional materials.
Examples of these are integrity, client service, pro bono, etc. However, these are already basic expectations from a typical law firm.
All your competitors have them as well. Definitely, these should not be the ones you highlight.

Neutrals
Neutrals are attributes that do not necessarily have positive nor negative impacts to your clients. In short, they don't seal the deal. An example of this is your law firm's celebration of 100 years in the industry.
Tenure does not necessarily guarantee the achievement of your client's goals.

Issues
These are challenges faced by your law firm faces that branding cannot address.
Make Your Legal Branding Strategy Stand-out With Relevant Content
In recent years, law firms have begun to understand and appreciate the need for branding, and more firms are now veering away from traditional marketing channels (frankly, not enough though).
Clients view attorneys as experts. They want to be educated, informed, and enlightened - not just to be sold to. Recognizing this client preference, law firms now gear towards content marketing (aka educating your consumer when they are earlier in the buying journey, building trust, etc.
Kind of like how you are reading this article right now, before you hire us are your legal marketing agency
Creating blogs, newsletters, videos, surveys and webinars will help you engage with potential clients and actually get them to initiate contact to inquire about your legal services.
Consumers are always looking for reasons to believe before they give someone their business. Really just searching for that one little push.
Content marketing will help you do this. Put out relevant content that answers their questions, helps put their mind at ease (legal issues are super stressful, so hit that emotional trigger). Publish case studies & case wins on your website that feature success stories to inspire confidence.
You get the picture.
Conclusion
Establishing a solid law firm brand takes hard work, thoughtful planning & a clear strategy. Understand your buyer, understand your goals, and work towards creating a consistent & central way to portray your law firms unique differentiators.
What is Digital Marketing?
You've probably heard of digital/online/internet marketing before. But since you're reading this, you're not exactly an expert. And that's alright, we all start somewhere.
The bad news is, digital marketing is extremely complex - the good news is, digital marketing doesn't have to be complicated.
People send their entire lives mastering just one aspect of digital marketing, and its always changing - but you can learn it without your head spinning if you know where to start and stay focused (hint: you're in the right place).
Let's start with a simple definition: Digital marketing, aka online marketing or internet marketing, is any activity carried out with the intention of bringing more of your ideal customer to your business using the internet.
Essentially, whether you're simply getting someone's attention or asking them to buy from you it's digital marketing (if done over the internet).
Online Marketing for Dummies: The Primary Marketing Channels
A good internet marketing for dummies article wouldn't be complete without a proper list of the main methods (we call them marketing channels) you can utilize to bring more people to your business:
Each of these marketing channels goes deep - and it can be difficult to personally master more than one. We recommend you learn a bit about each, and then find digital marketing specialists in each discipline to help your journey.
Once we go through these primary channels, you should have a clearer picture of what a comprehensive digital marketing strategy looks like. Let's go.
Search Engine Optimization (SEO)
SEO is the art of improving your websites visibility in Google.
No doubt you have spent a lot of time, energy & money becoming a trusted and informed and authoritative leader in your industry in the real world, SEO is how you do that all over again but for Google.
Whats the point? Well, when you are seen as the expert, and people are aware that you exist, you get alot of business. This is true in real life & in Google.
One of the primary goals of SEO should be to bring new people to your business who have a specific problem or need that your business solves. Specifically, these would be people looking for a solution you provide, but they don't know about you - yet.
For example, let's say you provide marketing services in Los Angeles, CA and you want to acquire more clients. A good SEO campaign would help your business show up in front of people who know they need marketing services, they live in Los Angeles, and they want to choose a provider.
Are they going to search for your business by name? No. Because they don't know you exist yet. They are going to search using the words they know: For example, they might search for "internet marketing company los angeles". This is called a Keyword.
Using some nifty SEO Tools, we can see that this "keyword" has a "search volume" of 300 - that means this phrase is typed into Google 300 times a month - that's alot of people needing marketing!
If you want those 300 searchers a month to consider your business as a potential provider of the solution to their problems - then you need to have good SEO.
How does SEO work? It is broken down into 4 main categories:
On-Page SEO
Off-Page SEO
Technical SEO
Content SEO
On-page SEO is the practice of optimizing your website pages for maximum SEO impact - things like ensuring you have proper HTML markup on your content (if gives you more rankings push) keyword optimized titles, multimedia, schema etc.
Off-page SEO consists primarily of creating backlinks. In simple terms, these are links that live another website but send the person who clicks on them from where they are to where you are. You can think of this like other websites on the internet giving you a "referral" or a "vote" or "vouching" for you - they are effectively telling Google and the general public "we recommend you go over here and check out this website
Technical SEO has to do with optimizing things on your website so that Google can best understand, interpret & display information from your site. This can get very technical even to explain but it comprises things like site structure, page speed, code optimization, robots.txt, keyword cannibalization, etc.
Content SEO is about optimizing individual pieces of content on your website, and the structure of how they all relate to each other, to give your website the best chance of being seen by Google as an authority on the topics you cover.
Search Engine Marketing (SEM)
Consider this SEO's cousin, because this marketing channel also gets you results on the SERP (search engine result pages). Only, this cousin charges money to show your website.
The primary way SEM works is through a method called Pay Per Click advertising (PPC)
Pay per click means that you literally pay everytime someone clicks on your link. Where do you show up? Well, whatever platform you want to show up on.
You start by heading to one of the big boys where everyone hangs out (Google, Facebook, Bing, Yelp, Twitter, Instagram, etc.). Then, you pay them to prominently display your website or offer whenever someone searches for one of the products/services you sell (or really anything you want to pay for) – BUT you only pay them when a person clicks on your result.
The amount you have to spend to accomplish this varies on competition. You can see the results of SEM on the search engine result page with the "Ad" or "Ads" icon next to it.
Paid advertising is typically more expensive than other types of digital marketing – but it gets results FAST. If you need new sales ASAP, paid ads is the way to go.
By now everyone knows about social media – and using it to grow your business is really what social media marketing is.
We're talking about being active on the social channels where your ideal customers are – Facebook, Instagram, Twitter, Youtube, Snapchat, Pinterest, Quora, etc.
There's no denying that social media helps boost brand awareness and sales - pretty much everyone is spending a large portion of their day (and their entire time standing in lines) on social media.
One key takeaway for a successful social media marketing campaign is to provide the right type of content for the platform - for instance, people typically don't like long form content on Facebook, but will consume long videos on YouTube.
Winning at social media marketing means:
Consistently creating relevant content for each platform
Respond to your audience
Provide value
Be patient
Before you post to social media consider the purpose of the content on your product/service pages, marketing materials you create such as digital flipbooks or ebooks, the posts you publish on your blog, and even the articles you publish on other websites that help position you as an expert in your industry/niche.
Content Marketing
Content marketing is all about providing valuable information to your audience in the form of consumable content.
Consider the purpose of the content on your product/service pages, the posts you publish on your blog, and even the articles you publish on other websites that help position you as an expert in your industry/niche.
These are all examples of content marketing (and optimization).
For example, let's say you are a tax consultancy and don't have the budget for a huge brand presence.
A smart content marketing move can be publishing an article titled "10 Common Tax Mistakes that Can Cost You Dearly."
A blog post like this can drive a significant amount of people (potential clients) to your website without having to pay for ads.
Creating content that is valuable to your audience is an amazing way to get started in digital marketing
Pay-per-click (PPC) aka Paid Advertising
Pay Per Click, a common name for Google Ads, means you will pay for every click you get on your ad.
Yes, it is similar to search engine marketing.
But remember that PPC is just one of the many types of SEM (aka advertising).
Facebook and Google Ads are by far the biggest platforms for Paid advertising. These platforms allow you to target your ideal buyer and show them ads.
Facebook's advertising lets you get REALLY specific with targeting. I'm sure you've heard of this before from Brexit, Cambridge Analytica, the Trump Campaign, etc.
For example, you can show your ads to "men in Los Angeles aged 24 to 34 who like Quentin Tarantino."
Your marketing simply cannot be this focused in the "physical world".
Any advertising for dummies book, course or article you read will show you the power of ads. And in the online world, ads are extremely precise and very powerful.
Email Marketing
Email came long before all other channels and platforms you've read in this online marketing for dummies post thus far – but it's still here – and it's hugely important.
Many entrepreneurs and marketers consider their email list to be their most valuable business asset.
Email marketing is all about communicating directly with your target audience. It helps you retain long-term relationships, not just conduct transactional communications.
For example, you can what's called a "drip campaign". These are automated email campaigns that follow up with users automatically. Write them once, and they keep working for years to come.
There are plenty of email marketing tools to help you out with your campaigns and monetize your email list.
Affiliate Marketing
Affiliate marketing is basically getting paid by a company for referring people to their product. You see it all the time.
Many big box retailers have affiliate programs – they pay you for helping them make sales.
When a referral from you buys a product from the company you are an "affiliate" of, you get paid.
Amazon is the perfect example. After signing up for their affiliate program you get a link for all their product pages, and will get paid 3-10% on things that they buy.
You can put affiliate links in your blog posts, emails, on your social media, or send them directly to friends you think might be interested. If they click on the link and buy the product, the company you are an affiliate of pays you a nice little commission.
Many people have made this their main business and are earning an insane amount of money through this. It's a great way to get started making money online if you don't have your own business.
What's Next?
Now you have a basic understanding of online marketing. Of course, there's a lot more to be said about the various marketing channels discussed here. But for now, you've built a solid base.
So, which one of the channels you learned in this online marketing for dummies article will you use?
There's no one right answer, and you'll probably want to use several of these in tandem to personalize your marketing campaign to suit your brand's needs.
Need help getting started? Feel free to contact us today.
We'll take a look at your business and discuss how you can reach your growth goals.
In today's digital age there is an enormous amount of missed opportunity across marketing channels.
If you have good content (SEO) and good outreach (a form PR), you will be able 10x the results if you improve the synergy between the two.
Public Relations (PR), when properly used, can be a powerful source of:
Brand awareness
Traffic
Website authority
However, many brands overlook this third benefit and are leaving huge amounts of untapped potential on the table.
In this article we cover:
How to optimize your link building with your PR
How to use PR and press releases for SEO and link building
How to get the maximum bang for your buck from PR (your SEO is going to love you for it)
Warning: When we say "PR" we are not referring to these "pay 300 bucks for a press release" services. These are press releases for SEO and they are normally just used as a grey-hat slightly spammy link building technique.

We are not talking about those blanket syndication services - we are talking about real brands getting real links from real, noteworthy websites because of the relationships the PR company has.

We are not talking about syndication of some crappy article onto a bunch of new sites that get wiped in 3-6 months.
What Exactly is PR in the Digital Marketing World?
Traditionally, PR is the practice of deliberately managing & improving the spread of information surrounding a brand or organization and the public.
Many brands use PR to control the narrative around their company and direct consumer attention to aspects of the brand they want to highlight - and even direct attention away from potentially damaging aspects.
In the digital marketing world, we like these benefits as well.
However, there is something even more powerful PR can be used for. That something is SEO, specifically link building, to increase website authority (domain rating).
How PR Helps Generate Maximum SEO Impact
Now you are most likely wondering, what can PR and media coverage do to help improve SEO?
The concept is simple: PR generates links & search engines love high-quality links.
Public relation agencies work very hard to get their clients mentioned in the press - web, bloggers, influencers, news, etc. These agencies are not cheap - and the work they do is sometimes very difficult to replicate.
Popular publications will write about your business whenever you send a press release. They will link it to your website, which automatically gives a free backlink to your website.
Aside from that, you will also get the chance to receive brand recognition, which in turn, will boost your brand authority. You can even dedicate an exclusive "As Seen On" section in your website to feature all the publications who wrote a story about you.
Bottom line, when people are looking to avail of a product or service from a new brand, they will most likely search the internet for suggestions. Then, they start looking for reviews and articles about the brand before they make the purchase decision. This is where you should be in.
It is all the more valuable if you know how to get PR and SEO to work together. This is where the missed opportunities begin (do not make these mistakes).
Common Problems & Solutions in Linking PR with SEO
The most common problems hindering the SEO impact of your PR campaigns (That You Should Fix Right Away):
Brand mentions in web articles have no links.
Brand mentions in web articles have links, but the links are marked as "nofollow".
Brand mentions in web articles have links, and are "dofollow", but do not strategically point to pages on t